By Yang Bian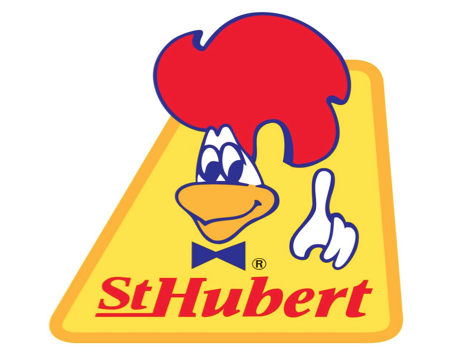 If you ever had the chance to live in Quebec province, you must have heard of the Saint-Hubert restaurant. Saint-Hubert is a French Canadian based franchised restaurant, which was named after the street of st- Hubert in Montréal. After being founded in the 1950s, the first st-Hubert restaurant launched a BBQ rotisserie for customers to enjoy succulent roast chicken, fries, Cole slaw, with a lightly seasoned sauce. Soon, the rotisserie was to become a legend. Ten years later, they've built two more branches. The founder Helene and René Leger developed the first chain of restaurants in Quebec in the1970s where each chain store offered free delivery of foods. This has made st-Hubert restaurant the first free delivery franchised restaurant in Canada.
After sixty years running the business, Saint- Hubert now has become one of the biggest franchising restaurants in Canada. Probably you may want to know what the secret recipe for their maintaining success is; their customers will definitely tell you that it must be their amazing Rotisserie chicken. This lip-smacking rotisserie chicken is always fabulous and the portions are large and tasty. The meat has been well cooked and literally falls off the bone, it tastes juicy, moist and well-seasoned. The skin is crispy and nicely browned; in fact, a lot of people like the tastes of the skin the most. The full plate includes a half bun, gravy, coleslaw and a side dish for you to choose from including, fries, mashed potatoes, baked potato, rice pilaf, salad and steamed vegetables. Although these accompanying sides aren't anything special, collectively they complement the chicken in an unpretentious way. Besides the chicken, you can also get soup and desert or coffee at a reasonable price. In addition to all the items mentioned before, what really makes rotisserie chicken special is that it is covered with honey sauce while being roasted; this is done to make the chicken tastes sweeter and more delicious in order to cater to the typical French taste. If you want to try a real French-style grilled chicken, you definitely shouldn't miss Saint-Hubert.
For tourists, it might be strange to see a little yellow car with the Saint-Hubert logo lit up at night and being driven around Montreal; but indeed it is Saint-Hubert's delivery car which has become one of its symbols. The distinct feature that makes Saint-Hubert a legend franchised restaurant is their free delivery service. Widely known by people from Québec, Saint-Hubert offers the best service of food delivery for almost 40 years. Once you place an order, you will definitely hear the doorbell ring within 40 minutes and the delivery guy will hand you the well-packaged food with a big smile on his face. This has become the most notorious symbol of Saint-Hubert restaurant for so long.
Both Saint-Hubert's food and service represents the typical French Canadian styles that are diversified, friendly and honest. Maybe you've never been to st-hubert Street in Montréal, but you should definitely go and try one of the Saint-Hubert restaurants to taste their classic French Canadian BBQ chicken.