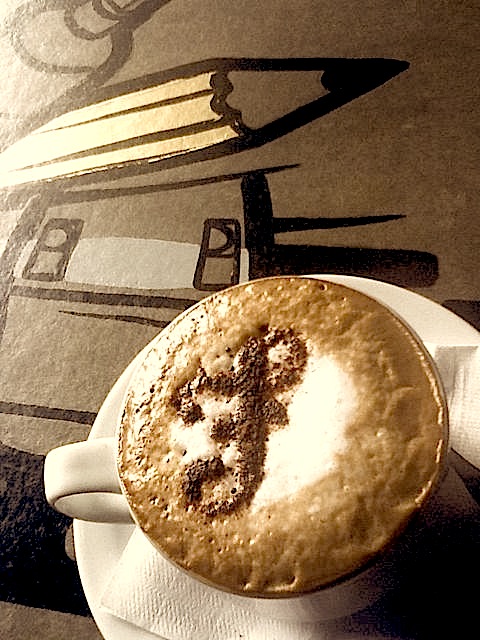 By Tania Romito
Fabergé, defined as a breakfast restaurant and lounge, first opened its door during the Summer of 2010, at 25, Fairmount W. It is the success project of brothers Devin and Chaz DeSousa and their friend Costa Darsaklis, three men in their mid to late twenties. Located in the vibrant heart of the Mile End, Fabergé is as refined and modest as the inhabitants of its neighborhood. A mural of the city's landmarks, designed by local artist Howie Dewitt, runs along the walls and ceiling, exemplifying Montreal's unique ability to be trendy in keeping with an underground vibe. As I sit and sip my cappuccino on a Friday morning, Bugs Bunny is featured on the several television screens and the Black Keys is playing in the background; the restaurant is buzzing with style.
Unlike the more pretentious or pricey brunch spots in the Plateau, Fabergé's menu is original yet classic, and always reasonably priced. My friends love Avenue on Mont Royal, but I always leave disappointed. The food is good there, but the service is impersonal and rushed, not the greatest of vibes when you're spending $30 on breakfast. The staff at Fabergé, instead, is friendly and professional, no matter how busy the restaurant is. Moreover, the reasonable prices allow me to spoil myself to a blood orange mimosa once in a while! I have no doubt that Faberge has found permanent residency on Fairmount Street; it is the perfect destination for a quick coffee, a healthy breakfast after hitting the gym, or a celebratory brunch with champagne and friends. Sure to satisfy everyone's taste buds, the selection ranges from buttermilk pancakes to build-it-yourself omelettes to classic breakfast wraps. For the famished and daring there are Fabergé's signature dishes, including Eggs-in-a-Nest, the Fabergé Delight and the Mediterranean Eggs Benedict. The fruit is market-fresh and everything is made from scratch. No matter how much I've stuffed my face, I always leave Fabergé smiling and feeling good.
Stylish and inviting, delicious and affordable, Fabergé is quickly becoming the most talked about brunch spot in the Mile End. A must visit for both locals and tourists, I have no doubt that the Fabergé experience will live up to the hype.
www.restofaberge.com