By: Elyse Lefaivre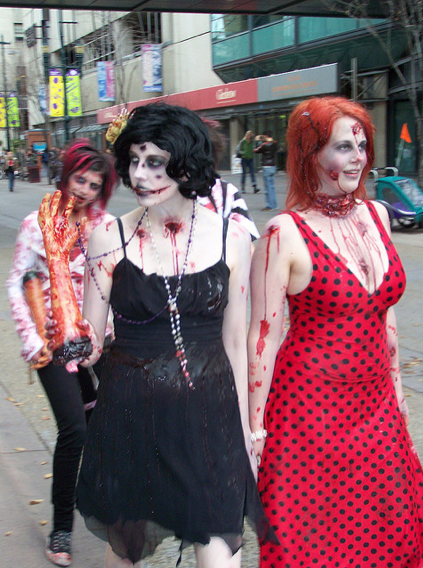 "They won't treat you unless you show up with a severed arm in your hand" is what Michel Lemieux has said about the treatment in Montreal emergency rooms. Michel has had his fair share of Montreal emergency room experiences this year, having visited the Lakeshore General Hospital numerous times in the spring of 2011. Despite this severe assessment of Montreal emergency rooms, Michel and those around him still believe in Montreal's emergency room system.

Image source: Flickr

In February of 2011, Michel became \sick with a high fever and severe stomach pains. After a few days, he went to the Lakeshore General Hospital where he was told he wasn't in enough pain to be treated, although they did send him home with morphine pills. He ended up seeking treatment from his family physician, who prescribed him antibiotics and referred him to a specialist. All was well for a few months, until he began running a high fever April. Once again, Michel returned to the emergency room, where he waited 12 hours to be seen by a physician. Once seen, however, they discovered that his high fever was the result of a more complicated infection. This time, the emergency rooms did not turn him away, instead they admitted him for two weeks and then kept him another six as an outpatient. Michel's doctors say it's difficult to know whether or not the second more complicated infection is a result of the first one. Although, he himself believes his lack of treatment in February is directly related to his illness in April.
When asked what he thinks of Montreal emergency rooms, Michel says that despite being sent away earlier this year and then being left waiting hours during his second visit he still has complete faith in the system saying "the healthcare system in Quebec is great." He believes that although there are some hiccups in the system, for the most part the system works well. The only major issue with healthcare in Canada is that the system is having trouble supporting Canada's aging population. As the population ages, he believes there's not enough resources for the elderly and therefore emergency rooms are becoming overcrowded.
Michel's faith in the medical system in Quebec might rest with the fact that he has access to a general practitioner, something that only 67% of the population in Quebec have. Michel says that being able to visit his doctor was and is extremely helpful, that his doctor has been essential in his long term recovery. He also says that his doctor could not have done anything differently to prevent him from getting sick. He does however believe that his first emergency room visit could have gone a lot better and is still dumbfounded as to why they sent him away because he was not in enough pain to be treated, yet they sent him home with morphine pills. "I can't figure that one out" he said, but still he praises the system.
Once Michel was finally diagnosed in April, he says his treatment was impeccable. He says that the Lakeshore General hospital took extremely good care of him and that the twelve hour wait was not their fault. Although, the emergency room was overcrowded, he didn't think there was any way that they could have improved the situation. He also was quick to give Quebecs CLSCs (centre local de services communautaires) praise, saying that he was astounded with their efficiency during his visits to them as an outpatient.
Although Michel's experience with the healthcare system did not go as smoothly as he would have liked, he believes there isn't much they could have done to improve the situation. Although he still tells people that "They won't treat you unless you show up with a severed arm in your hand", what he means is that Montreal emergency rooms will either turn you away or keep you waiting unless of course you are visibly in distress. He says that it's not the hospitals fault, that they can't control the number of patients that show up to their emergency rooms. Although Michel is quick to deflect blame from the hospitals, his wife Ginette is not. She strongly believes that the emergency rooms could have done more to treat him that first time he visited the Lakeshore, but that she still believes in the system because she says "What choice do we have?". Based on his own experiences, Michel believes that there isn't much to be done to improve the situation in Quebec emergency rooms, except to create more resources to treat people when they are sick.