The Struggle to Preserve the French Language
By Hanan Sleiman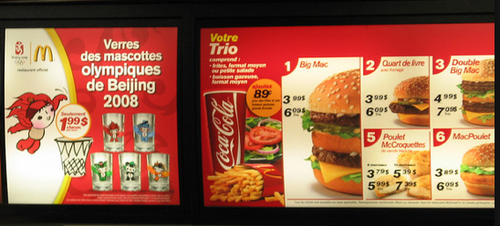 Approximately 350 million people around the world speak French, as a first or second language. It is known as one of the major Romance Languages; coincidently, it is also considered the most romantic language in the world. Quebec is the only province in Canada with French as its only official language. For years, the Quebecois have been fighting to maintain their language and culture. They were obliged to set laws to prevent English, which is the most common language of Canada, from taking over and completely overriding the French language.
Bill 101, Charte de la langue française (1977) was a law that responds to what some might call the "English invasion" and it made French the official language of Quebec and the language of workplaces and businesses. Moreover, it made French education compulsory for immigrants. A number of people believed that laws protecting the French language were unnecessary and might be a limitation to the growth and prosperity of Quebec. However, the francophone population has the right to preserve the language because without it, Quebec just wouldn't be the same. Laws could be a method of dictating what language people should use, but wouldn't it be the same to dictate the Francophone population to speak English?
Each province in Canada has its own rules and laws. In Quebec's case, their uniqueness has to be protected; otherwise the French language would have been erased years ago. Some of the rules of Quebec that make it atypical include, its French commercials and billboards that must be distinctly prevalent over other languages, and all the names of businesses must be French or translated to French if it's not an international company. In some situations, even international businesses changed their names. Kentucky Fried Chicken (KFC), which, only in Quebec, is known as Poulet Frit Kentucky (PFK). In addition, there is a rumor that the American restaurant Red Lobster closed in Quebec because it refused to translate its name to French in order to stay open. Then again, if having a French name doesn't have an impact on the success or failure of a business, there shouldn't be any setback following the rules, especially that it shows respect to those struggling to preserve their language.
As a Quebec resident, I can see that English is commonly used everywhere, which justifies the need for a law to protect the French language. People are given the freedom to use either English or French; however, the law mandates an employee that can serve the French-speaking clients. This is very important because a significant number of the population in Quebec only speak French. Without the law, there is no guarantee a French speaking Quebecois would be able to communicate with others in their hometown if the majority of the residents choose to only speak English. Moreover, there will always be a risk from businesses since business is most commonly done in English these days, putting a lot of pressure on business owners in Quebec to assist the sustaining of the French dialect.
Additionally, Canada as a whole is the land of opportunity, and by having a French province it opens a wide door for many Francophone immigrants without the obligation of learning English. Furthermore, it offers all its immigrants the chance to learn French for very low or no charge. When I chose to study in Quebec I knew I would have to learn French. Until now, I don't consider the situation unfair because the majority of the residents are native speakers of French and I just had to accommodate myself to living in this wonderful place.
Overall, protecting the French language is the birth right of all the residents of Quebec. It is what makes this place beautiful and distinctive from other provinces in Canada. It does not discriminate against its visitors or Anglophones, as it allows the use of both English and French; nevertheless, it does give more importance to the later one. To some Quebecois, the French language is as important as the fleur-de-lys flag, and, therefore, they have to preserve it. By preserving it, they are in addition protecting the Quebecois heritage and culture, which is engraved by the French language. As an Anglophone living in Quebec for four years, I see no trouble or inconvenience in following such laws. I have accepted to learn the French language in order to work and succeed in the future and so should the rest who choose to reside in Quebec.

Image source:
Flickr