Interview with Visual Voice Gallery's Bettina Forget
Interview by Myriam Goyette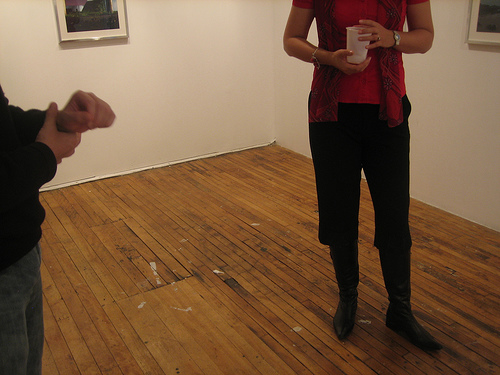 @Flickr, Untitled by ribena, http://www.flickr.com/photos/rdennis/2893637156/
Despite the bleak neighbourhood of the Belgo Building, its inside is milled by contemporary galleries and bustling workers. On the fourth floor, Bettina Forget, the German expat, owner and curator of the Visual Voice Gallery, receives me with a warm smile to her half-gallery half-workshop space for an interview on art and art galleries.
M: How were you first exposed to art?
B: My family is a family of artists. It's the family business, really. There are artists in every generation. It was very easy, not to mention expected of me, to get into the arts. When I was young, my mother would sit me down and teach me how to draw perspective and shading⎯the equivalent of your dad taking you out to throw footballs, right? So that's what my parents did with me and it became clear that I was going to go to art school. I started at Saint Martins School of Art in London, England, then attended Nanyang Academy of Fine Arts in Singapore. I spent a month in Australia for an art theory course with Perth University of Australia. That class helped me a great deal and enabled me to go from painting things to painting ideas. Although my mother was an academic and specialized in traditional landscapes, still life, and the like, I was more interested in contemporary work. I learned to develop my ideas and learned how to go about conceptual art.
M: When you move around, you usually absorb different theories. Did that affect you?
B: My initial art education in London was Western European, specifically British (and the British think they invented everything: the arts and crafts movement, William Morris, every typeface that's even worth mentioning). In Asia, it's an entirely other aesthetic with very different issues. Because Singapore is such a young nation, it deals a lot with the question of identity through an amalgam of Western concepts and Asian traditions. And then I had that little Australian influence which gave me another spin, again. It was great to have these different perspectives.
M: When you were in Singapore, for instance, did you stick to that Western aesthetic or did the Asian influence show in your work?
B: I really wanted the Asian influence to shine through. I attended Chinese brush painting classes with a local master for two years and drew miles and miles of flower petals and bamboo on rice paper. Just as I got the hang of it, I realized I'd bumped against a creative ceiling. Asian art is very structured but I'm more of a free-spirit. As I began doing new things⎯what I saw⎯ with the techniques I'd learned, my master was appalled and threw me out of the course.
M: How did Visual Voice Gallery come to be?
B: At the time I was a full-time artist with my own studio at the St Alexandre Building, next door. I'd always wanted to be in the Belgo⎯it's a fantastic building with a great vibe, not to mention the long corridors and the tall ceilings⎯but there was a two-year waiting list. Then one day, out of nowhere, I received a phone call from the business manager explaining he had a great space. The problem is it was bigger than I wanted and more than I could afford. As I thought it through, I realized I could carry out the same business model as a woman I knew, who rented the front room to make rent. Eventually, I had a wall put in, creating two cubes⎯the front cube as the gallery, the back cube as my workshop. I've done it for five years now. Several artists have showed their work here more than once. As of this year, I'm beginning to represent artists. The press has begun to pick up the gallery. It's feeling like a real gallery and I'm feeling like a real gallerist.
M: What is Visual Voice Gallery about?
B: I like to help young, or older, emerging artists exposing for the first time. I also expose out-of-towners, Mexican artists, for instance, who are established in Mexico but new to the Montreal scene. The mix is about 75% local artists and 25% international artists. Anything conceptual fits well with the gallery. Art needs to have a story and I want to see artists' personal voice in their work⎯something they discovered or figured out by themselves. It's the reason for the name of the gallery: 'Visual Voice.' That being said, it's the reason why I don't accept artists who propose purely decorative, aesthetic, artwork. I don't connect with fruit bowls, and landscapes, and abstract work with beautiful colours, even though it sells well and there are already many galleries for such a market. Few galleries, however, will allow an artist to place a plastic cast out of his or her forearms on the floor with a giant spider web coming out of it. I think that's very cool and the artist should do just that.
M: On what basis do you choose which artists to expose? Do they find you? Do you find them? How does that process work?
B: Mostly artists find me. I often visit vernissages and will follow artists with interesting work. When I curate my own shows, I might call an artist whose work I think would fit well in such or such group exhibition and ask them if they're interested in participating. It's a less risky proposition than offering a solo exhibition to someone with no guarantee they'd fit well with the gallery, sell, and we each get something out of it.
M: Do you expose only one artist at a time, or several? And in addition to exposing emerging artists, do you also expose your own work?
B: When artists rent the space, it's up to them to decide whether they want to expose alone or with others. In a three-people exhibition, for instance, each one can have their own wall, the last one acting as some sort of mixer. I simply make sure the exhibition itself makes sense in their proposals. As for my own work, I'll schedule myself into the calendar once or twice a year, if I have enough work or if I have something interesting to show. Nuit Blanche is a good deadline for which I can get my act together. Sometimes, if when it makes sense, I might also add one of my pieces to other artists' for a themed exhibitions.
M: What does promoting artists and an art gallery involve?
B: Now it's mostly on the web. I use social media a lot. Visual voice has it's own website, a blog, Facebook page, a Twitter and Flickr account, and a YouTube channel. I'm out there a lot promoting the hell out of everybody. It's also fun for the artist to have a documentation of their exhibition. I can make a video for a vernissage or a 360 degree panorama and it's cool for the artist also to integrate to his or her scene. I usually advertise a few works on the Internet for people to get a sense of the artist. And it's great that people on the web are just a click away from the exhibition. Finally, I email a lot. Promotion is a lot of work but something I enjoy doing. Social media is much more efficient than sending out print catalogues and postcards. In broader horizons, I write about art as an art critic for the Belgo Report, an online magazine.
M: How do you find dealing with creatives? Are the expectations of artists and makers too high? Or perhaps sometimes too low?
B: Expectations are very individual. Most artists have a hard time defining their own expectations. They don't know how to price their work, what they're worth. As a lawyer, your title is associated with your salary. The path is linear. In regards to artists, you can't tell what someone is worth by their age, how much time they've been creating artwork or the type of work they do. The result, inevitably, is artists insecure about where they stand. For emerging artists, the experience of a first showing allows them to settle into the occupation and get a grip on who they are, see their work on the wall in a gallery setting, get feedback from visitors, think about prices, and write an artist statement. Defining prices is notoriously difficult. Right now what we're doing is looking at artists roughly at a similar level of experience. Then prices are influenced by material and size. There are some ball part figures one can apply. The city market is also a factor to consider⎯in Toronto, the prices can also be up to 30% higher because the market is larger and the people there spend more on art.
M: What is art for you?
B: Art is an intricate part of culture, which is an intricate part of society. Art, so seamlessly integrated to our lives we don't always notice it, defines who we are as human beings and as a society. Visual art in galleries is simply a more crystallized version of it, like a cultural essence. Artists, I think, carry the cultural and social function of being creative pioneers who influence designers and writers.
M: What is 'hip' at the moment in contemporary art? Do you prefer exposing particular trends? Do others? What category or style of work sells best?
B: It's difficult to pinpoint contemporary art trends because of its fragmentation. Thirty-forty years ago, artists were following overwhelming themes like super-realism and pop art; nowadays, artists do their own thing. I used to see more installation art⎯objects in space, things dangling from the ceiling or arranged in a pattern on the floor⎯I'm seeing a little less now. What I'm seeing more of is integration of various disciplines in art⎯something I find interesting. For example, media such as the Internet, computers and social media in art. For the gallery however, I expose what emerging artists are doing, trend or not. Think of it this way, they are the pioneers of the next new trend.
M: Is there a difference between those trends, artist trends and buyer trends⎯in the sense "what art galleries sell vs what artists create vs what interests buyers?
B: Artists tend to make disturbing artwork and buyers tend to not buy it. Because what sells best is artwork one could place in a living room or office and it's not necessarily what artists create, artists end up with a basement filled with paintings of he or she stabbing his or her mother. My opinion is artists should continue if it's important to them. Eventually they might picked up by an artist-run centre or a museum show for which the curator isn't concerned whether or not the art sells.
M: Have you noticed any changes in the cultural, historical or social role of art since you've been in business?
B: Well, there's a difference between living in Europe and living here. In Europe, everyday people often visit exhibitions and own original artwork⎯it's the norm. Here, people seem content with a poster of Cirque du Soleil. I think, nevertheless, the Montreal view towards art is changing. I've seen good articles on how art isn't simply for millionaires in mainstream media. Art is reaching out to the Montreal public. In terms of visitors to the gallery, it's mostly students and the elderly during the week, working men and women on the weekend.
M: What can contemporary art enthusiasts look forward to in the future? What is your role within your vision?
B: Look out for more art. More and more people are interested in the arts. The level of the art is rising in the sense that questions are being asked and beautiful yet simple watercolours aren't enough anymore. Adepts are becoming increasingly discerning. Montreal art programs are great. Artists, in addition, are being showcased in a new way. Visual arts is taking over the public arena, of which is part graffiti, and forcing the public to discuss it more profoundly than ever. Ultimately the future leads better art. My role within that vision is to be an enabler. I prepare the grounds and help artists promote themselves and their artwork. My goal is to let artists keep being artists.
For more information on Visual Voice Gallery visit the website http://www.visualvoicegallery.com/VVG-intro-E.html. Check out the blog http://visualvoicegallery.com/visualvoice/ for latest news. Follow @VisualVoiceMtl on Twitter at http://twitter.com/#!/VisualVoiceMtl and Visual Voice Gallery's Flickr photostream http://www.flickr.com/photos/visualvoicegallery. Finally, art adepts can inquire into The Belgo Report for events at the Belgo Building http://www.thebelgoreport.com/.