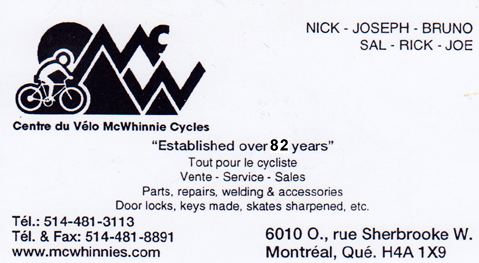 McWhinnie's Cycles 6010 Sherbrooke Street Ouest
The Mastantuono brothers from oldest to youngest are Nicola, who has worked at the bike store for over 52 years; Giuseppe, who has been doing repairs at the shop for the last 40 years, and Bruno, who has worked there for 30 years. That's collectively 132 years of experience selecting, fitting, repairing, and selling bicycles and accessories right here in NDG. Don't let their godawful website fool you - these guys have it together.

Last summer I bought a $750 Giant brand mountain bike with all the trimmings (mirror, super reflectors, rear splash-guard, and basket holder) from McWhinnie's. Two months later, damned horse thieves chopped through my lock with a grinder. That's 4 bikes gone in as many years, and with them, any idea of investing that much again while living in the city.
I go back to McWhinnie's today and ask Bruno to hook me up with something more affordable. The first bikes are around $300, but Bruno insists that I look at other, slightly more expensive ones. It irks me when salesmen get pushy so I stubbornly refuse to let go of a $300 Giant hybrid I am struggling to balance on. He points out some interesting features on the other bikes, but in my defiant state all I hear is a well-honed sales pitch.
"Well sir," says Bruno slightly rolling his eyes, "only you can decide..."
"Of course that's true since I'm the one paying..." I reply defensively.
Bruno makes a face that turns me into his customer for life. He looks at me as though I'm acting like a childish novice. Well, it turns out, that's exactly what I am.
Sometimes people want English lessons, but refuse to take suggestions. After 15 years in the field, it frustrates me, and I've only been teaching for half the time Bruno has been fitting people with bikes. His suggestions deserve more respect and attentions than I usually extend to salesman, because first and foremost, he and his brothers are bicycle experts, and they aren't shy to show it.
Bruno isn't being rude; he's being specialized. My refusal to budge doesn't bother the salesman in him as much as it bothers the expert; he knows I'm about to make the wrong decision. Rather than adopt that ridiculous "customer is always right" routine, Bruno exercises his 30 years of experience, and I'm glad he does.

The ride I almost bought was way too high, and had no front suspension. I would have regretted it after two or three days of riding. For $50.00 more, the $350.00 Miele Toscana he suggested fits me perfectly, and has front shocks and superior gear-shifting mechanisms.
Bruno's no-nonsense attitude stopped me from making a 300$ mistake. You should remember that when bringing your bike to McWhinnie's Cycles this spring for a $45.00 all-points tune-up, or when buying new or used horses for yourself and your family.
Their bikes range from $300-$1200.
Now it's lunchtime...!
(click to continue reading From Breakfast to Bedtime on Sherbrooke Street Ouest)