By: Skittles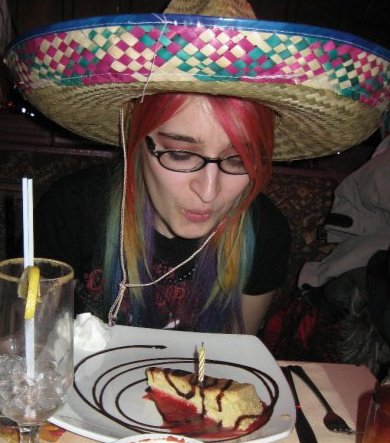 Being someone who has been dying her hair all funky for the last six years, I've gotten all kinds of questions about it. I've had every colour in the rainbow in my hair, literally at the same time so I wager I must be a pro at DIY dying by now. So this is my guide to getting rockin' hair that won't disappear after two or three washes.
Before getting started you will need supplies and a good place to turn into your makeshift salon. Hair dying is potentially a very messy process, especially, if you are doing this for the first time. (I do not recommend doing this somewhere that people (read: parents) will likely lose it if you stain anything.)
You will need:
* An able and willing partner
* Hair Dye
* Vaseline (Optional)
* A loose t-shirt that you aren't too fond of
* Junk towels
* Newspaper or some kind of drop cloth
* Disposable gloves
* Dying Brush / Comb (optional)
* Aluminum foil (optional)
* Bleach powder and liquid (optional)
Set Up:

It hleps if the area is clean but you're gonna want to spread your newspaper on the ground and then place the chair you'll be sitting on top of that. Make sure that you cover a 5'x5' area for good measure. Get all of your supplies ready. The worst thing is running around for stuff while in the middle of your dying project.
First things First: The Dye.

Before the set up and before you get the rest of the supplies, you need to choose your hair dye. The type of dye you use is essential. Do not use Manic Panic. I have never met anyone who has had good results w/ MP. It is too liquidy and most people complain that it completely fades in only two or three washes. What you need is a cream dye. I usually use Punky Colour by Jerome Russel, but there are plenty of other good brands out there.
Now the second thing: The Bleach.

I know for a lot of people, that is a scry word, but it's gotta be done. The fect of the mater is; unless you have naturally blonde hair, you won't get vibrant colours w/out bleaching your hair first. If you do it properly, it's not that damaging.
You'll need:
* Bleach Powder
* Bleach Liquid
* Disposable Gloves
* Dying Brush / Comb (optional)
You can find these things in the same aisle with the all the hair dye at any pharmacy. It doesn't really mater what brand you; they all work the same.
When you mix the powder together you want about 2 parts powder to 3 parts liquid. (If you're bleaching your whole head you'll need at least 1 full packet of powder. Otherwise, if you're just doing your roots, half a packet of powder should do you.)
You're going to want to wear gloves. It's easier and safer for your skin that way. Now glop that mixture into your hair and rub it in. You really want to get that bitch in there 'cause the darker your hair is, the more obvious it is when you miss a spot. Take your time to really make sure you get every last strand of hair. (If your hair is long, take a clip and twist is up when you are done applying bleach)
Now for the tricky part: Waiting.

It's hard to say how long to leave the bleach in. Every person's hair is different. It depends on how dark your hair is or whether you've dyed your hair a bunch of times before. So you really gotta watch your hair. You will start to see results within five minutes but it takes longer than that for all of your hair to go a nice shade of platinum. (Don't leave it on too long, specially if you have sensitive skin. Bleach can burn the skin!)
Once you are satisfied, it's time to wash it out. The is probably the most annoying part. You're hair will be more tangly than usual and the bleach will be hard to scrub out. You may have to spend a while shampooing. (Warning: Do not scrub your scalp too hard, the skin will be raw/irritated from the bleach.) The most important step is conditioning; use lots of conditioner, leave it in as long as possible, and don't rinse it out completely.
Now the fun part: Colour Application.

Once your hair is sufficiently light enough, it's time to get down to the good stuff.
If you are only putting one colour in your hair, you apply it the same way you applied the bleach.
If your are like me and are putting more than one colour in your hair, it gets a little more complicated:
Before you put your gloves on, separate the different sections of your hair. I have found that it is easiest to braid the sections of hair you will not be starting with but you can also clip it back.

Once you have decided which colours are going where, it's time to whip that dye out. Rub some Vaseline along your hairline on your forehead, neck, and on your ears. This will keep any dye from staining your skin. You're going to rub the dye in as thoroughly as possible, taking care not to miss any spots. (You can use a dye brush or a comb to apply the dye, if you prefer.)

When the dye is rubbed in, it's time to finish with that colour. Carefully twist that section of hair into a small bun and then wrap it tightly with the aluminum foil. Wash your gloves and then repeat until you have dyed each section.
If you're only dying a small chunk of hair the steps are similar only you need to be more careful about not getting dye everywhere.
Now that the dye is in your hair, you need to let it set. The longer the dye is in your hair, the darker and more vibrant it will be. For the best results, I recommend leaving it in for at least and hour. (I leave it in for longer.)
The grand finale: Washing it out!

I know you're probably thinking, "but I know how to wash may hair". Never the less, here are some tips:
- If you've left the dye in long enough, you don't have to worry about bleeding between colours.
- If you don't want to stain your pillowcase or towels, I recommend shampooing your hair twice.
- Use lots of conditioner and leave it in as long a possible (at least five minutes).
Some tips for preventing premature fading:

If you've followed this guide, the colour should last at least a month before it goes pastel but here are some tricks to keep your hair bright for as long a possible:

- Use colour-stay shampoo and conditioner.
- Don't wash your hair as often. (Really your shouldn't be washing your hair more than a couple times a week. Your hair needs a bit of natural grease to keep it healthy, especially after the shock treatment you've just given it.)
- If you keep dying your hair the same way, over time, you won't need to dye it as often.