Cosmos: A Meal Fit for a Hero
by Jordano Aguzzi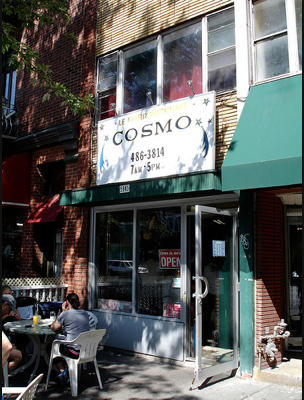 On a cool Saturday morning, a line steadily grows outside of a hole in the wall in the heart of NDG. The yellowing, archaic sign subtly boasts in fading black font: COSMO.
I enter through the small entrance and it is blatantly obvious that this Cosmo is not at all affiliated with its magazine counterpart. The only thing that's similar is my own excitement to lose my Cosmo cherry. After constant stories of mythological grandeur told about this not-quite-epic Greek diner, it was about time to have a taste for myself. Expectations were not low, but they were definitely met, and as I eventually understand that Cosmo represents more than a diner; it represents the independent Montreal ideology.
Opened by Tony Koulakos more than fifty years ago, Cosmo stands today as it did when it first opened. Barely ten cracked faux-leather seats surround a small bar-like table. Behind the bar table, the magic happens right before your eyes. A single constant griddle sizzles all day, as Nick, Tony's son, holds head chef position. He beams brightly at every customer who enters, and boasts his famous catchphrase, "I'm the best!" Nikki, warmly greets you with utensils and a coffee. Both Nick and Nikki are rushing back and forth to serve the ten or so customers inside and the next ten or so waiting outside, but a smile is not foreign to them.
"If you're lucky enough, the owner Tony will be there, he judges your portions based on your physique," my buddy Max tells me. "He looks you up and down and sizes you up for the MishMash."
MishMash, you may ask? Cosmo's most notorious phantasmagoria of grease could not possibly have a more literal concept. A plethora of bacon, eggs, sausage, potatoes, ham, salami, cheese, toast and every other breakfast food imaginable is mixed together and griddled into a meal for a true hero. A meal so colossal in calorie-count, it can most likely kill a small animal. Delicious.
In that regard, Cosmo brings up controversial questions concerning health issues in food and restaurants. It's somewhat paradoxical to witness independent Montreal diners admired and glorified, while the mass-marketed fast-food chains are heavily scrutinized. Skilled eaters are quick to criticize the immorality and fat-producing characteristics of joints like McDonald's, while many independent, family-owned restaurants avoid the noose, while being just as, if not, unhealthier than the former.
Despite the calorie count, the differences between locally loved restaurants and fast-food monsters are exponential. The differences between Cosmo and a place like McDonald's are firstly, in the actual quality of the food, and secondly (and more importantly) in their ideology. Cosmo could have easily expanded, increasing its revenue and opening possibilities to multiple locations throughout the city. This would be the right decision, business-wise. Problem is, this would not be the right decision, family-wise. Cosmo's clientele are really more than simple numbers, but apart of the extended family themselves.
Nick, Nikki and Tony know the regulars by name, not to mention, when the regulars order "the regular", they actually receive it. If they don't know your name, they ask you what it is, what you're studying, where you're working, what you want to do in life. They ask because they care, and because they are not offering a service, they are offering their lives that you are now apart of. It is an experience that mass-industrialized food dispensers cannot comprehend: the experience of honest and humble friendliness. This is a mentality which represents the core of the independent food scene, and which makes places like Cosmo apart of the dynamic of what makes Montreal authentic.
When I go to pay for my MishMash, Nick says, "Let's call it even at seven bucks, Jordano."
Image source: FLickr.
Image source: Flickr.