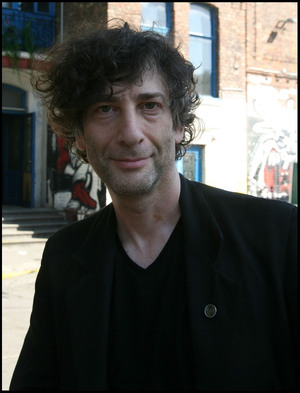 "Being a writer is a very peculiar sort of a job: it's always you versus a blank sheet of paper (or a blank screen) and quite often the blank piece of paper wins." (Neil Gaiman)
We've all been there. I'm sure writers, young or old, can attest to this. Now I'm sure you're asking: "Andrew, where did these wise words of wisdom come from?" My answer is: they came from Neil Gaiman. Who is that you ask? Simple. Neil Gaiman is a writer. He is a son, a husband and a father. Heck, from behind, with his curly dark hair, he might even remind you of a British Tim Burton, although I'm not sure he would take that as a compliment. However, what is undeniable about the curly, greying-but-dark haired writer is that his has career has taken him to all corners of the literary world. No genre is safe, no medium untouched!
For some, working with the man would be a dream come true. For others, such as his personal assistant, working with Neil Gaiman has given her a perspective on just what success looks like (Neil Gaiman).To those who know his work, his talent is unshakeable. But for those who do not, it is not hard to imagine that few would have expected what would come from an author who began his career as a journalist and biography writer. You either know and love him or have never heard of him at all.
Born in Hamspire, UK, Neil Gaiman was a self-described feral child, who "wouldn't be who I am without libraries" (Neil Gaiman). As an avid reader since childhood, the fantastic tales of authors such as Ursula Le Guin, C.S. Lewis and J.R.R. Tolkien were his playgrounds growing up. He has reminisced about being captivated by his parents or grandparents as they told him their stories. Stories, for Neil, have always been a second home.
In the 1980's, during what was known as the "British Invasion" (The Moving Finger), Gaiman would be one of several talents brought over by Marvel and DC Comics. Among these writers, Gaiman found himself with other English writing contemporaries such as Alan Moore, Alan Davis, Grant Morrisson, Garth Ennis and Warren Ellis. Like his peers, Gaiman would pen a series that would help change the comic landscape of the 80's. What began with a successful limited series titled Black Orchard, Neil quickly found himself with an unprecedented hit: The Sandman. Winning dozens of awards, notably 26 Eisner's, with four being for Best Writer, The Sandman is still one of his most successful projects.
Never one to back down from a challenge, Neil was approached by several publishers to try his hand at novels. Just as it was with his comic book tales, Neil quickly found himself with more break-out hits. Even after receiving critical acclaim for his novels, such as The Graveyard Book, Coraline, and Stardust (the latter two being made in to films), Neil continues to publish frequently. His most recent books, Chu's Day and Chu's First Day of School, have taken him well outside his land of expertise and showcase his ability to write for any audience, in this case, young children.
Despite all of his successes, Neil has not stopped working. In the last decade, Neil has experimented beyond the world of pen and paper and quickly adapted to the modern medium for telling stories. He has consulted on several films based on his novels, produced a television program called Neverwhere (which would later be adapted into a novel and then again into a comic). He also lent his skills to the fan-famous Doctor Who, penning two scripts that received critical acclaim (SFX)(Digital Spy). Recently, Neil's North American success has allowed him the unique opportunity to star as himself in the undeniably popular Simpsons.
One of the most remarkable things, as many fans will agree, is Neil Gaiman's fan involvement. Having established himself as a successful writer and fan favorite since the mid 80's, it may come as a shock to know that Gaiman only began blogging in 2001. Since the initial launch of the blog, which was initially created to describe his daily activities while writing American Gods, the site has slowly been adopted by Gaiman as a platform to express his thoughts. Posts vary in subject, ranging anywhere from what happened that day to upcoming publications. When asked why Neil is so active online, his response was simple: "I do it because writing is, like death, a lonely business" (Neil Gaiman). Beyond his blog, Neil can be found with a very active Twitter handle, @neilhimself.
Nowadays, Neil still writes. He still travels to consult on projects. He even finds time to inspire the artists of tomorrow, speaking at the University of Arts graduation ceremony for the class of 2012 (The University of Arts). Having never attended, let alone graduated from, a University, Neil provides a simple but elegant idea for how to be successful in life: "Make interesting mistakes, make amazing mistakes, make glorious and fantastic mistakes. Break rules. Leave the world more interesting for your being here. Make good art."
Neil Gaiman Addresses the University of the Arts Class of 2012 from The University of the Arts (Phl) on Vimeo.
I like to think that everyone at some point in their life has given into those flights of fancy. Whether you were trying to change the traffic light with your mind or daydreaming about flying away in your car during traffic, everyone has let their imagination run a little wild. For me, this is why Neil Gaiman's work is relatable. He captures the dreams we are all too afraid to express and then presents it for our enjoyment.