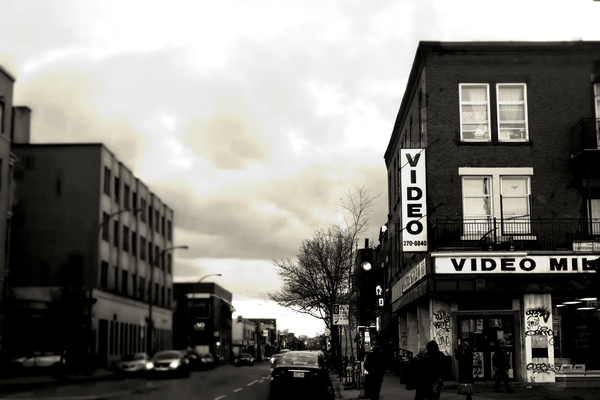 It was late afternoon on a crisp September day. I was standing in front of the old Forum, half a block up from St. Catherine and Atwater, waiting for a friend to emerge from the Mêtro for a quick dinner downtown. Montréal's weather was changing suddenly, as it often does between seasons, and some people were still wearing shorts and sandals, while others had found their jackets and pullovers, and even the occasional long winter coat.
A river of people burst by, it was the height of evening rush hour. Ahead, a small-framed man in a brown windbreaker sat in a wheelchair, a head full of combed-through Brylcreamed hair, holding out an empty carton coffee cup. He looked up. No one slowed, no one looked at him, he was seemingly invisible, on the edge of the stream of commuters, an object eluding collision. As the rush receded, he lowered his cup and then his gaze, and disappeared into the infinity spot, his eyes swimming about two feet ahead...gone. Then he came back, animated by a game nonchalance, he smirked, "Am I going to have to hurt somebody?"
I choked off a guffaw; I couldn't suppress that knife into the heart. What will it take to be seen, to be valued and validated...how many miles?