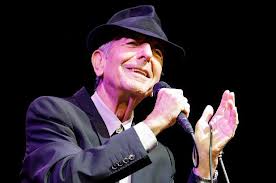 "You live your life as if it's real...a thousand kisses deep"(1)
― Leonard Cohen
He hasn't always looked the same. Leonard Cohen has grown and matured over the years. The songs that make up his life story have transformed him into an international singer songwriter Canada can be proud of, and one of my favourite Montreal artists.
In his early years Leonard Norman Cohen resembled any normal young adult. He had short brown hair, blue eyes, a slender figure, and a gaze that dreamers often wear. His dream - to write. A McGill graduate Leonard won the Chester MacNaghten Literary Competition for his poems "Sparrows" and "Thoughts of a Landsman" and was published in his first magazine in 1954 (2). Cohen continued to expand his literary portfolio, he published The Spice-Box Earth in 1961 followed by The Favourite Game in 1963 and Beautiful Losers in 1966, whose revenues are well into six figure sales today (3).