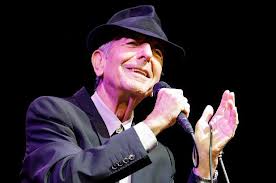 "You live your life as if it's real...a thousand kisses deep"(1)
― Leonard Cohen
He hasn't always looked the same. Leonard Cohen has grown and matured over the years. The songs that make up his life story have transformed him into an international singer songwriter Canada can be proud of, and one of my favourite Montreal artists.
In his early years Leonard Norman Cohen resembled any normal young adult. He had short brown hair, blue eyes, a slender figure, and a gaze that dreamers often wear. His dream - to write. A McGill graduate Leonard won the Chester MacNaghten Literary Competition for his poems "Sparrows" and "Thoughts of a Landsman" and was published in his first magazine in 1954 (2). Cohen continued to expand his literary portfolio, he published The Spice-Box Earth in 1961 followed by The Favourite Game in 1963 and Beautiful Losers in 1966, whose revenues are well into six figure sales today (3).
While enjoying his time in the limelight Leonard realized that songs were another outlet for his poetry. Having indulged in guitar as early as thirteen Cohen quickly found a place for his voice in the folk music genre. His debut album entitled Songs of Leonard Cohen showcased his lyrical talent and mimicked his rugged yet natural mid-thirties look. Shortly thereafter Cohen released his second and third albums, Song from a Room and Songs of Love and Hate, which focused on themes of love, lust, and sex in songs like "Suzanne" and "Famous Blue Raincoat"(4).
Scandal broke in the mid 1990s. Leonard discovered that his manager and long-time friend, Kelley Lunch, had been using his retirement fund and charitable fund money to pay her bills. In 2005 Leonard sued Ms. Lynch for $5M USD in misappropriated funds, which left him with a mere $150 000 for over thirty years of work (5). In 2012, after several years in court, Cohen saw justice served when Kelley was arrested and sentenced to eighteen months in prison and another five years probation. Unfortunately this ordeal left Leonard almost broke and very sad over the loss of his friend.
But the show did go on. Now in his sixties, sporting grey hair and laugh lines, Leonard had some very hefty legal bills to pay. So in 2002 he released Ten New Songs, a collaboration with the pop songwriter Sharon Robinson, that showcased Cohen's religious, political, and anti-capitalistic views on life (6). That same year Leonard received a SNEP award for selling over 100 000 copies in France and the accolades didn't stop there. In 2003 Cohen received the second highest civilian honor, the Companion of the Order of Canada. In 2005 he was inducted in the Canadian Folk Music Walk of Fame and in 2006 in the Songwriters Music Hall of Fame. Then in 2008 he was inducted in the Rock and Roll Hall of Fame by Lou Reed who said this Montréaler belonged to the "highest and most influential echelon of songwriters"(7).
Today Leonard is eighty and still calls Montreal his home. Rumor has it he can sometimes be seen sitting on a bench in Parc du Portugal across from his old home on the corner of St-Dominique and Vallières.
---