Public Transit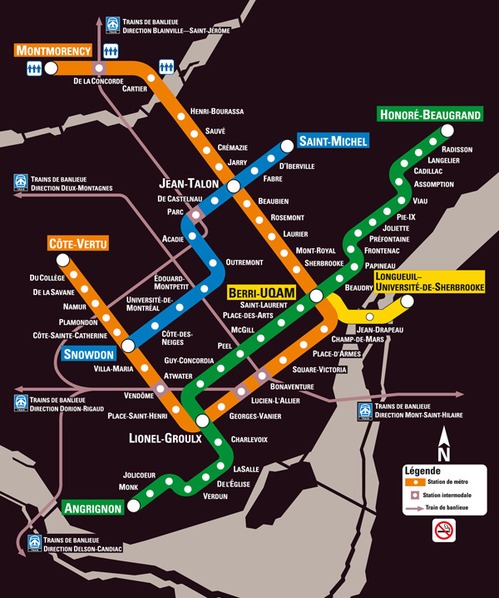 The public transportation authorities in Montreal are the Société de Transport de Montréal (STM) and the Agence Métropolitaine de Montréal (AMT). The main transit authority is the STM which has 192 bus routes and 4 subway lines. The public transit system that exists today dates back to 1966 when it was put in place to accommodate the visitors the city would see during Expo 67 World Fair. Montréalités will provide you with the information you need to navigate your way throughout the city using public transit.
Montréalités Articles about Public Transit

Quick Links
Heading off the Island?
Several surrounding suburbs can also be reached from Montreal using different transportations companies, if you are unsure which company serves the area you wish to visit consult the follow graphic.
Some of the more popular companies are:
Fares
Taking public transit in Montreal is relatively inexpensive and several types of fares are available. Regular fares apply to most people travelling on the bus and metro but reduce fares are available to children, students and senior citizens. A Photo ID Opus Card is required in order to take advantage of the reduced fares, unless the fare applies to a child under the age of 12, without it you can be fined up to $500.
One trip will cost $3.00 ($2.00*), these individuals tickets can be bought in a batch of 6 for $14.25 ($8.50) or batch of 10 for $22.50 ($13.00).

If you are visitor or only use the metro on a limited basis you can choose to purchase 1-day, 3-day or 7-day cards. The 3 and 7 day cards apply to consecutive days. The cost for one of these cards is $8.00, $16.00 or $22.00 ($12.75), respectively.

As well, an unlimited evening pass, good for one evening (6pm to 5am) can be purchased for $4.00.
For those who travel on the STM network on a regular basis can purchase a monthly (CAM) card and cost $72.75 ($41.00). Those eligible for reduced fare, a 4-month pass is available for $155.00. Those departing from the stations in Laval or Longueuil, the fares differ slightly then those on the other stations. The use of single trip, 1-day, 3-day and the unlimited evening passes are acceptable and can be used without any change in fare. However, if you are a monthly card holder, the Longueuil CAM card is required and costs $82.00 ($49.00) for Longueuil and a TRAM 3 card is require for the stations in Laval and costs $113.00 ($68.00). More information on TRAM cards can be found in the AMT section.
Savings for those who use public transit may come in the form of a federal tax credit. If you are regular users you may be able to claim this 15% credit on the amount you spent on public transit fares. For more information on this tax credit, visit the Canada Revenue site.
*The prices in italics are those for reduced fares.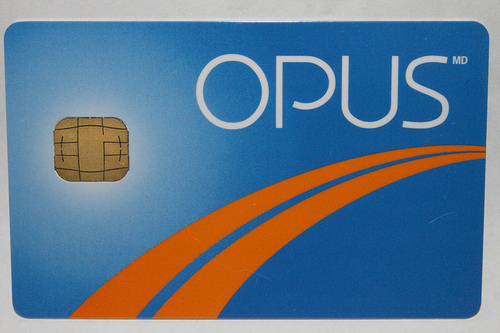 Opus Card
Opus Cards are a relatively new addition to the STM and are small plastic card with a microchip, similar to credit or debit cards, allowing you to load various fares onto it. If kept in good condition this card will last around 4 years and cost $6 for regular fare holders and $15 for reduced fares as you need to apply for those cards.
In order to get a photo ID Opus Card, an application form must be filled out and turned into the STM Photo Studio located at the Berri-UQAM station. For students, this form must include the seal or stamp of your educational institution and it only good for students who live on island of Montreal and are between 12 and 25 years old. At the beginning of the school year, the STM visits many high schools, CEGEPs and universities in order to hand out these cards. Seniors need only to fill out of the registration form and present proof of age.
Any type of fare can be loaded on these cards from various locations such as metro stations, fare booth, authorized vendors and vending/recharging machines. These cards are also used on the Agence Métropolitaine de Montréal, Société de Transport de Laval (STL) and Réseau de Transport de Longueuil (RTL).
Opus Card holders can subscribe to a service that is called Opus à l'année. This service allows you to charge up to a years' worth of monthly passes and be charged monthly. For more information on this program or the OPUS card consult the Fares Page on the STM site.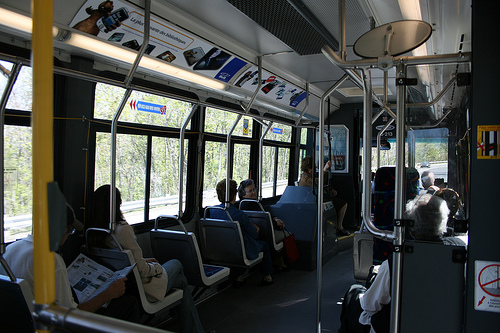 Buses
Montreal is highly accessible by bus with 192 routes reaching all corners of the city. During the day, there are 172 routes and at night (between 1am and 5:30pm) there are 20 routes. Maps of daytime and night time routes are available as pdf's on the STM's website.
Bus schedules are called Planibus on the STM's system and are released four times a year. Printed versions are available at the Berri-UQAM station while pdf-versions are available online here. All you need to do is put in the bus route number you are looking for and then click on the bus stop to find out when it passes. You can always use Tous Azimut for your trip planning if you are unsure which bus you have to take..
If you are at bus stop and wish to know when the next bus will arrive but do not have a computer, cell phone with internet access or Planibus schedule you can also call 514-A-U-T-O-B-U-S. You will to locate the bus stop number first, which is found on the lower right corner of any bus stop sign and is a five-digit number. If multiple routes use this stop, you will also need to know which bus route you will be taking. Bus stop sign also will show a metro logo is that bus route takes you to one. Buses run every day of the year, however on legal holidays the schedule will likely be different than normal so prepare by checking your Planibus.
The 10 minute max network consists of a group of 30 bus routes. Weekdays from 6am to 9pm, you will not have to wait more than 10 minutes for a bus; however, it applies only to buses that go to a metro station. In some cases, buses may only be going to a metro in the morning and from a metro in the evening. To find more about this network please visit their page.
Since January 2011, the STM offers bus service to the airport terminal at a reasonable price. For $8 (one way) you can catch the 747 express bus throughout the day as it runs 24/7, unfortunately it only runs from the downtown core to the airport and back, so plan accordingly. Information on its route, schedule and method of payment, visit this link. Buses on this route have an airplane symbol on the side near the back.
Safety for women travelling in the evening or late at night is a concern that the STM takes seriously. One of their recommendations is knowing when and where the bus passes and advises women so that you do not end up having to wait alone on some street corner in the dark for your bus, but that is not all. The Between Stops service allows women to get off the bus between regular stops along the route, you just need to inform the driver when you get on the bus and again one stop prior to where you want to get off. If the driver deems that it is safe to stop the bus where you asked they are required to do so. This service is available from 7:30pm from September to April and from 9:00pm from May to August.
Wheelchair accessibility on buses is possible on 150 routes. To view a list of which bus lines have accessible buses click here. A guide for clients using a wheelchair is available in pdf form and should answer any questions you have.
The Montreal Canadiens as well as the Montreal Alouettes have teamed up with the STM to offer special shuttle services on game days. The Canadians shuttle runs from the Bell Center to the West Island stopping at Dorval terminus, Pointe-Claire train station and Fairview terminus and is available after the game only. Regular fare applies. The Alouettes shuttle is different though, offering a free shuttle from the Square-Victoria and McGill metro stations to the Percival-Molson Stadium to any ticket-holders for that day's game. The service is available two hours prior to the start of the game and again after the game ends.
Metro
In Montreal, the subway is called the metro and runs completely underground. The use of rubber-tired cars for its entire fleet of metro cars was the first of such kind to exist in the world. The names of the stations in Montreal are generally named after the street on which they are found, though in some cases it might just be the name of nearby neighbourhood or landmark. Entrances to the stations are marked with this sign: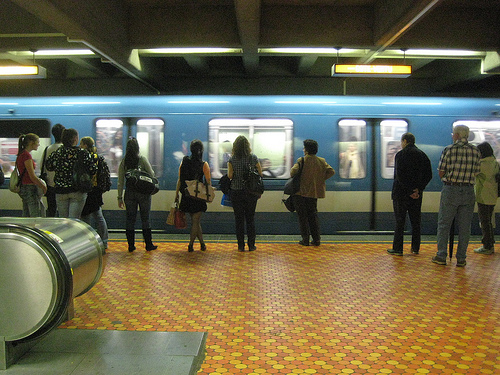 The blue and green lines run east to west, while the orange line runs north to south with a short trip through downtown going east or west. The orange line will also take you to Laval just north of the city, while the yellow line will take you Ile-Sainte-Hélène and Longueuil just south of the city. A map of the metro system is available here.
The metro run frequently and you will never have to wait more than 12 minutes, though during it is closer to 6 minutes. In general, the metro runs from 5:30am to 12:15am, though on some days they do run later. To check the hours they run visit this page, as well you can sign up to receive status alerts on your phone by following the instructions by subscribing to this service.
There are seven metro stations that are accessible to those in a wheelchair. They are Montmorency, De la Concorde, Cartier, Henri-Bourassa, Berri-UQAM, Lionel-Groulx and Côte-Vertu, all of which are located on the orange line. The STM recommends visiting this website to ensure that the elevators and accessible entrances are operational prior to your journey.
In some cases people use the metro for part of their journey and their bike for the rest. The STM has taken this into account and allows you to bring your bicycle with you on the metro, under certain conditions. Bikes are only permitted from 10am to 3pm and after 7pm; as well you are limited to using the first car of the metro and cannot ride or sit on your bike while in the station or metro. For a complete list of rules, please consult the Bikes & Metro page.
Taxibus
There are ten taxibus or public taxi lines in Montreal and where created in lieu of regular bus service. Generally this means they do not run as often as the bus with routes and stops being limited. All of the lines are located on the western part of the island with most servicing areas of the West Island. You need to pay regular STM fares, however you cannot pay cash upon boarding. To use the taxibus service you must show a weekly or monthly CAM card, TRAM card, STM single fare ticket or a valid bus transfer.
Paratransit
There are two sections for Paratransit services. One was mentioned earlier in the bus section, in which many routes features buses with low floors that are accessible to those in wheelchairs. Another service that is available to those with disabilities is the door to door transportation provided by the STM.
Taking advantage of this service necessitates meeting certain eligibility requirements, such as having a handicap or disability that limits your capabilities to the point where you cannot use regular public transit. Consult the eligibility page to find if your condition applies. The admission request form is available at this link (other forms available here) and must be completed and mailed to the STM Paratransit Services. Once you are admitted into the program you can make reservations for your transportation by phone or through the internet. This service is available to visitors as well provided they are admitted to the parantransit services in their hometown and only if they must use a wheelchair to get around. Visitors wishing to inquire about this can call a Customer Service Agent at 514- 280-8211.
Fares for the Transport Adapté services are slightly lower than regular fares, though this only applies to single trip fares and not the weekly or monthly CAM cards. Single fares cost $2.25 with reduced fare being $1.30. For more information regarding Paratransit services, please consult the following page.
Agence Métropolitaine de Transport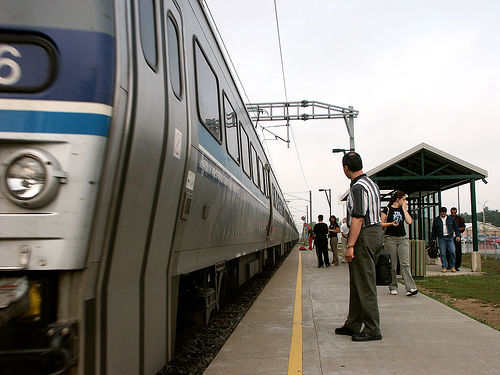 The ATM, as it is known, provides transport both on the island and to locations off the island. The ATM offers commuter train services as well as bus service to the surrounding municipalities and fees are based on the different zones, the farther from the downtown core the higher the price. Similar to the STM, the ATM has reduced and students fare for use with the photo OPUS card.
Monthly passes are also available, the Train card and the TRAM card. The train card allows you to travel on the commuter train while the TRAM card allows you to travel on the train, bus and metro. Single fare and 6-ticket booklets can also be purchased.