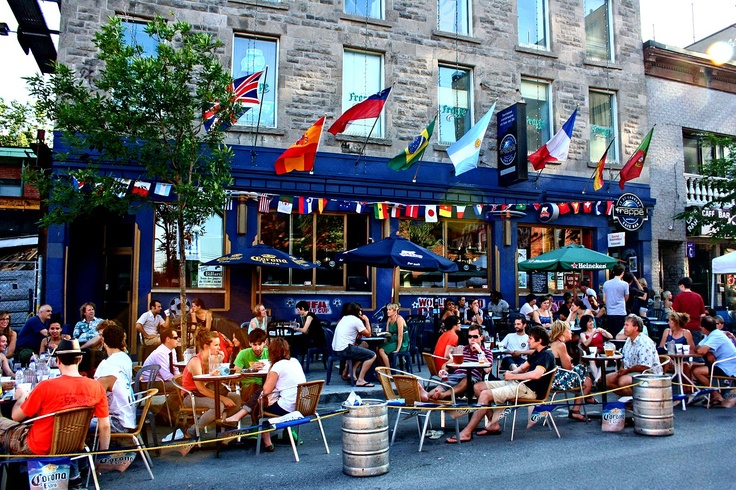 How many of us have spent our binge-drinking filled weekends hanging around boulevard Saint-Laurent? While hobbling down the street in stilettos, have you ever stopped and wondered what existed before the chique boutique, supperclubs, and lounges? The answer is probably a no considering most of us focus on what is right in front of our eyes.     
Boulevard Saint-Laurent, also know as The Main, is actually a product of over 300 years of history, establishing its reputation as the immigrant corridor of Montreal. By the early nineteenth century, many Eastern and Western Europeans emigrated to Montreal flocking towards Saint-Laurent and evidently creating a social and cultural hub for immigrants, particularly of Italian, Greek, Asian, and Jewish descent. Today, Saint-Laurent has become a major commercial and social artery for Montrealers and tourists. The next time you decide to ride in a limo with your head out the window at 3 a.m., consider taking a stroll down Saint-Laurent instead and explore these 5 historic attractions whose foundations are credited to the immigrants who made our beloved city.
1. Montreal's Red Light District
Surprise, surprise. I bet you didn't know that Saint-Laurent is Montreal's former Red Light District. Established in 1672, Saint-Laurent is the oldest artery and one of the first streets that crossed the Montreal Island from one end to the other. As the boulevard evolved, so did its' surroundings. Going from a wasteland to a flourishing commercial area, Saint Laurent became the hotspot for sex, drugs, and rock&roll. Saint-Laurent was the central area where soldiers and navy men used to relax and let loose during their layover time.Today, Saint Laurent is deemed a national historic site of Quebec. It also, remains a popular place to eat, party, and drink. However, the crusty and rundown bars have been revamped into upscale dinning restaurants (Zante is a personable favorite), and pop-up shops like Lollipops and Boutique 1861. If you're feeling nostalgic, check out Cleopatra, the oldest underground strip and drag club. So go explore the buildings and family-run bakeries along the street-I guarantee you will come home with a mind blowing historical fact to tell your roommate.
2. Little Italy
If you've ever wanted to visit Italy but couldn't afford the plane fare, don't worry ABAAHT IT (as the Italian's would say). Little Italy is like being in Italy except you're on a completely different continent. From its delicious italian restaurants to its' beautiful architecture, Little Italy is one of the most well-developed ethnic neighborhoods in Montreal. Little Italy is located on Saint-Laurent, between Jean Talon and St-Zotique street. Many Italians immigrated to Montreal to work on the Mile End Railway. Most settled along The Main because it was within walking distance of their jobs. By 1931, Italian immigrants made up 30% of Montreal's local population. By the 1960s, almost every Italian was living in this area. As families began to expand, the majority of Italians dispersed throughout the island of Montreal, particularly migrating to Saint-Leonard, Lasalle, and Rivieres Des Prairies. Regardless of the fluctuation, Little Italy remains one of the trendiest ethnic corridors of Montreal. Due to its delicious cuisine and tiny cafes, Little Italy has the exotic charm and foreign experience individuals appreciate. If you're interested in exploring the neighborhood, make sure to check out the fascist inspired building Casa Italia and Dante Park. If you have time, stop by Café Italy for a biscotti and espresso. Also, if you really want to feel Italian, go sit on a terrace during the World Cup and watch the excitement that will transpire.
3. Jean-Talon Market
I know its' difficult to imagine, but Saint-Laurent was once a rural farmland. After the Great Depression hit Europe, many Italians from Sicily, Naples, and Piedmont were forced to leave their homes in search of new opportunities. Leaving their dust bowl villages where land was uncultivable, Italians migrated towards The Main due to its healthy farming soil. In 1933, Italian immigrants opened Montreal's first farmer's market, bordering Jean-Talon and Mozart street. With over 300 vendors, individuals can purchase anything from fresh fish, meat, international cheeses, and spices from all over the world. If you're Italian, I guarantee you run into a family member, nosy aunt, or loud neighbor during your Sunday morning stroll through the market.
4. Baxter Block
The Jewish community is by far the largest ethnic community that has influenced Saint-Laurent. Between 1870 and 1945, many Jews emigrated to Canada in efforts to escape persecution; these individuals were primarily from Eastern Europe countries like Galencia, Poland, Russia, Bulgaria, Austria-Hungary and Romania. As of 1911, one-third of Montreal's population was Jewish and 87% of the Jewish population lived on the boulevard By the 1950s, most of the Jewish population dispersed from the boulevard and settled along Mont Royal and Sherbrooke. Since then, most of the buildings in this area have been remodeled and are currently being used as studios for Judaic theatrical productions and dance recitals. As for the district itself, only a handful of small, family owned businesses remain. However, this area remains a prominent element to history as it was the home to Jewish ancestors who suffered through the holocaust and oppression in Eastern Europe. We can see the Jewish influences in-and-around Baxter block. Located between Prince Arthur and Guilbrault street, Baxter is a commercial block and example of architectural uniformity and design which was created after the Jewish wave of migration to North America. Today, the street is the home of trendy cafes, bars, and small boutiques.
5. Chinatown
At the end of the1900s, Europeans were not the only ones lived who along Saint-Laurent. By 1911, over 1000 Chinese and Taiwanese emigrated to Montreal in search for jobs in the railway industry. They settled along the boulevard and created their own cultural hub, establishing barriers along De La Gauchetière, Saint-Urbain, and Saint-Laurent. In 1982, big arches were erected as an entrance to their very own Chinatown. Since the 1960s, many have settled away from Chinatown, consequently allowing the city to transform the ethnic hub into a commercial area. Today, Chinatown has been revamped into a pedestrian walkway where Montrealers and tourists can explore the district's restaurants and unique shops. On weekends, vendors extend their stores to the sidewalk to display fresh fruit, exotic vegetables, and imported goods. This area is also known for holding Chinese festivals like the dragon shows, the Miss Chinese Pageant, and martial arts demonstrations. So grab a bubble tea and some dragon beard candy and take a walk around the beautifully decorated neighborhood.