Rails to Riches
Anthony Pintabona
In a fast changing world starved for resources, should one take part in such an ostentatious activity as personal automotive transport?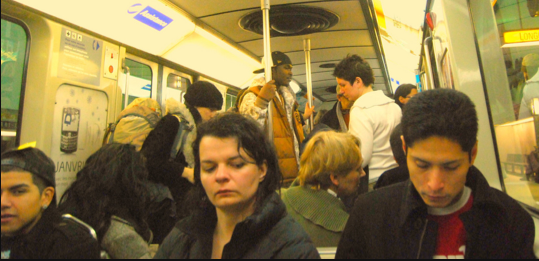 Image source:
Flickr
.
Assuming you have a car, your mental process most likely lead to the train of thought in which your answer was a resounding brick-walled NO. Chances are if you are indeed a civilized individual, one with a job and daily commitments, you may have entertained the idea of using public transit to reach your destinations. Before such a rash decision can be made, allow yourself to commute in the comparative process of that brief mental subway ride for just several more stops.
Comfort factors largely define the modern-day battle between driving and public transit. Upon first glance, the resource-draining automobile claims a premature victory; however, on a broader scale it is clear that there is much to be considered. The automobile offers it's shoulder like a reliable partner, time and time again, committed solely to you: Get up in the morning, get ready and jump in your car and off you go in luxury.
This is not the case with public transit, after all, being blessed with comfortable seating and personal space is more than any form of public transportation can offer. Instead, your comfort level using public transportation is more akin to a blind date--show up and hope for the best. Perhaps, you'll get to sit in one of the single seats but, more likely, you will end up sharing the dual-seated unit with a large, unhygienic-looking man.
While this comparison may seem one-sided, it is only applicable if your car is considered as "good". However, if you are forced to drive a rusted bucket of bolts day in and day out, chances are this constitutes the phrase "not good". The heat doesn't work, the car overheats, and worst of all, the car's exterior appearance is appalling or offensive - yet you would have no other alternatives then endure it. This is in essence worse than the public transit ride, there you all share the same drab trains while on the road, your 1985 Honda Accord has the possibility of pulling alongside a Mercedes-Benz at a stoplight. Not the best booster of self-esteem.
With our busy lives, we need to get where we need to be without issues. After all, convenience is the essence of the creation of transportation in the first place. A car sits neatly in the driveway mirroring the chivalrous nature of a handsome man following-through by escorting his date to her door while public transit represents the mind state of a womanizing frat boy: "Dump the girl off at the curb and off to the next stop." Truly, not the attitude of one deserving of a committed relationship--but maybe a temporary fling as you save enough money to buy a car. As in all good relationships, nothing comes without sacrifice.
Also a vehicle is like an alcoholic, unable to go about daily life without satisfying their costly thirst for gasoline. The public transit system on the other hand, for a paltry fee of fourty dollars a month handles all that business for you. The headaches that lie in traffic jams, maintenance problems and parking fees surely does not outweighs the cost of a public transit pass. If one round can concretely be claimed by public transit, it is the issue of cost. However, consideration must also be taken into account--that for some lucky individuals--cost is not an issue. If you happen to be monetarily blessed, the issue of what can be afforded is but deserving of a faint snicker, your laments go towards time wasted.

Taking into account the factors that influence one's choice in transportation, there is no concrete victor in this war. There is no denying the comfort of occupying a vehicle with heated seats and leather upholstery; however, the costs can only be covered by those who have had to occupy public transportation for years, counting their pennies to the one day get away from its horrors.