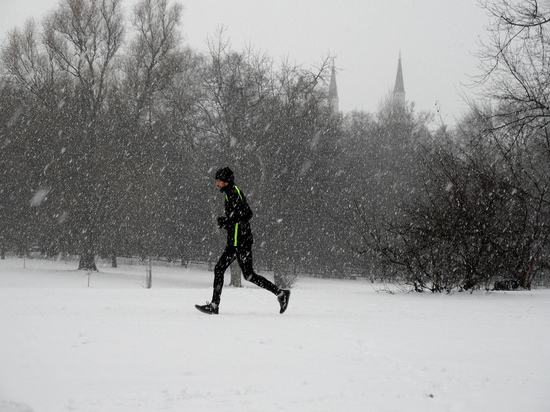 Running is a favourite activity of NDG residents and most do not let mother nature slow them down. With a little bit of planning, the right equipment, and a healthy dose of motivation, you will be on your way to becoming a winter road warrior! These instructions will guide you through what is needed to get started, and are intended to be used as a guideline for winter runners who are new to the sport.
Warning: Consult your physician before this or any new physical activity.
Caution: Due to potentially dangerous outdoor weather conditions, it is important to always remain vigilant and demonstrate caution when running in icy, snowy, or freezing conditions.

1. Inventory your current equipment.
Shoes should be comfortable. Jacket and undergarments should be warm, yet breathable. Gloves and a hat or headband will protect your skin against exposure to wind and the cold. If you are missing any gear that will help keep you comfortable and warm, it is advisable to purchase these items before heading out for your run.
Note: Having the right equipment can make or break your winter running experience. A comfortable runner is a happy runner.
Warning: Your body temperature will rise during your run then decrease rapidly after you have finished; therefore it is suggested that you dress for weather that is 25 degrees warmer than the actual temperature to avoid discomfort.

2. Visit your local sports store to purchase any missing equipment.
Sports retail specialists will help you find equipment that is specific to your requirements. It is advisable to wear sweat-wicking layers that will keep your body warm and dry.
Note: Prices may vary significantly depending on quality of the fabrication and on the brand name, so establishing a budget prior to visiting the sports store is recommended. Price comparison shopping can also be done online prior to visiting a retailer. In NDG and Westmount, check out Running Room at 4873 Sherbrooke Ouest.

3. Plan your route.
A well planned route can make all the difference to your run.
Caution: Busier, more frequently used streets tend to be ploughed and salted before smaller, less frequented streets; therefore it is advisable to keep this in mind as you plan your route.
Warning: Not all routes are created equal. Choose a route that is suitable to your current fitness level, minding changes in terrain like steep hills, busy intersections, and roads that have heavy pedestrian traffic.

4. Pick your time to run.
The day and time you choose to run should be both convenient and maintainable.
Note: While you can run at any time, many runners schedule their running around a specific day or time. Having a routine will allow you to compare your circuit times and will help with motivation (especially on colder days).
Warning: Additional precautions must be made if you plan to run at night. It is highly recommended to wear bright, reflective clothing or to wear a bright light that will alert drivers of your presence.

5. Get "Teched-up"
Having the right technology can help step-up your running.
Note: There are numerous devices on the market that will allow you to track your speed, your route, and even your heart rate as you run. These devices are available for purchase at most sports stores and will help you elevate your running. Many runners also enjoy running to music, so having a fully stocked I-Pod or similar music device will allow you to run to your favourite music or podcast.
Warning: If running while listening to music, make sure that you can still hear what is going on around you. If you can run with only one ear bud in, this may help keep you alert and aware to potential dangers around you.

6. Bundle Up.
The morning of your run, check the weather outside and get dressed accordingly.
Note: Do not neglect your skin. Wear sunscreen on sunny days, and consider applying Vaseline on your face to protect against wind burn. Tucking a few facial tissues into your pockets may also come in handy if your nose is also running.

7. Stretch prior to running while practicing smooth, consistent breathing.
Prepping for your run is essential to your success and may help to reduce your chance of injury.
Note: While Static Stretching (holding a specific stretch) is not recommended prior to running, Dynamic Stretching (moving rapidly through stretching positions) before a run will help loosen up your muscles and increase your body temperature. Practicing steady breathing while you stretch will help set a rhythm that you can try to maintain during your run.

8. Hit the ground running.
Get out there you road warrior, you!
Note: Some runners prefer running on the sidewalk, while others prefer running on the street or on bike paths. As you find what feels most comfortable to you, it is important to consider safety precautions, regulations, and municipal bylaws.
Caution: If you choose to run on the street, run against traffic so that you can see drivers and drivers can see you; and always respect traffic signals like lights and stop signs.
Warning: Be especially vigilant when running past hidden obstacles like driveways or parking lots.

9. Stretch after your run to relieve muscle tightness or joint stiffness.
A quick stretch while your muscles are still warm will give closure to your run.
Note: While stretching after a run is not necessary in all cases, it may help alleviate any muscle or joint discomfort that you may have experienced while running.

10. Immediately change out of wet, cold clothes when you get home.
There is nothing quite like a nice warm shower after a winter run. While your gear has wicked sweat away from your skin, chances are that your clothes are wet and will hold odour.

11. Log your run.
Keeping track of your run times will help you determine what went well, and what might be done to improve your next run.
Note: Keeping track of your circuit time is a fun way to challenge yourself for your next run. GPS tracking information can be uploaded, or conventional timekeeping can be tracked in a notebook. Use this information as a motivator or as a way to improve your running and planning over time.