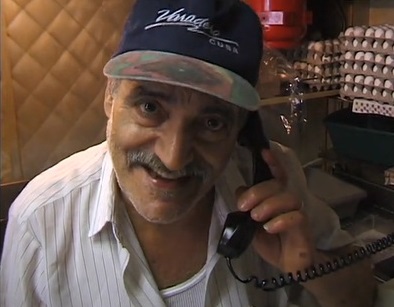 Tony Koulakis, the founder of "The Famous Restaurant" Cosmos on Sherbrooke St West is almost as legendary as the eatery itself. The chain smoking, larger than life local celebrity has lovingly been referred to as "NDG's grandpa", "Captain Cholesterol", "The Lord of the Potatoes", and, after starring in Ezra Soiferman's award winning 2000 documentary by the same name - the "Man of Grease".
Since 1967, Tony's loyal patrons have crammed into his claustrophobic 11-seat diner, spilled out onto its make-shift "terrace" in summer, and patiently waited in line - especially on weekends - to savour the likes of his gut-busting breakfast sandwich "The Creation", or the massive "Mish-Mash Omelette." Folklore has it that the omelette was actually sent for caloric analysis in order to determine how much of an artery-clogging punch the popular dish actually packed, and that it weighed in somewhere between 2000 and 3000 calories! The breakfasts, which are served fresh all day, are a total steal at under ten dollars a plate for a portion that could easily feed a few hungry mouths. Some have said that if Tony would have expanded the restaurant that he could have made a fortune, but it would seem that Tony was content with what he had - and as a Cosmos' breakfast lover myself, I am glad that he didn't.
Tony's customers included everyone from families, to businessmen, to students; everyone was made to feel welcome, and everyone treated to Tony's charm. Most importantly, everyone always left Cosmos satisfied. Tony would never let anything go to waste and was even known to distribute left-over food to the homeless at the end of the day, or donate the food to community food-banks and shelters. His daughter Niki proudly describes her father as someone who took people in, stating that "He made sure that people who couldn't afford it still got fed. That was more important to him than money." (The Gazette, 2013).
Koulakis was born in Crete in Greece and moved to Canada in 1954 with his wife Erene. The couple had three children, all of whom could be found behind the counter alongside their father at some point in the eatery's history. Their children Niki and Nikos began running Cosmos after Tony finally hung up his smock in 2002; having only closed for a brief hiatus following Tony's tragic death in late June 2013 at the hands of his 40 year old son Johnny, who has been arraigned on 2nd degree murder charges. The murder devastated Tony's family, friends, and neighbours, and shocked his loyal customers and the community of NDG who had come to love the man as one if its own. Bouquets of flowers were placed outside of the restaurant for days after the news broke, as those who remembered the man tried to process his heartbreaking death. When interviewed after reopening Cosmos some weeks later, Tony's daughter Niki was quoted as saying "This is the way my father would have wanted it - that we keep the business going. In fact, he probably would have been mad that we didn't reopen immediately after his funeral ... I feel he's looking down from above on us, and he's probably having a smoke too" (Gazette 2013).
Tony Koulakis in all of his glory was immortalized twelve years before his unfortunate death in Ezra Soiferman's film "Man of Grease". The 2000 documentary follows Tony and his wife through their life in NDG, and on a long awaited trip that the two took back to their native Greece. The film was reviewed as "absolutely worth seeing" by The Halifax Coast, and The Globe and Mail describe it as "endearing and offbeat enough to make the film equal parts funny and sweet." To its credit, Man of Grease "played at 8 film festivals, had 46 TV broadcasts across 7 Canadian networks and was nominated for a 2001 Quebec Jutra Award for Best Documentary" (Segal Center). The film has become something of a cult-classic and wonderfully captures Tony's rough-around-the-edges humour while showcasing the man's undeniable charm. The film is available for purchase at www.manofgrease.com and is a must see for all Montrealers, especially those who are from NDG. A two minute trailer of the documentary is also available.
Photo Courtesy: http://toromagazine.com/daily-toro/20130624/cosmoss-tony-koulakis-murdered-in-montreal