Last summer, Montreal inaugurated its very first MURAL festival. Spanning over a period of three days, locals and tourists flocked towards boulevard Saint-Laurent as artists showcased over 20 unique street art murals. With the positive feedback garnered from last years festival, Montreal is set to host MURAL for a second time. If you plan to check out this epic festival, here's a list of Montreal street artists to keep an eye out for this summer.
A'Shop's epic street mural, June 2013, corner of Saint-Laurent and Pine.
A'Shop are among the most notable street artists of Montreal. Since the early 90s, A'Shop has provided the city with large-scale murals for private and commercial clients around the province. Rooted in graffitti culture, the artist-run company promises that their authentic creations and innovative ideas represent their signature style. Their street creditability is defined by the overwhelming support from Montrealers for over 25 years.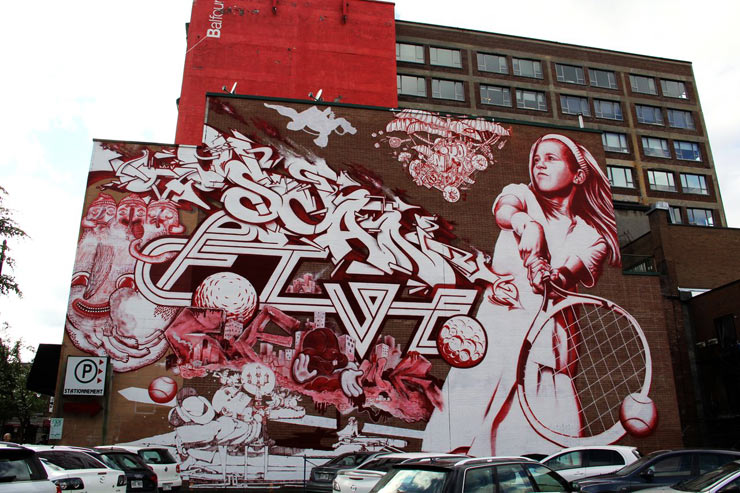 En Masse's street mural, June 2013, boulevard Saint-Laurent
En Masse is a multi-base artist collaboration project co founded by Jason Botkin and Tim Barnard in 2009. Having worked with over 250 artists internationally, En Masse focuses on five branches of acitvity, ranging from commercial murals to curatorial programming. Their aim is to create a collective vision with various artists in hopes of producing a masterpiece far greater than any one person could create on their own.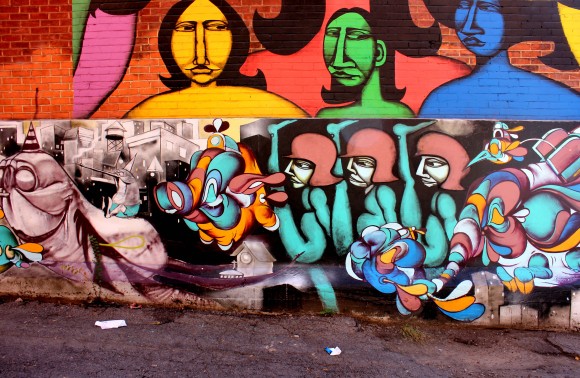 A Labrona masterpiece, fall 2013, located between Sherbrooke East and Berri.
Montreal artist Labrona is a passionate artist who combines the beauty of daily life into his works of art. For the past fifteen years, Labrona has been capturing life in his art by painting on skateboards, trains, and the outdoors walls of buildings. This talented artist ensures that he combines traditional beauty with the gritty truth of wherever he paints.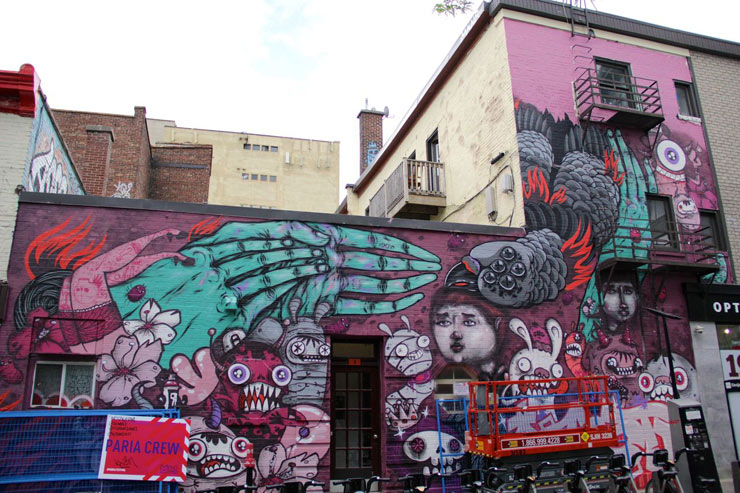 La Paria cartoon mural, June 2013, Saint-Laurent, corner Duluth
La Paria is a group of Montreal graffers, skateboarders, and artists who collectively believe in the "do it yourself" philosophy. Drawing their inspiration from social exclusion, La Paria is bound by the promise to never bow down to authority.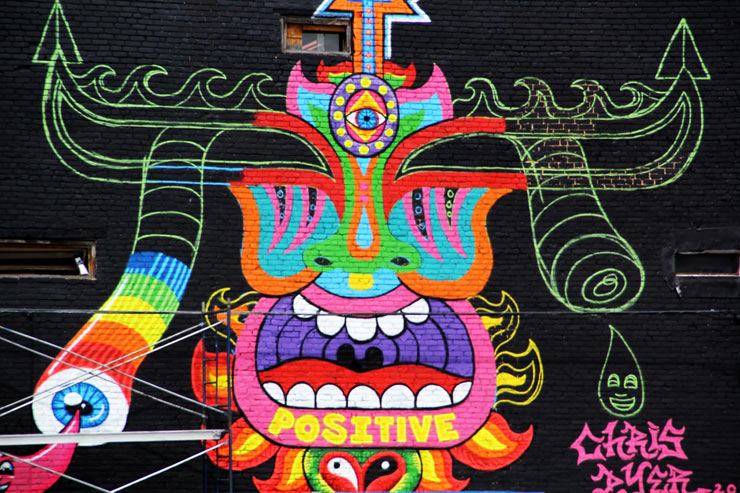 Chris Dryer's colorful mural, June 2013 Saint-Laurent between Prince Arthur and Sherbrooke
Chris Dryer began tagging walls with his street gang in 1993. Since then, Dryer has become a respected artist who aims to beautify the streets of Montreal and around the world. His art has been exhibited in Miami, San Fransisco, Peru, Mexico, and Belgium.
This year, MURAL is expected to attract over 35 artists from Montreal and around the world to display their talents and creativity along Montreal's busiest district. MURAL will take place between June 12-15 2014. Be sure to keep an eye out your favorite street artists. For more full list of this year's festival line up, check out MURAL.