The Changing Face of Mercier-Hochelaga-Maisonneuve
Martine Gravel
Mercier-Hochelaga-Maisonneuve is a borough of Montreal, located in the East end of the city. Since the 1980s, this part of Montreal is often seen with a negative eye because of its high concentration of poverty, even today and even though the area has changed significantly.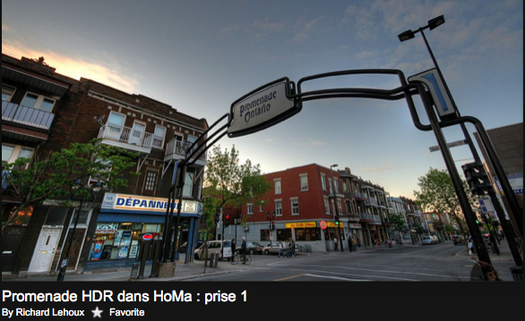 Image source: Flickr.
For years, Hochelaga-Maisonneuve was populated with prosperous citizens. In the days, during the 1920s, it had a great concentration of factories that were very successful. Following the 1920s, factories began to close down and people deserted the area, which eventually led to welfare and poverty. The neighbourhood had to face prostitution, violence, crime and decaying apartments. Since the 80's, it has been viewed as a bad neighbourhood, somewhere you do not wish to raise your children and one without many cultural activities.
Recently, boroughs like the Plateau Mont-Royal have become more and more popular, and the rents in those areas have become unaffordable. People who were living in the Plateau Mont-Royal look elsewhere now to rent or purchase a house, and because the cost of living is lower in Hochelaga, people are considering the area again, which has led to the gentrification of the neighbourhood. More and more people from 25 to 40 years old have moved to the Hochelaga-Maisonneuve neighbourhood and have directly impacted its transformation.
From 2002 until now, I, off and on - mostly on - have lived in the Hochelaga borough. During these years, many changes have occurred. Condominiums were built, and the city invested millions in the borough to improve its quality of life. For example, before, the only option you had to get something to eat was hot dogs and fries in a snack bar. Now, you have many more options such as bakeries and cheese shops. Even in grocery stores, there is a much more diverse choice of products than before. In 2008, the Place Valois was established. This public space has a fine french cuisine restaurant called « Le Valois », a charming restaurant that is definitely worth a visit! The ambiance is inviting and the food is tasty. There are also some lovely little shops like « Arhoma Boulangerie Fromagerie » where you can buy good tasting cheese and delicious breads, and specialty shops like « William J. Walter » which serves fancy sausages and delicious ice cream. The Place Valois also includes residential condominiums built for young professionals.
Another improvement of the neighbourhood is on the cultural level. You can now visit a couple of art galleries like « La Galerie FMR » located on Joliette street near Ontario. Just a few steps away, there is also a welcoming video club, which is one of my favorite places, called « Le Septième ». Their selection of movies is awesome! They also serve coffee and have Internet access.
Even the name of the place changed. After 2006, the word «HOMA» (short term for Hochelaga-Maisonneuve) appeared. Probably to help sell condominiums and make the place sound more inviting. Still, there is lots of prejudice about the neighbourhood and some people still see it as a tough place. Nevertheless, it is now a neighbourhood with a great diversity within its population, and I believe there is definitely a place for everyone. As of today, the neighbourhood is still evolving and I enjoy living there more and more. But will the place always be associated with poverty and crime? Let's hope not!