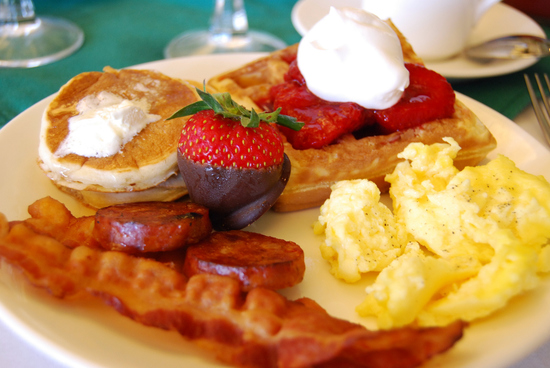 They are our morning coffee, our weekend brunch, and our saviors the morning after a few too many glasses of wine. Whether solo or social, 8am or 2pm - breakfast is indeed the most important meal of the day, and NDG is spoiled for its many options. This unbiased reviews of five of NDG's top breakfast spots will be sure to get your mouth watering as I evaluate each on the food, the price, the service, the atmosphere, and the overall experience.
Photo Cred: Tripadvisor.ca
1. Ye Old Orchard Pub: 5563 Monkland
Located on Monkland, Ye Old Orchard Pub is eaily accessible and serves up a hearty breakfast on weekends. The wait staff is always pleasant and courteous and the breakfasts are huge and delicious. While the breakfast menu is limited compared to their extensive lunch and dinner options, they serve up a classic breakfast fare and they do it well. There is a nice variety of omeletts, a selection of juicy sausages to choose from, and a few speciality items like their delectable Bailey's French toast. The pub itself is a cool spot for a weekend breakfast and is usually quite full, but finding a table for two is never too difficult. Seats are also available on their outdoor terasse in the warmer months which is a nice option for a little bit of people watching with your breakfast. Early morning and afternoon sporting events are also shown on the pub's many flat screen TVs for those who fancy a pint with their eggs.
Best for: Breakfast with friends, sporting events, terasse, hangovers.
---
Photo Cred: Carms @ Urbanspoon
2. Prohibition: 5674 Monkland
Prohibition is a trendy breakfast spot on Monkland and is one of the newest additions to the NDG breakfast scene. It's claustrophobic interior - while charming - can get quite loud, but dont let that stop you from coming in to try their delicious scones, their sin worthy bacon, and the other creative twists that they have added to their otherwise traditional breakfast items. A comfortable terrasse in the summer makes up for the small interior space and is a great option for those who want to soak up some sun while enjoying their morning coffee. While a tad on the pricier side, the portions and quality of the food at Prohibition make it well worth the price for the occasional mimosa brunch among girlfriends.The service was curteous if not somewhat hurried due to the number of people waiting for tables, which while slightly annoying, is a testament to the popularity of this small breakfast spot. Get there early!
Best for: Special occasions, breakfast with girlfriends.
---
Photo Cred: Laura Drudi @ Urbanspoon
3. Orange Cafe: 4011 Decarie
It may be a while, but it will certainly be worth it. There is no question that Orange Cafe is a popular weekend breakfast spot. On Saturdays and Sundays the line up often extends long outside the doors as patrons huddle together in the entrance waiting for tables. The menu is quite extensive, catering to both the health conscious as well as those who need a grease fix, so there is truly something for every taste. The coffee is refilled often and the portions are sizeable making it a good bang for your buck. Orange Cafe is a large, laid back breakfast spot that is perfect for families and foodies alike, and the few tables that they assemble outside is a welcome treat in the summer months
Best for: Lazy weekend breakfast, bring your newspaper, groups, casusal breakfast with friends and family.
---
Photo cred: ElizabethEatsEverything @ Urbanspoon
4. St-Viateur Bagel and Cafe: 5629 Monkland
St-Viateur Bagel and Cafe serves up traditional breakfast fare with a very special side - their famous bagels. This popular breakfast spot is typically brimming on weekends, but the wait is never too long and the atmosphere is bright and welcoming - especially in summer with open access out onto the sights and sounds of Monkland. While their eggs and potatoes are somewhat average and the menu is limited at best, the portions are huge and the service is fast and effective. One added benefit to St-Viateur Bagel and Cafe is their take-out counter that allows patrons to also pick up a dozen (or two) of their favorite bagels for the road. They are made fresh on location and are without question the star at this bustling breakfast spot.
Best for: Traditional breakfast, bagel cravings
---
Photo Cred: Globeater @ Urbanspoon
5. Eggsfruitti: 6710 St-Jacques
While set further away from NDG's popular pedestrian thoroughfares, Eggsfruitti is worth the commute. Probably one of the more consistent breakfast options, this popular breakfast spot has fast, friendly service and their extensive menu never disapoints. Serving both sweet and savory dishes, there is something for all tastes at Eggsfruitti. This breakfast spot is huge ensuring that there is always a table available, or that at peak breakfast hours, one wont be long. The decor is fresh and clean, and despite being the only restaurant on this list without a terrasse, the atmosphere is very open and never feels over crowded. The pricing is very decent at Eggsfruitti and is one of the better value-for-money options in NDG.
Best for: Trying something new, safe bets, bring your newspaper.