Italian Family Continues Perfecting Montreal's Famous Deli Sandwich.
---

 It's without a doubt that the Jewish community has left the biggest imprint on boulevard Saint-Laurent, the heart of immigrant Montreal. As early as the 1890s, many Jewish families migrated from Eastern Europe and established businesses along the boulevard. The most popular family businesses were those who introduced Montrealer's to the delicious kosher brisket: SMOKE MEAT. While the Jewish population may be responsible for introducing smoke meat to our beloved city, an Italian family, has perfected the deli sandwich, and has extended the traditional dish west of the island.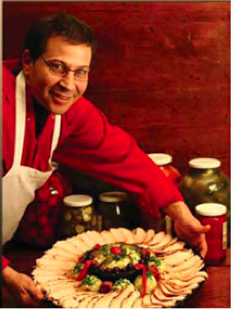 Meet Peter Varvaro Jr, a restauranteur and connoisseur of Montreal's famous deli sandwich. Born and bred in Montreal, Pete is the eldest of six children and namesake of Peter Varvaro, owner of The Main Deli Steakhouse. Pete is your typical Montreal-italian. He's outgoing, funny, and loves sharing his twisted humor with his friends and clients. His success stems from the guidance and direction of his city-famous father, Peter Varvaro Sr.
Pete's father was immersed in Jewish culture. As a young Italian boy growing up on Saint-Laurent, Peter Sr. became infatuated with Jewish traditions, specifically those which dealt with perfecting the savory brisket. He was often seen rushing home with handfuls of smoke meat sandwiches from Nathan's, a small snack bar located in the Plateau. As he got older, his father experimented with different seasonings, breads, and equipment. After much trial and error, Peter Sr. opened The Main Deli, his very own restaurant in 1974. 
With the help of his wife Diane and children Pete, Dominic, Angelo, and Jennifer, the Varvaro's were able to perfect the smoke meat sandwich. Over the years, The Main Deli has served celebrities like Celine Dion, Al Pacino, Leonard Cohen, and Stanley Lewis. As a teenager, Pete Jr. recalls when Celine Dion and her husband would slide into "the corner booth where they always sat... and [ordered] the smoked meat and baby back ribs". Today, The Main Deli remains in the hands of the Varvaro children, while Pete also manages his own restaurant in the suburbs of Montreal. 
After contributing 22 years of his life working for the family business, Pete decided to open a place of his own. In 1996, Pete opened Smoke Meat Pete, a restaurant similar to the family deli. The name of the restaurant derives from his childhood spent working for the family business. "I was nicknamed Smoke Meat Pete when I was younger, and it just kind of stuck" says the restauranteur. 
Smoke Meat Pete literally became an overnight sensation. Operating his restaurant from a tiny cramped basement, Pete marketed his brisket to the random drivers who would pass by his home in Ile Perrot. However, all that changed in June 1998 when the Montreal Gazette ran an article in the food section about Pete's smoke meat sandwich, dubbing it second best to Schwartz, Montreal's Hebrew delicatessen and The Main Deli's rival. The article made Pete a household name and the next day customers lined up around the block to try his brisket. That day, Pete was forced to close his restaurant early because he had run out of bread. After that, restaurant life was never the same, as customers kept coming back for more. To accommodate his growing clientele, Pete was forced to move his restaurant out of the basement to a larger location. Today, the restaurant continues to attract a diverse clientele, drawing customers mainly from the west island and Ontario region.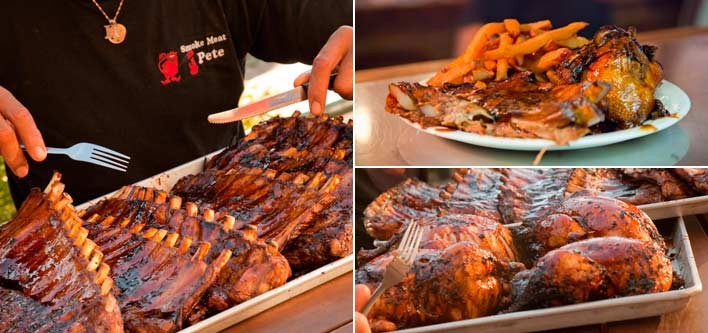 For those not familiar with Smoke Meat Pete, it's a mix between a relaxed BBQ hot spot meets Blues bar, serving smoke meat platters, poutine, and ribs, similar dishes that the Varvaro family restaurant is reputed for since the 1970s.
Although Smoke Meat Pete has achieved success, many believed it would fail because the restaurant lies miles from Montreal's Jewish enclave. However, despite being far from the downtown core, the restaurant has gained raving reviews on TripAdivor  and UrbanSpoon, claiming that the brisket is "authentic to the core" and "[Montreal's] BEST smoke meat by FAR". 
Through his hard work and dedication, Pete has established a reputable name from himself and continues to carry on the Varvaro tradition. Not only has he imitated his family's deli sandwich, he has also managed to take the Judaic culture and expand their influences from Montreal Jewish hub westward of the island. 
For foodies interested in trying a traditional Varvaro dish, Smoke Meat Pete is located on 283 1st avenue in Ile Perrot. 
---
References