The Top 5 Sports Bars in Montreal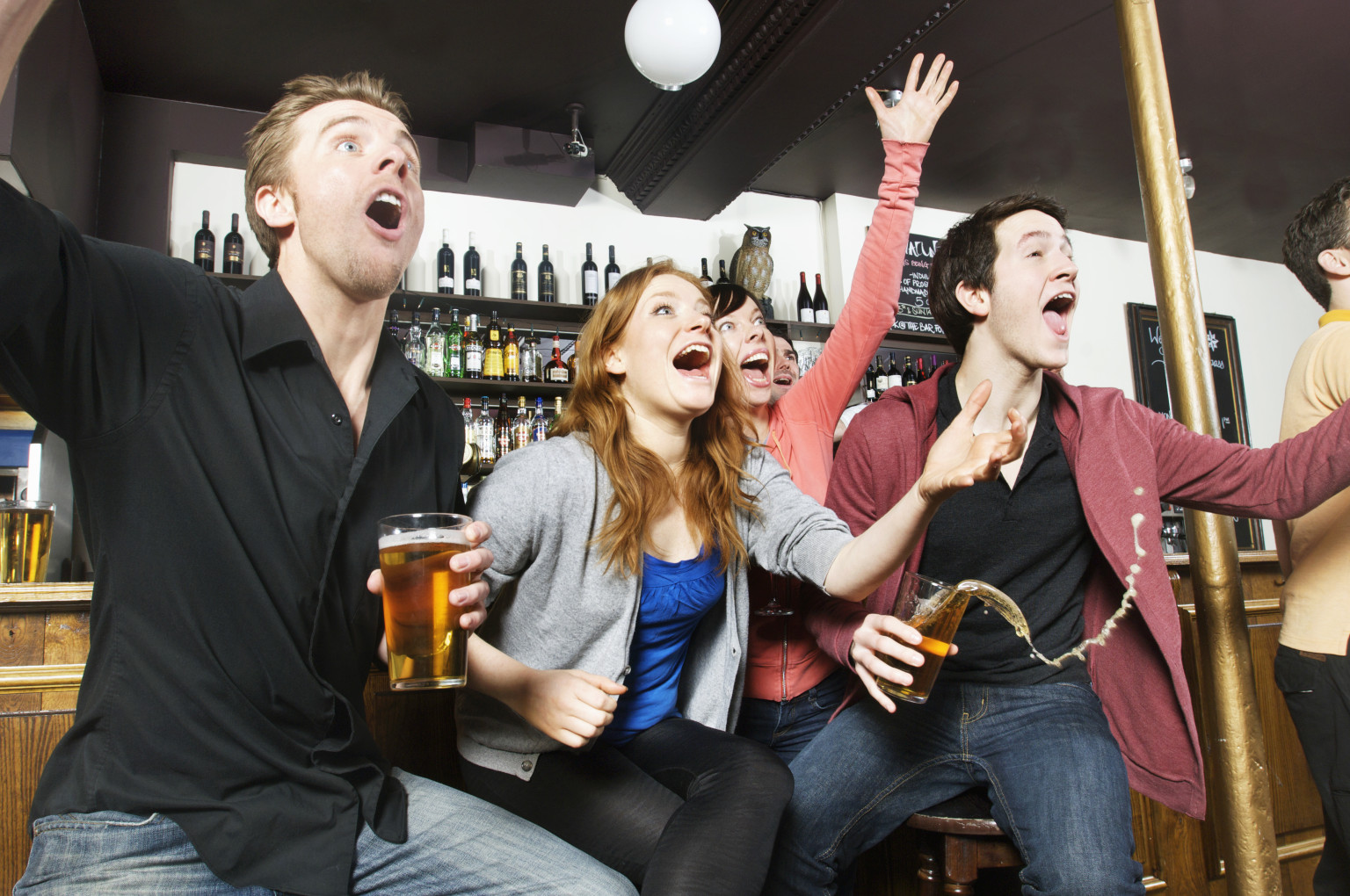 Home of the Habs, Alouettes and Impact, Montreal is high with sports fever.  Although the city has experienced their share of fallouts, including their publicized divorce with the former Montreal Expos; the population doesn't shy away from their sports-affiliated culture. 
However, with a local professional team to root for each season of the year, attending a live game will dent your pockets. Even if you score a cheap ticket, the transportation costs along with food and beverage is considered a luxurious splurge. So what is a Montreal sports fan to do...
We will take you through 5 of Montreal's best sports bars that will ensure you catch your favorite game without having to sacrifice your hunger, your financial stability, or your comfort. 
Chez Serge
5301 St. Laurent, corner of Maguire
At first I was impressed with the management's choice in installing a TV on the ceiling of the men's bathroom (don't ask how I know about it) however, as a female, it left me feeling neglected. Not all females only watch sports to appease their male partners, but I was quick to learn that Chez Serge has created a sports bar atmosphere that does just that; catering to their male sports fans! The servers are all female and willing... to keep you entertained by dancing on the bar between periods.
Located on the popular night-life street of St-Laurent Boulevard, hockey is their broadcast of choice and Chez Serge strictly airs only Montreal Canadiens games. Meaning, if you are looking to watch any other team but the Habs, look elsewhere because this place is loyal to the Canadien's game! The large disco ball flashing red, white, and blue across the bar will remind you that we are in a city that bleeds hockey, Canadien's hockey, before all else.
One thing is certain, you'll see the game no matter where you are sitting. The spot is equipped with one giant 110-inch TV screen, four "smaller" 58-inch plasma screens, and additional screens in the booths.
With an extensive drink menu, tall boy beers and funnels, the best thing about this place might just be their mechanical bull that you can ride for free, all night long! The place is guaranteed to be packed so don't even think about just dropping in before the puck drops.
La Station des Sports 
2051 St-Catherine Ouest, corner Du Fort
At the edge of Downtown Montreal on the coverted St-Catherine Ouest lies the Sports Station. The size of this place may daunt you however the amount of television screens guarantees that any seat in the house has a prime view of the game. The outside terrace matches in size covering the entire length of the bar's "three-store-sized" front.
As a customer, you have the option of sitting at one of the bar's self-serve beer tables equipped  with their own taps. And you might want to opt-in for one when the place is extremely busy on nights hosting the UFC fights because a server, understandably, gets much more difficult to signal down. 
At any mention of the Sports Station, you'll get the same reaction across the board, exclaiming they sell huge pitchers of beer for cheap! And as cheap as the beer comes, hard liquour doesn't fall too far behind so you have decisions to make on how you'd like to get tipsy rather than what your budget forces you to drink. 
Peel Pub
1196 Rue Peel, corner of René-Lévesque
Possibly known best for their 99 cent shooters special every Thursday night, Peel Pub offers up inexpensive classic sports bar food and beer/drinks regularly! Along with their pleasently priced menu, their two floors have giant tv screens mounted in all directions and tuned into different sporting events (except when the Canadians play of course). 
Some people might enjoy attending Peel Pub during their off-hours, because if you catch them on a busy night, you are looking at waiting in an indefinitely long line to get in and rowdy crowds rooting for their team. You can't deny the exciting atmosphere once you are seated though! The staff is quick to take your order and will do so with a smile on their face which is refreshing in this type of service industry where friendliness is much harder to come by these days.
It is worth noting that due to their location being in the center of downtown Montreal, Peel Pub tends to be filled with tourists although it is a popular classic with locals as well! 
PJ's Pub
6910 Rue Saint-Jacques
When you first walk into PJ's, you're jaw will drop at how large the space is. With 100 flat screens and six projectors, PJ's Pub offers all sporting events and will be more than willing to change one of the channels if you wish to watch something that strays away from the popularity of "Hockey Night in Canada". Sidenote, when it's not packed, it can feel quite lonely so make sure to attend with a group of friends. 
The location has over eight bars and includes all Pay-Per-View events free of charge. From finger food to full course meals, prices are more than welcoming and if you look closely, the menu mirrors that of the Sports Station mentioned earlier which hints to shared owners.
To sum it all up, their budget-friendly large breakfasts are great with a side of NFL Football Sunday or any early weekday soccer matches. And everyone is too busy watching the screens to judge the fact that you are hiding behind oversized sunglasses and are harvesting a bottle of Advil to treat your nasty morning-after headache. PJ's is your sports-watching safehaven.
Sharx
1606 St-Catherine Ouest, corner Guy-Concordia
Welcome to Sharx, your not-so-obvious sports bar. The 12 pool tables, bowling alley, and virtual golf rooms, might sway your decision in choosing to sit back and catch the big game. But then you'll take in the basket of fries and large vinyl L-shaped couches that circle three large bars and more than several giant-sized tv screens. There is no question that you can visualize yourself kick back your feet, order a beer, and cheer on your team.
If you are one not to enjoy the rowdiness that usual comes along with the usual slap-in-your-face (deafening) sports bar atmosphere, Sharx grants you that peace of mind because their set up allows for enough distance between groups to actually hear the person you are sitting next to.
If you are not a huge sports-fan but are tagging along because you don't want to spend your night in alone and miserable, you do have a chance in convincing your sports-enthused company to sign up for a game of bowling because each lane ends with tv projectors showing the games! Everybody wins at Sharx!
The slam dunk about Sharx is that they are more than likely to have space for you last minute because not everyone has discovered this underground gem which means less grief in the chance of missing the winning goal and more time celebrating it in comfort!