Alan Rudolph's Afterglow (1997) strives to be the alt-romcom for people who look down on romcoms. It burns slowly, ends unhappily, and camouflages its trusty clichés under arch manners. Tinged with sepia and laden with flat ironies, it's a film to which datedness has been preemptively disallowed, but in its cultural context of nineties knowingness, the derivations and unsophisticated sexual politics make it feel immediately stale. Caught between voguish indie sensibilities and well-worn romcom quirks, it's a half-baked product that fails to rise.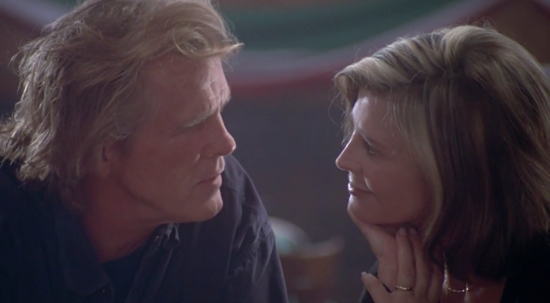 Photo © 1997 Sony Pictures Classics/Sandcastle 5 Productions
The story follows two unhappy couples--a yuppie (Jeffrey) married to a dissatisfied sylph (Marianne), and a rueful former actress (Phyllis) married to an over-the-hill handyman (Lucky)--as they make light of their nuptials. The wives, straying crosswise from their rightful partners, fall into the arms of their men's younger and older counterpart (Marianne takes up with Lucky; Phyllis with Jeffrey). This treacherous four-way roundelay brings to mind the fire-and-ice dynamic of Who's Afraid of Virginia Woolf? (1966). As many well know, Woolf was a stark drama that mined, with blackly comic shades, the contrasting frailties and failures of a bitter old couple and sweet young couple. Afterglow is primarily a comedy that slithers, with dramatic flippancy, along the self-rationalizing surface of a pair of deceiving pairs, distinguished but never disparaged by age and success. In a nutshell, Afterglow turns Woolf inside out. It also shows Woolf-influence in its baby drama, as Phyllis yearns for a daughter she feels she drove out and Marianne yearns to...force one out. Fondly remembered, Who's Afraid of Virginia Woolf? is a classic; justly forgotten, Afterglow is a Class-C dud.
Rudolph's screenplay positions its characters--their backstories, personalities and trajectories--to align with patterns and ironies rather than actually do any useful work on the matter of illuminating marital decline. Lucky, for instance, is a genial philanderer, and not the biological father of his runaway daughter with Phyllis; ergo, he becomes the perfect suitor to adulterously inseminate Marianne, whose own husband Jeffrey, an intractable creep, frigidly spurns her wifely entreaties. Jeffrey--successful, and all of twelve years old--is prematurely disenchanted with his marriage, and his attentions drift in the direction of Phyllis. She responds to his voiced desire for "fine [aged] wine" and he, in turn, responds to her triple desires for diversion, novelty and adulation. Phyllis is the enthralling Mrs. Robinson, filtered through a frothier idiom, to Jeffrey's preppy, starchy Benjamin. She is ostensibly motivated, at the core, by sadness and regret, but those somber dimensions come to feel less like psychological underpinning and more like artificial incentives for flurries of fancy. What is more, there is too much complementary flight and self-contentment in Julie Christie's performance to make plausible that Phyllis would have ever settled into marriage (and with that guy). The glib unruliness of Christie's performance--the most lauded in the film--is an index of Rudolph's whole lassitude here as a filmmaker: having found a partner in filmic crime to invigorate his turgid screenplay, he indulges her excesses when he ought to have put the reins on them.
Though Lucky and Jeffrey coalesce into an unsubtle contrast of masculinity, Phyllis and Marianne are birds of a feather. To wit, Phyllis' ennui and gliding egotism are meant to show how Marianne's voracious personality might take to many more years of trophy housewifery. Let it be said that illuminations of that kind are dim, and betray a limited understanding of the opposite sex on the part of scenarist Rudolph. Characterization in the film is wretchedly poor, with everything held in an engineered equipoise.
Photo © 1997 Sony Pictures Classics/Sandcastle 5 Productions
Afterglow aspires to real heft, but never builds any stakes for its characters, who are left to act as agents of causality in a series of tedious exploits. Each role archetype agent is brought to life, by force of personality, through the talents of a four-temperament quartet: the younger pair by Johnny Lee Miller and Lara Flynn Boyle; the elder, by Nick Nolte and, as mentioned above, Julie Christie. "Talent" finds its loosest usage here: despite the awards one of them collected at the time of release, these performers range from innocently awful (Miller and Boyle) to complacently so (Nolte and Christie), with only Boyle sounding the occasional ring of truth. The camera circles them like a probe: its empty focus emptying them of any possible depth, and its limited expression limiting their reach.
Photo © 1997 Sony Pictures Classics/Sandcastle 5 Productions
The film itself ought to have a certain amount of reach, what with its braiding together of drama, comedy and romance (genre-fusing tends to expand a film's appeal). One's mileage may vary, but it's difficult to conceive of this as appealing to anyone other than people in Rudolph's own peer-group (that's the framing perspective it claims). It plays like a jazzy old tune uninspiredly remixed by the originating artist many decades past their prime, which is an indication of failure for a film that attempts to unlock the valves of "that old feeling" in order to find new and vital channels for it. Sadly, everything perishes in the barrenness of Rudolph's lounging pace and tone-deaf, Altmanesque style.
Photo © 1997 Sony Pictures Classics/Sandcastle 5 Productions
By the by, the story is set right here in Montreal. The choice of Montreal as a setting is too curious--this is an American film, after all--to be insignificant, but Rudolph's rendition of Montreal is far too anonymous and incidental for its backdrop presence to carry any observable significance. If one were to venture a guess at the intention behind the choice, one might point to the notion of Montreal as the Paris of North America. For his contemporary romantic comedy, Rudolph may have sought the synchronous splendours of two worlds: the metropolitan new-world he knows and the glistening haut-monde that we all know to be the world's Romantic capital. The intention, whatever it was, has yielded indifferent results, and potential is largely wasted. By way of compensation, the ritzy confines of the Ritz-Carlton see their fair share of screen time, serving as the site of critical, climactic revelations between the characters.
Rudolph would follow this up with the The Secret Lives of Dentists (2002), a much worthier film about troubled matrimony. As a storyteller, Rudolph brought to that tale precisely what, in hindsight, was missing from Afterglow: real angles and depths, and genuine laughs. A fine if not perfect film, Secret Lives left me with a lot to think about. After viewing Afterglow, the cinephile and Montrealite in me were simply left glowering.