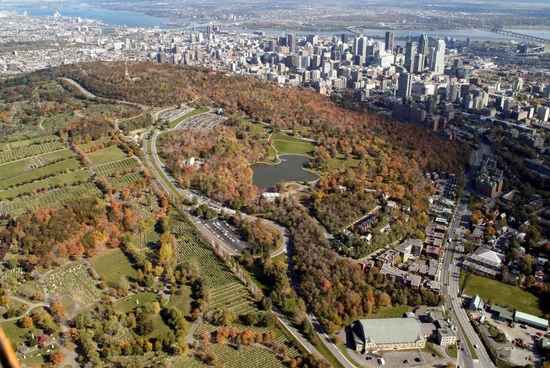 Although not technically a mountain, Mount Royal is rarely or never referred as anything else by the locals. Nestled between the Plateau, Outremont, Côte-des-Neiges, Wesmount, and downtown Ville-Marie, Mount Royal offers a perfect escape from urbanity. It boasts three summits, a man-made lake, two cemeteries, countless trails through the forest and toward the summits for hiking, biking, and cross-country skiing, vast green spaces, a sculpture garden, and an interpretive centre, not to mention seasonal and cultural events. Mount Royal has something to offer for everyone who just needs some time away from the busy city schedule.
The Royal Mountain
Mount Royal was named "le mont Royal" by Jacques Cartier in 1535 in honour of his patron, Francis I of France, which eventually inspired the name of the city, Montreal. Mount Royal Park on the eastern side of the mountain officially opened on Victoria Day in 1876. It was designed by the landscape architect Frederick Law Olmsted, co-designer of Central Park in New York.1
Olmsted developed three themes when working on his designs:
Nature positively effects people's physical and mental well being.
Nature must be respected and anything artificial that is introduced to the landscape must not disrupt it.
Human beings and nature constitute a single work of art.
Thus, Olmsted designed a network of layered paths and trails that highlight the natural elements of the mountain, avoiding introducing anything that would disrupt its original state. However, the municipal authority built a funicular railway in 1875, and after its demolition in 1921, a streetcar between Mont-Royal Avenue and Côte-des-Neiges Street replaced it for a few years. As cars became more prevalent, roads and parking lots became necessary.2
Today, two cemeteries, the Mount Royal Park, and several other nearby parks and institutions make up the Mount Royal Natural and Historical District. The mountain and its surroundings are a refuge for the busy Montrealer and offer a dizzying array of possibilities.
A Seasonal Paradise
In the wintertime, Mount Royal Park offers seven cross-country and snowshoeing trails (18 km in total), and a former ski slope now used for tubing and tobogganing.3 Equipment for these activities, and for skating on Beaver Lake, are available for rent at the Beaver Lake Pavilion from late-November to mid-March. Visitors can enjoy a guided nighttime snowshoe walk along the trails, topped off with hot chocolate. School groups are welcome and encouraged to make reservations, especially for March Break Day Camp based in Smith House. Cross-country skiing lessons are also on offer for adults and for kids.4


Sunday mornings from April to October in Mount Royal Park are unique in Montreal. Hundreds of Montrealers and tourists gather at the George-Étienne Cartier monument in Mount Royal Park for the "Tam-Tam Jam" from around 10:30am until sunset from April to October. Not too far away and usually starting around 1 pm, the Guerriers de la Montagne (warriors of the mountain) gather for Live Action Role Playing (LARP) games. The level of enthusiasm and historical accuracy varies from person to person, and while there are no official rules (of engagement, of storytelling, or even for safety), anyone is welcome to watch or participate.5


TAMTAMS - Mont-Royal / Portraits de Montréal6
For more structured pursuits, you only need to look across the street. Jeanne-Mance Park offers tennis courts, two softball fields, a soccer field, a children's swimming pool in the summer, and outdoor skating rinks in the winter. You could easily make a day out of that area: perhaps some sports at Jeanne-Mance park, followed by a picnic brunch for the start of the Tam-Tams, then an exciting battle royale with the Guerriers de la Montagne, and a hike up to Beaver Lake for a picnic dinner to watch the sunset. With the Plateau only a few steps away from the aforementioned parks, you could punctuate your enjoyment of the great outdoors with gourmet food and unique shops.
Something for Everyone
Mount Royal offers intellectual and cultural pursuits all year round. Five polished granite disks, spread around the mountain in evocative locations, make up a work of art known as "La montagne des jours" by Gilbert Boyer. Engraved on the disks, "poetic, amusing, frivolous, anecdotal or moving sentences, phrases and thoughts ... escape into the mountain as soon as they are deciphered."7 At the highest curb of the path that starts at the Peel Street entrance, you can admire the words "Give Peace a Chance" carved into the stone in forty of the languages spoken in Montreal. Artwork from the First International Sculpture Symposium in 1964 is available for viewing in front of Smith House. Sculptures line the path to the summit along the Way of the Cross, starting at Saint Joseph's Oratory. The cross itself can be seen from up to 80 km away and is lit up at night, making it an excellent landmark from which to get your bearings.8
Smith House is a heritage building that offers reception services and information to visitors, as well as a restaurant terrace. Beaver Lake Pavilion also has a restaurant, and artwork on display. Saint Joseph's Oratory is architecturally stunning and has a rich history. It is a pilgrimage site for many Catholics, some of whom climb the 283 steps on their knees, saying a prayer on each step. Mount Royal's two cemeteries, Notre-Dame-des-Neiges (originally Roman Catholic) and Mount Royal Cemetery (originally Protestant) are worth a visit as well.
After enriching your mind, you may want to exercise your body. Mount Royal's trails offer a variety of activities for every fitness level. There are dirt trails, staircases, or a long and gently sloped path that takes you around the mountain, rather than cutting across it. This path is thick with trees, cool and peaceful, and a wonderful place to relax on a bench when you need a break. Several feet wide, it offers plenty of space for people with different speeds: meandering, walking for exercise, jogging, and even biking.
Your rewards for reaching the summit include stunning views of Montreal, places to rest and refuel, and the satisfaction of knowing that you made it all the way to the top. The entrances to the trails can be found all around the mountain, creating an almost infinite number of new paths to follow.
Despite summer crowds, Mount Royal is so vast that finding a quiet place is still possible. Whether you like to commune with nature, study the flora and fauna, get a bit of sun, or spent time with strangers, Mount Royal is the perfect destination and sanctuary. Its creator delivered a haven for anyone "tired by the city" to contemplate the panorama, and revel in the physical activity and subtle pleasure of a stroll in the woods.9 For those who lack the ability or ambition to walk all the way to the top but still want to enjoy the views of the city and its river, you can drive, take the bus, or even take a horse-drawn calèche.10
La Montagne
Mount Royal may not be a "real" mountain, but to Montrealers, it will always affectionately be known as "la montagne." It offers many wonders that can be enjoyed over and over again by tourists and by locals. Its cultural delights make it more than just a green space within the city, and is a refreshing destination for people seeking an outdoor space to exercise in or to unwind in. It may even offer something you never expected to find.
Whenever the pressures and stresses of the city become overwhelming, I pack a lunch and some snacks and go on an adventure. I never know where the paths of Mount Royal will take me. Sometimes, I like to sweat my stresses out and jog to the summit. Sometimes, I wander the trails looking for interesting plants and animals. Sometimes, I curl up in the sun or in the shade and read for hours on end. No matter how many times I visit the mountain, I always experience something new. And that, to me, is what makes Mount Royal such an amazing place.
---
1 http://en.wikipedia.org/wiki/MountRoyal#MountRoyalPark
2 Pierre Larouche, Montréal et l'urbanisme: hier et aujourd'hui, 1929, p. 42-43.
3 http://en.wikipedia.org/wiki/MountRoyal#wintertime
4 Les amis de la montagne www.lemontroyal.qc.ca/en/activities-and-services/outdoor-activities.sn
5 Sundays in Montreal: Guerriers de la Montagne (The Knights and Warriors of Mount Royal) http://untappedcities.com/2013/05/27/sundays-montreal-guerriers-de-la-montagne-knights-warriors-mount-royal/
6 TAMTAMS - Mont-Royal / Portraits de Montreal https://www.youtube.com/embed/TdOyVHMwxPk
7 Interactive map: Art on the Mountain http://www.lemontroyal.qc.ca/carte/en/html/Art-on-the-Mountain-48.html
8 Public Art on Mount Royal http://www.tourisme-montreal.org/Travel-Trade/Discover-montreal/Montreal-by-theme/Culture/public-art-on-mount-royal
9 Bernard Debarbieux, Le mont Royal: court essai de géographie historique et culturelle, Université Joseph-Fourier, Grenoble, p. 298.
10 Frommer's Montréal & Québec City 2009