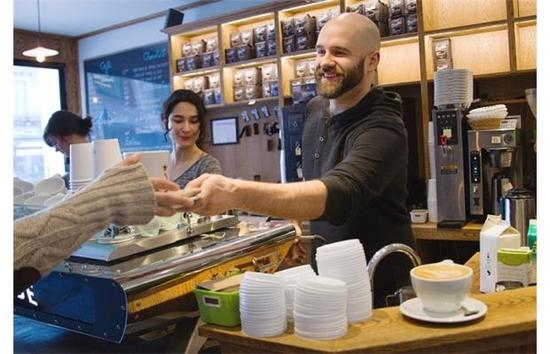 Anthony Benda serving coffee at Café Myriade (Photo: The Montreal Gazette)
You may know Café Myriade as the coffee shop across from Concordia with the wood paneled terrace you can never find seat on, or as the coffee joint with a waiting line that winds out the front door. For an independent coffeehouse, these are normally good signs. It screams, "Good espresso found here."
Sitting down at a café, sipping your hot beverage, you rarely think about the owners of the place. If you frequent popular coffee chains, you've probably already built up the image of the money-hungry CEO. In the case of Café Myriade, it's worth knowing a little bit about the owners. The reason for Café Myriade's popularity and status as one of the best cafés in Montreal becomes a tad clearer after knowing the man behind the counter.