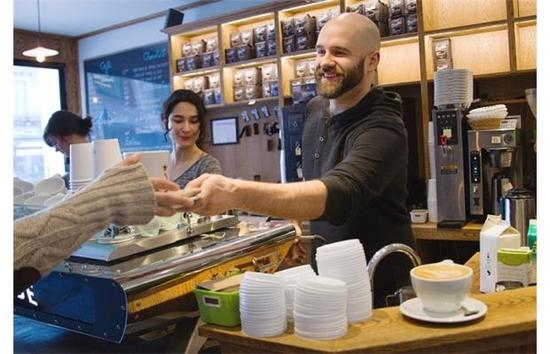 Anthony Benda serving coffee at Café Myriade (Photo: The Montreal Gazette)
You may know Café Myriade as the coffee shop across from Concordia with the wood paneled terrace you can never find seat on, or as the coffee joint with a waiting line that winds out the front door. For an independent coffeehouse, these are normally good signs. It screams, "Good espresso found here."
Sitting down at a café, sipping your hot beverage, you rarely think about the owners of the place. If you frequent popular coffee chains, you've probably already built up the image of the money-hungry CEO. In the case of Café Myriade, it's worth knowing a little bit about the owners. The reason for Café Myriade's popularity and status as one of the best cafés in Montreal becomes a tad clearer after knowing the man behind the counter.
Anthony Benda, early 30s, is the chief barista and co-owner of the independent coffeehouse, Café Myriade. With co-owner and business partner, Scott Rao, Benda opened their first Café Myriade together on rue Mackay in 2008. In 2013, they opened a second location, appropriately called Café Myriade II, in the Mile End. Since its beginning, the café can be found on lists of where to find the best coffee in Montreal on blogs, such as MTL Blog, Serious Eats and Canada Nightlife. Café Myriade has become a staple in Montreal, especially in the Concordia community. Its reputation was developed from more than just their unique brew and smooth espresso-based beverages; Benda has become recognized as "one of the best baristas in Canada."
Café Myriade on rue Mackay (Photo: BrianW on TripAdvisor)
Benda was born in Vancouver, one of the biggest caffeine obsessed cities in Canada. He studied creative writing at Montreal's Concordia University, but finding writing rather anti-social, Benda desired to stay in the service industry. This eventually led him to the coffee-buzz.
He worked at cafés in Vancouver for six years before bringing his expertise to Café Myriade. During those years, he learnt the technicality of making a rare thing called good coffee. At Café Myriade, Benda, unlike many mainstream coffee chains, focuses on serving quality over quantity. He makes it his mission to assure that each customer is given the same great tasting coffee by calculating the perfect coffee bean extractions, weight, as well as the temperature and ratio of water used to brew and of steamed milk.
He gets help in this department from his co-owner Rao who is an acclaimed coffee roaster and author of four instructional books on how to make coffee and espresso. Benda sets a high standard of professionalism and care in the way he runs the café and trains his baristas. Although he admits to not being a big coffee drinker--he usually only has it to stay awake and opts for a black filtered coffee--Benda has an innate passion for the art of coffee making and coffee service. He also works closely with coffee roasters to better master coffee brewing. There is no doubt that Benda is serious about coffee making, "Start talking coffee with Benda, and it quickly hits you that you've entered into a new and extremely complex world", as said by Lesley Chesterman of Urban Expressions.
The way in which Benda practices coffee brewing and roasting in Café Myriade would normally be considered as Third Wave Coffee. For instance, the café is known for its use of direct trade coffee beans from 49th Parallel. The coffee beans are bought directly from coffee bean farms, a popular trend in Third Wave Coffee. This era of coffee focuses on the technicality and sophistication of high-quality coffee making. It also attempts to label coffee as an artisanal product, similar to wine. However, Benda prefers to disassociate with the mainstream conception of Third Wave Coffee because, in his opinion, it exudes snobbery.
Espresso machine in Café Myriade II (Photo: Line Atallah on Zurbaines)
To add to his success as a barista in a booming café, Benda has gone on to win numerous coffee and espresso making competitions. He has been a contestant in the Canadian National Barista Championship (CNBC) multiple times--yes, it's a real thing, check out their website if you don't believe me. The CNBC consists of baristas from all over Canada, participating in different competitions in front of a panel of judges critiquing the preparation, production, and presentation of espresso-based beverages. He came in third place in 2007 and sixth place in 2008. A year after Myriade's opening, Benda won second place in the CNBC and was awarded the Barista's Choice (Reggie Award). More recently, Benda came in first place at the first Canadian Brewers Cup, which meant that he got to represent Canada in the World Brewers Cup in 2012, in which he came in fourth place. You can even watch a video of Benda in the finals at the World Brewers Cup! Unlike CNBC, the Brewers Cup is all about the production, presentation and choice in filtered coffees.
In an interview with The Concordian, Benda explained how these competitions are a way for him to improve his methods in coffee brewing by challenging himself, and learning of new methods from fellow baristas. Benda also revealed to La Presse that coffee and barista competitions allow him to validate Café Myriade as an authentic and professional coffee shop.
What really sets him apart from other baristas is his insistence on great service. Many owners of cafés or restaurants tend to be more behind the scenes. Benda, however, is the casually dressed man standing behind the counter. You'll find him regularly in the café chatting with customers, as well as preparing drinks. Benda's presence and likability makes the café welcoming; it arguably makes Café Myriade stand out from the caffeinated sea of independent coffeehouses in Montreal. His knowledge and expert execution of coffee and espresso mixed with his hands-on approach makes him prominent in the barista-circle. In Benda's own words, "Coffee depends so much on the person who makes it and the level of care they put into the process."
Cappuccino and latte from Café Myriade (Photo: Solange Statsevich)
Taste Anthony's creations for yourself:
Café Myriade
1432 rue Mackay
Monday-Friday: 7:30 am - 8:00 pm
Saturday-Sunday: 9:00 am - 7:00 pm
Café Myriade II
251 rue Saint-Viateur Ouest
Monday-Friday: 7:15 am - 7:00 pm
Saturday: 8:15 am - 7:00 pm
Sunday: 8:15 am - 6:00 pm