By Amanda Marchese
Exterior of Café Olimpico. (Photo Credit: Le Cahier)
There's Italian music blaring from above, soccer playing on five TV screens, the sound of constant chatter, the espresso machine sizzling; this must be Café Olimpico. If you've never been, you've probably heard of it. People from all over the Island of Montreal travel to it for a taste of their espresso, and Tourism Canada dubbed it Montreal's most famous café of 2014. Open for 45 years, its reputation as a quaint café have made Café Olimpico a landmark in Montreal for great coffee.
HISTORY - Olimpico and Cafés Then
Olimpico's History:
Located in the now trendy Mile End, Café Olimpico was founded in 1970 by the late Roco Furfaro. Furfaro's Olimpico catered to the Italian immigrants who had populated the Mile End at that time. However, this café--like many other cafés in Montreal back in the day--was only for men. Café Olimpico served as a place for Italian immigrants to have a taste of home and share memories of their native country. This was a café for people to connect, enjoy coffee, and make new memories in Montreal.
Cannoli, cappuccino and espresso at Café Olimpico. (Photo Credit: Amanda Marchese)
Coffeehouses of the Past:
The purpose of a coffeehouse hasn't changed drastically since they first appeared in Europe during the 17th-century. Across Europe, coffeehouses opened as social gatherings; a place for men to discuss politics, philosophy, art and literature--anything, really! Voltaire and Rousseau were known to hang around Parisian cafés, sharing and absorbing ideas. In London, cafés were also used for business and as the brewing grounds--pun intended--for radical movements. These were places for intellectual discussions, so much so that they became known as "penny universities" in London.
With the expansion of coffeehouses throughout London and England, each coffeehouse developed an identity thereby serving to a particular clientele. Twentieth century European coffee shops were the stomping ground of some of the era's most popular writers and artists. Just imagine Hemingway, Fitzgerald, Stein, and Picasso sitting at your favorite café--how cool is that? In those same years, cafés in North America and England had become the businesses of new immigrants, serving to fellow immigrants from their native countries. Cafés are still very much social gatherings, especially for students who need litres of coffee pumping through their system during exams.
OLIMPICO TODAY - The Modern European Café
Hotspot:
Since 1970, Café Olimpico has maintained its European flair and Italian pride. Roco's daughters, Rossana and Victoria Furfaro now own and manage the café, making Café Olimpico a family run business. They still use the same secret family recipe house-blend of coffee, which can be purchased at the café or online. Despite its success, the café has never left its original location or branched off. Its centrepiece: the traditional wood espresso bar. Call out your order to the barista, leave the money on the bar, and wait for your drink. If you chance to look up, there's an intricate aluminum embossed ceiling. The walls are adorned with soccer memorabilia from various soccer teams. The big windows also cast light on black and white photos of the family and the café from its earlier days. Olimpico's walls tell the history of the café as it has evolved from a home to a café that feels like home.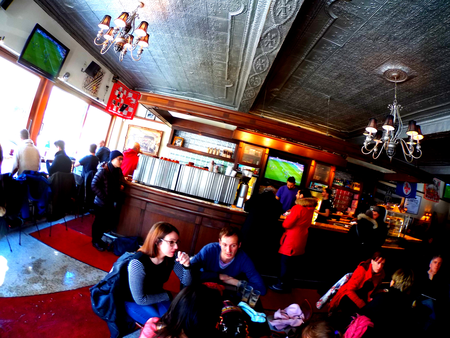 Interior of Café Olimpico. (Photo Credit: Jesús Rendon)
The Brew:
Notable magazine has called Café Olimpico the "God of Coffee," and in a poll, their readers voted Café Olimpico the best coffee shop in Montreal. Prices in general are extremely reasonable: For $2.00, you can get a punchy espresso with smoot crema, and the cappuccinos, topped with milky mountains of froth, are only $3.00! Plus they get extra points from me for having brown ceramic espresso cups. They're particularly famous for their cold coffees, which are enjoyed by customers sitting on the terrace. Café Olimpico offers more out-of-the-box coffee delicacies, like a traditional affogato (hot espresso poured on top of gelato) in the summer months. To die for. Open from 7 a.m. to midnight, the café is the perfect stop for your early mornings or for a nightcap.
Menu hanging over the espresso bar. (Photo Credit: Amanda Marchese)
The Scene:
The café is a constant revolving door, but that doesn't stop the baristas from catching up with their regulars, which make up the majority of the café's clientele. While there are some customers reading, Café Olimpico is most sincerely a social café. Tables are filled with friends, family, and even strangers. A man sitting alone drinking a latte invited two women looking for a table to sit with him. Within minutes I acquired my own stranger at my table, Jesús Rendon, waiting for his friends. There was no place, so in following the customs of the café, we invited him to sit with us. Jesús is originally from Mexico and has been living in Montreal for the past three years. He's only been to Café Olimpico a handful of times, but has noticed that there are two kinds of customers: the casual coffee drinker and the aficionado. For some, Jesús says, coming to Café Olimpico for espresso "[is] like a religion."
Café Olimpico is now a favorite stop for men and women of all ages and of all backgrounds. Its reputation has even earned it some celebrity visits from actors Will Ferrell and Jennifer Lawrence, and Montreal Canadians hockey players, P.K. Subban and Carey Price. Fun fact, local author Sean Michaels wrote his novel Us Conductors at Café Olimpico, and in the acknowledgements, he even thanks the baristas! His novel went on to win the 2014 Giller Prize.
Barista serving a customer at Café Olimpico. (Photo Credit: Amanda Marchese)
The Olimpico Community:

Café Olimpico prides itself on its massive pool of regulars and remains in touch with them beyond the espresso bar. Their Instagram, Twitter, Facebook and Foursquare pages allows customers to keep up to date with café. More importantly, the café's social networks offer customers an outlet to express their love for the café, as well as their favorite memories. With free Wi-Fi, customers are able to post statuses of their location and pictures of their favorite drinks. Café Olimpico's ability to build a sense of community, history, and nostalgia allow it to be one of Montreal's most talked about and loved cafés.
Witnessing the café's liveliness and its customers taking time of out of their busy days for sit-down coffee, Café Olimpico proves that coffee chains in Montreal don't cut it. Montrealers want quality, intimacy, personality--they want the European experience. Café Olimpico's longevity, as well as commitment to tradition, service and family-like community earn the café's place in Montreal's cultural and coffee history.
---
Location:
124 St. Viateur Ouest
Montreal, QC H2T 2L1
514-495-0746
---