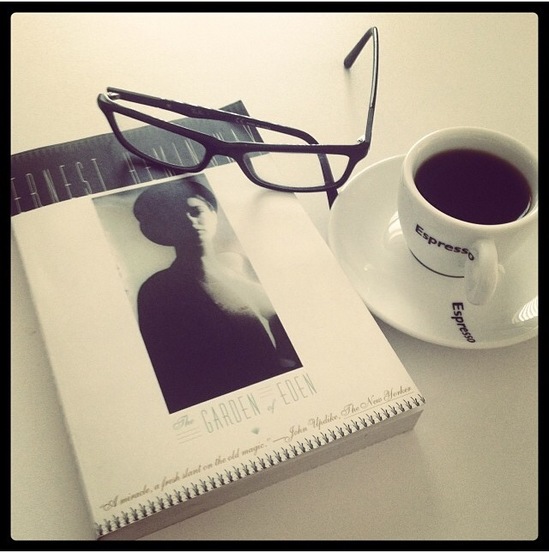 I've been known to daydream--a lot. Some consider it empty dreaming, I like to think of it as goal making. As a twenty-year-old full-fledged Montrealer, I've always imagined moving out of the city, even out of the country. Over the years I have discovered that coffee shops are the perfect spot to daydream about your future, about living elsewhere, about being the next great writer, about the things you should have said or would like to say. Even when not in coffee shops, I have found that they are the setting for most of my daydreams. In fact, a short story I wrote partly took place in a coffee shop! I began drinking coffee at six months old; an age some people would think is too young, but for Italians it was nothing out of the ordinary. However, against contrary belief, I've grown to an average height, and my brain seems to be fine.
I have come to realize that I may be addicted to coffee. Up until the age of three, I spent every day with my grandparents--Nonno and Nonna, in Italian--while my parents were working. This meant that, as the only grandchild at the time, I ruled the house. My Nonno called me "La regina della casa", the Queen of the House. My grandparents would sing Italian songs, and play the guitar and tambourine just to get me to eat. I even got to drink coffee. Espresso made on a stovetop--the traditional Italian way. They would either have a small cup of espresso and a cookie waiting for me when I arrived in the morning, or would use a cup of espresso as a bribing tool to get me to eat my pasta. Keep in mind that my espresso was significantly lighter in color than that of my grandparents, who put a little espresso and tons of milk in my cup. But I was observant. While we sat at the table in the morning, I noticed that the espresso in my grandparents' cups was black compared to mine, which was milky brown. La regina made known her concerns; she wanted an espresso just like Nonno and Nonna. As I got older with the months, I would receive a little less milk and a little more coffee in my brown ceramic espresso cup. I'm proud to say that now when my Nonno prepares me an espresso, it's just as black as his.
I've become accustomed to a certain kind of love put into a coffee. When I think of coffee, I think of my grandparents; I think of how my Nonno would grind just the right amount of coffee beans in a tin canister that needed a lot of circular movements of the arm to get the coffee beans grinded. I think of the coffee shops I've visited in London, Paris, and Rome, and how different they are to some of our more popular chain coffee shops. I think back to the original purpose of a coffee shop, which served as a place for people to socialize, as well as to talk about art, and political and philosophical issues.
It's easy to see that my Italian culture and my family are essential to who I am. Coffee falls into that list of essentials. Not just any kind of a coffee--good coffee; the kind that fills the house, warms your insides and fingertips, the kind that are accent pieces to the best memories. For me, coffee is not just a drink to wake you up in the morning, it's a drink that brings people together; a drink that sends me roaming random streets looking for a good brew, a drink that reflects a lifestyle.
As a student of English Literature at Concordia University with a background in Liberal Arts, I have become a frequent sitter at coffee shops where I've spent hours people watching, reading, writing, as well as discussing traveling, literature, philosophy, and art history with friends. For my next writing adventure, it comes with no surprise that I will be writing about the coffee lifestyle and coffee shops in Montreal.