According to religious folklore committing any of the seven deadly sins will ensure you an afterlife in hell. Well Mon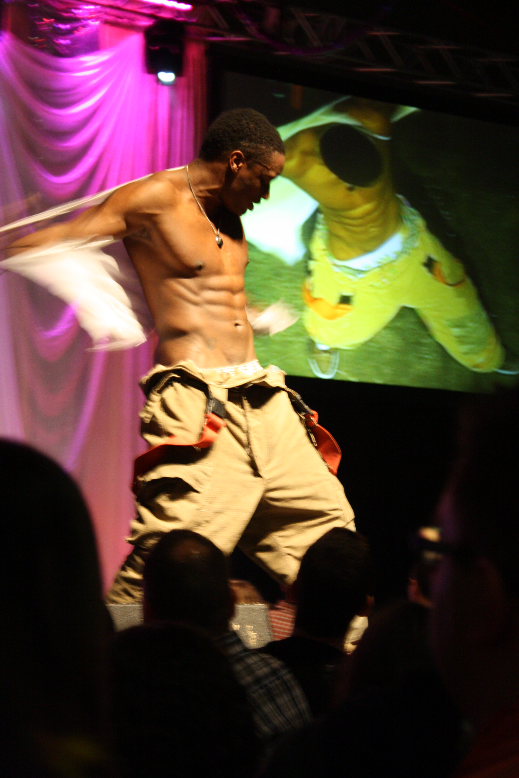 treal took its chances the weekend of January 19th, and provoked, instigated and participated in the deadly sin of lust at the Salon de Seduction.
Visitors were drawn to the stage where performers including Roxi D'light and the male strippers of Stripper in Montreal strutted their stuff. Roxi performed a saucy burlesque number where she shed her over the top corset ball gown and paraded in only a pair of panties and matching feathered boa. One of the hunky gents of Stripper in Montreal turned up in a firefighter's uniform and tantalized the screaming female audience with his smooth teasing dance moves. He ended in dance routine bare bottomed and drenched in water.
The shows offered a feast for the eyes but it only represented the tip of the iceberg. The Salon hosted a wide variety of vendors including countless lingerie and sex toy vendors, an erotic candy vender, and an Egyptian cotton bed sheet vendor. One of the vender booths was selling memberships to Alternative Fitness classes; also known as pole dancing classes. The ladies of Alternative Fitness had a couple of poles set up and offered to give me a crash course. For those of you who think it's just a lot of twirling and grinding, you're wrong. My half hour crash course left me with sore muscles and a few bruises. Up on that pole, I felt anything but sensuous. I'm a pretty fit person and it's safe to say Alternative Fitness was my boot camp.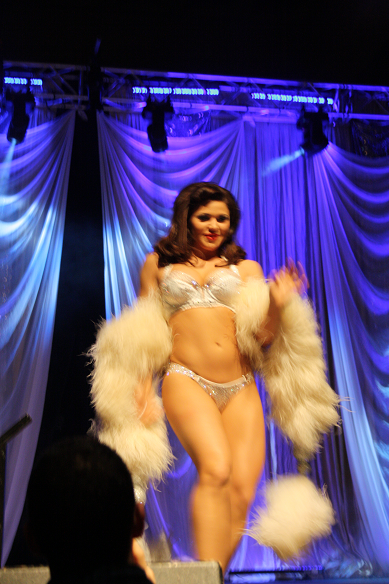 At the far end of the venue was a dark curtained area, where all photography was forbidden, the corner known as the Dungeon. The Dungeon was the domain for all things BDSM. With some special permission I was allowed to take a couple of specific photos. The first was of Lord Saxnot, master of rope play, displaying the art and extreme possibilities of trying your partner up. For those of us who stuck around after his demonstration, he warned us on how not to tie your partner to the bed. "If you're going to tie your partner up, make sure to tie their left hand last," he told us, using a story that happened to his assistant, he told us why. When tying someone up, if they freak out, it'll be when you tie their last limb. His assistant made the mistake of the last limb being his lover's right foot. His lover freaked out and kicked him square in the berries. Leaving the assistant rolling on the floor in pain and the lover tied up and panicked. So the morale of the story is tie the left hand last, because the left fist is a lot weaker than the right foot , and easier to dodge too.
Deeper in the Dungeon a team was displaying a slightly complex toy that give the user a constant mild electric shock. The electric current flows through a glass attachment (the attachments come in various shapes for different types of stimulatio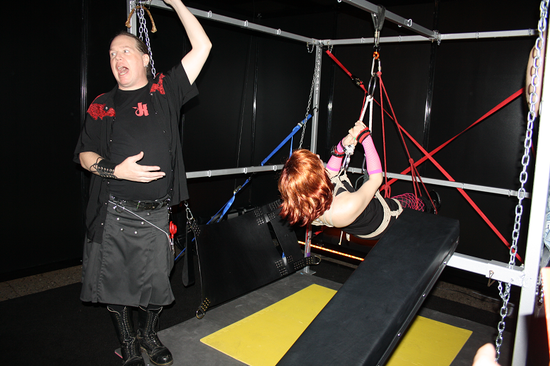 n). I managed to get to try the electric device on my arm and I found it felt a lot like getting tattooed. There was one non-glass attachment that I got to try, it basically turned me into the conductor, so when I touched anyone around me they got shocked. While I was the conductor the demonstrator told me to kiss my boyfriend. ZAP! Imagine the strongest static shock you've ever felt, times it by five, on your lips. As we were about to kiss the people around us said they saw blue spark fly between our mouths.
The Salon de Seduction is the perfect venue to let your freak flag fly, whether you're into latex or lace, bondage or feather play the show had something to offer for everyone who is remotely in touch with their sexuality.