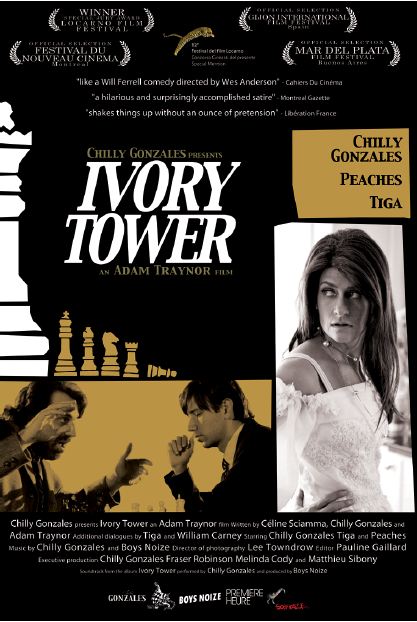 On my future deathbed, I will reflect on my youth and regret the eighty minutes of life that were wasted watching this film. Screened at cinema Du Park in the McGill ghetto, Ivory Tower is a disappointing depiction of the rivalry between two brothers and their common love for the game of chess.
By the end of the opening scene, which revealed the main protagonist, Hershel, playing a nonsensical solo game, it was made painfully clear that director Adam Traynor and co-writers "Chilly Gonzales" and Celine Sciamma knew nothing about chess culture or the rules of the game itself. This ignorance was carried throughout the entire film, at times drawing insulting and inaccurate representations of the true artistry and intellect behind chess' greatest masters.
At the heart of the film lies Hershel's metaphoric concept of "Jazz-Chess" - a belief that the game should be played out of respect for the fellow opponent, minimizing the need for winners and losers and ultimately eliminating the competitive nature of society. Such a portrayal of the shallow problems faced by white, middle-class, heterosexual, and otherwise privileged males is only made worse by the fact that Hershel is played by Gonzales himself. This highlights the problematic degree of self-reflexivity and representation within contemporary cinema. In this sense, Ivory Tower does nothing more than re-present trivial, literal issues within society back to the viewer, containing little room for imagination or varied perception of what the film may be trying to conceive.
Another disappointment came from the lack of any explicit Canadian reference, despite it being filmed in Toronto and featuring multiple native musicians such as Feist and Peaches. While a significant work of art is not a film that is interesting only for the fact that it was made in Canada, the film should have taken advantage of any way to be deemed interesting at all. 
Ultimately, Ivory Tower fails in all aspects, lazily attempting to convey an unoriginal message and ironically isolating itself from those who actually know the most basic logics of chess.
By far, the best part of the whole experience was the cinema itself. While I have absolutely nothing positive to say about the film, I will be patronizing the independent screening house for as long as I am living in Montreal. It is conveniently located among several eateries and restaurants and makes for a great night out.
Review by Marc Ben-Avraham