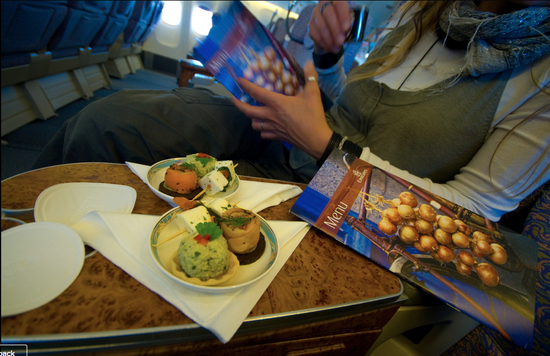 Traveling is a luxury many people would like to afford but often can't. For those in the airline industry, traveling is a perk, specifically for air flight attendants. If you enjoy working with people and seeing the world, this might be your dream job. Kate Saint Martin is an Air Canada flight attendant originally from Montreal. Only three months into her job, she has enjoyed many trips and experienced different cultures. She didn't dream of becoming a flight attendant, but when the opportunity presented itself, she took it. Some might call it fate and some might say it's plain coincidence: Kate always wanted to travel the world and now she has found a way to do just that.

As a young student, Kate was not too intrigued with studying; she enjoyed life outside the school; rather hanging out with friends, meeting new people and experiencing new adventures. After her Cegep education, she started working for the National Bank of Canada. Her personal and social skills being as strong as they were, she moved to a managerial position. She continued with this job for some time, gaining new skills and knowledge. However hectic and busy this job was, she was bored of the same routine schedule.  Her ultimate goal was to travel the world, she suffered the long hours and sometimes tedious customers (not always because she was loved by the bank's regular clients) to accomplish her plan. Finally, after taking a good hard look at her life and a bit of soul searching, Kate came across a notice of Air Canada claiming to recruit new employees; Kate saw an opportunity to make a change in her life. She passed her first interview which only lead to a second interview. Then, gaining the good graces of the middle management, she finally would meet with top management. As nervous as she was for this last interview, she charmed them with her outgoing personality. Kate is the kind of a person who comes off as very friendly yet stands firmly for what she believes in. This personality is necessary in a tightly controlled work atmosphere. She has to be in charge for the safety and well being of passengers from the moment they set foot on the plane. Excellent customer service is a must because the crew members are essentially the face of an entire airline company. Some crew members are so passionate about their jobs that you feel as though they are your best and oldest friends. And aren't we glad that they are, because let's face it, in case of an emergency, though the pilot is responsible for safely flying the plane, a flight attendant is responsible for managing the people on board. Whether it is to calmly direct us in case of emergencies or to simply bring us a blanket when we are cold, flight attendants are the ones we turn to for guidance when we are flying.  
There are some great advantages to this career as well as some disadvantages. For Kate, her real life adventure began with the first three months of training. It is so intense that some of her class mates cried due to overwhelming pressure. It is a three month training program where you must go through exam after exam which Kate had to pass. The attendants that passed all the exams were given two weeks to re-locate to somewhere that is close to the airport. This meant that Kate had to move from Montreal and within two weeks find a house to live in and start work. As a beginner, she is placed on call. Although she gets a stable pay cheque, her schedule is constantly changing. Her work hours vary from 25 hour shift a month to 80 hours. Her phone always must be turned on in case she receives a call. Don't let the craziness fool you however, she gets some of the best deals in flights. She can fly anywhere in the world where the airline travels to for as low as a 30$ fee. Also, when they have lay-over in the countries where they fly to, she gets to enjoy the place for a night or two. She has travelled to England about 10 times. Given that she used to live there in her younger years, she gets to enjoy seeing her old friends and refresh memories. According to her one of the best places to visit is Amsterdam in autumn because of Oktoberfest.