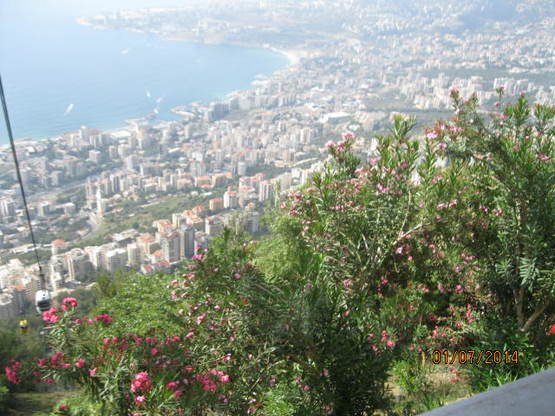 Listen up wanderlust-consumed Montrealers! I know that you're looking for a new travel destination for the summer, so allow me to make a suggestion: Lebanon! I visited Lebanon in July of 2014, for four weeks. I was lucky enough to stay with my grandmother in Tyre, where she lives a mere three minutes away (walking distance) from a beach and Tyre's main street. It was the first time I had visited Lebanon, but I grew up hearing stories of the place my parents came from. Finally, I was going to see it first hand! I not only fell in love with the historical aspect of Lebanon but the people and culture as well.
Lebanon is the place for all types of traveller, with multiple historical sites and scenic views for the sightseer, beaches and resorts for the sun worshiper, museums for the gallery hopper, as well as clubs and bars for the night owl. Below you will find a general review of the cuisine (delicious), the sites and museums (make sure to pack a camera), the beaches (it's time to tan), the nightlife (familiar), and the shopping.
Lebanon's civilization dates back over seven thousand years and was the home to the Phoenicians, the inventers of the phonetic alphabet, and was a maritime country with ties to the Roman Empire. After they gained independence from France in 1943, Lebanon established a "confessionalism" political system (a power-sharing system based on religious communities). Lebanon has five Unesco World Heritage Sites, Tyre (an entire city) being one of them, and many stories to tell. Thanks to Lebanon's unique geography, during the springtime it is possible to go skiing in the morning, at one of its four ski resorts, and swimming in the Mediterranean Sea in the afternoon.
Since much of Lebanon's economy relies on tourism, you will find that they are very used to having tourists around. In the main areas of Lebanon, many locals speak French or English, as it's part of their school curriculum. There is always a hint of danger when travelling to Lebanon, however, in all of the major centres there is a higher level of safety then the borders. Always be wary when travelling anywhere, there are plenty of beggars and pickpockets in Lebanon like anywhere else.
Food
I have yet to met anyone that doesn't like middle-eastern food and Lebanese is obviously my favourite. Just about anywhere you go you can get a delicious plate of hummus and taboulé. I would be wary of Lebanon's fast food places, in my experience they overload the shishtaok with toppings that have no business being there, thinking that it might appeal to westerners. Be wary when you order takeout, in general as some of their condiments and conventions differ from your own, I was surprised when my burger came with creamy coleslaw inside, good thing it was still delicious.

If you're looking for authentic Lebanese breakfast foods hit up the nearest mankeesh (Lebanese pizza with cheese, thyme, or meat) place. The thyme smells and tastes amazing, because it is fresh, local, and hasn't been shipped to Canada. You will also need to try foul, a bean dish with chickpeas and olive oil, served with pita bread, mint, onions, tomatoes, and cucumbers.
Want a change of pace after a few days? Head to Zaytuna Bay near the Beirut Central District. Zaytuna Bay has a line up of different restaurants that serve cuisines from France to India, on the waterfront. A little French breakfast place called Paul has a spacious terrace and a friendly wait staff. While I wasn't crazy about the light dressing they used on the lettuce, the small basket of pastries and various breads was to die for. The baguette had just the right amount of soft and hard textures. Butter and jam come in cute little pots, and the jams are made locally, they were sweet and flavourful, I can almost imagine being back there and spreading some apricot jam on warm sesame bread.
Delicious ice cream in Beirut is a given with the heat making them a necessity. Bachir ice cream, established in 1936, is an ice cream chain store that you can find all over that serves traditional Lebanese ice cream. Sometimes a little messy with the presentation Bachir's ice cream has just the right smoothness so that it doesn't feel like you're biting into ice. It's sweet, refreshing, and just what you need everyday during your stay. Don't be surprised if it takes a little bit like Gelato because Oriental and Sicilian style ice cream have similar roots.
There's no need to just stick to the traditional Lebanese food in Lebanon, locals have an international palate and you can find fresh sushi or good Italian food that have a little Lebanese twist in the central Beirut area.
Feeling too tired to go out? Order McDonalds, just for the experience, as its not something you can do in Canada. McDonalds also tastes better in Lebanon and the menu items are not quite the same. I ordered from McDonalds twice, once to try their Big Mac, and another to get a Mcflurry ice cream delivered to my door.
Beaches and Resorts
Lebanon is known for its beaches. I spent the majority of my beach time in Tyre, where just a short walk from anywhere will take you to the free public beach by the main streets or you can drive for a couple of minutes for a more secluded experience. All the beaches have a restaurant type of service attached to them, you can bring your own food or order there (even shisha), many also have beach lounge chairs or tables that you can use. Be wary when picking the place you want to stop, go for one that has plenty of sand, as it is less likely there will be many rocks. I went to one where to get to the water you had to jump of the wharf, it was a rock beach and not pleasant to swim in, good thing the alcohol and food was delicious.
Don't like the mess of the sand and want to go to a pool instead? Or someplace where you get a bit of both? Tyre has many resorts and rest houses where they have both a large pool and is still by the beach. Tyros is definitely the one to go to if you're in a big group or with kids, looking to have lunch or supper and a relaxing time. Their pool has cool fountain features as entertainment when swim time is over at night. The Tyre rest house is also another option to consider if you want to have a more peaceful experience. The entrance fee is a little high, $30-35CAD, but you definitely get the service you pay for. Their long beach also has adorable red and white couches spread out so you're not confined to the pool area and can be comfortable anywhere.
Sticking to Beirut? Go down to the lovely and long Corniche in the Central District, along the Mediterranean Sea. It isn't the place to sit and tan, but it does make a lovely place to take photos and have a picnic.
Sites and Museums
With over a hundred tourist attractions it's hard to pick which one to go to first. I would suggest seeing at least one Unesco heritage site (Tyre or Byblos), the Soap Museum in old Saida, The Jeita Grotto, Moussa's castle, and the National Museum in Beirut.
Roman Columns in Tyre and Byblos Castle
The Roman Columns in Tyre are a sight to behold and you can get right up to the ruins and touch them. I don't know what this says about their preservation methods, however, it is a unique experience to be able to feel and imagine the history of these historical and beautiful sites. You can see the international ties that Tyre had with in the old Roman Empire world influence on its architecture.
The Byblos castle has a very interesting history as well, from the times of the crusades in the 12th Century; I enjoyed looking through narrow arrow holes and walking inside the castle. I found that getting a guide was a little over-priced and there were not enough staff around for either of the sites.
Some of the sites of the AL-Mina, where the Roman Columns are located, unfortunately did not have signs with historical information on them. You can tell that they hold an important influence on locals as hordes of school children were on a field trip there while I was visiting.
Jeita Grotto
Photograph by Munir Nasir
The Jeita Grotto is comprised of two connected limestone caves and was a finalist for the New Seven Wonders of the World contest. It is located in the Nahr al-Kalb valley and a major tourist distraction. While the grounds are nice in their own right, the real treasure is inside of the caves where helpful information stands inside let tourist knows how the stalagmite caves were formed. After seeing both cave sections you can head to the boats where someone is waiting to take you out onto the water and be amazed by the myriad of colours. The only downside is you can't take photos inside the caves, although that didn't stop some rebel tourists from whipping out their phones for a quick pic. The amazing part of the Jeita Grotto is that is all made naturally, and definitely a sight that will go into the memory bank forever.
Beirut national museum
The Beirut National Museum is a leading collector of Phoenician objects. The floor plan is open and clean. Upstairs you can walkthrough different historical ages while on the main floor they have a beautiful Egyptian exhibit. You cannot leave the National Museum without having watched their short film on its history. After it opened to great success in 1942, the museum suffered terribly during the civil war in 1975, where its location placed it in the middle of the warring sides. Thus the building was destroyed and many artefacts were either lost or damaged. I really enjoyed looking at the pieces because they not only represented ancient history but also recent tragedy. The stories the pieces tell have a connection to the recent past, which rates the Beirut National Museum as one of my favourites after the British Museum and their extensive collection on Egyptian artefacts.
Moussa Castle
When you think of castle you think of buildings built at least a hundred years ago or more. Moussa Castle, located between Deir el Qamar and Beiteddine began construction in 1962. Its newness is evident in its whimsical stones with pictures, which Moussa handcrafted himself, compared to the plain walls of Byblos Castle. The story behind Moussa Castle is a classic, young boy has a crush on a girl who wants to live in a palace one day, so he spends 60 years working up to and building one. Walking through Moussa castle is almost like going to a show, as many figurines and objects have small-automated movements. They guide tourists through Moussa's story and life in 19th Century Lebanon. You can find figures hammering away in a pot grinding meat for kibbe nayeh, a traditional Lebanese dish. As well as a scene of Moussa sitting in a classroom with his teacher yelling at him, educators told him that nothing would ever come of him. This is definitely an impressive underdog/comeback story as you look around the large castle. Off to the side you can find rooms with collections of guns, pottery, the gift shop, and a kind man dressed in traditional garb knelling on the floor ready to serve you Lebanese coffee.
While I would love to digress into all of the wonderful places to see in Lebanon, there are just to many for this overview. I would highly recommend going to see the Soap Museum, the Khalil Gibran Museum, where his original artwork and library are on display. As you hop from one gallery to the next you will notice that the use of wax figures to depict history, its true what they say: a photo (or scene in this case) is worth a thousand words.
Nightlife
Skybar in Beirut, Photo Source
Beirut's nightlife is alive, whether it's on the dance floor of a nightclub or outside on the terrace, of which there are many. The music is tourist friendly in many places, however you will still hear Lebanon's top 40. Many bars have outside terraces with comfy couches and a friendly wait staff that speak fluent English.
Near the main shopping district of Beirut the main street comes alive at night where a whole strip of terraces are set up. Soft music plays in the air and there a multiple screens set up for entertainment. Last summer every screen was playing a Fifa world cup game. East of the Beirut's Central District is Gemayze Street, known for it's nightlife scene.
If you're looking for a more relaxed and quiet vibe head to Hamra Street, connected to the Central District with the coastal Raouche area, for some dinner and a drink at a cozy club. Hamra street is also close to the American University in Beirut so it also makes a great place to meet new people.
Shopping
If you're looking for brand names and high fashion you have the Beirut Souks in In the Beirut Central District area. I would definitely visit to see the interesting architecture, which is a mix of French, Venetian Gothic, Arabesque, and Ottoman. The prices are high for the bargain hunters, but they carry not only familiar brands but an assortment of international ones as well.
If you're looking for quirky souvenirs stop at the Souks in Byblos while you're visiting the castle. The streets are lined with little shops and kiosks that are similar to ones that you would find in old Montreal. I liked the bookstore in the souks, as I was able to get a decent priced cookbook for a friend. The merchants there are expert hagglers and you will find that they will not chase after you if you do the 'walk-away' technique so be careful of how far you push.
The most known shopping area is Hamra Street. It is a good mixture of both the Beirut and Old town Souks. While it doesn't have outstanding architecture or haggling shopkeepers, it definitely has appeal, culture, affordable prices and restaurants.
Transportation
Transportation in Lebanon is CHEAP! I would not bother renting a car, not just for the cost but because driving in Lebanon is asking for a death wish. While the road conditions are a lot nicer than Montreal's potholes, I only ever saw a handful of traffic lights and even then they were only taken as suggestions. No one wears seatbelts, stops, and is always speeding -unless there's traffic. Take the van/bus or a cab, the drivers are experts at navigating Lebanon's routes, are easily accessible, and cheap. Generally a bus will cost you 1000 LBP ($0.85CAD), once you see a bus wave them over and yell out your destination, if they are headed that way hop on or wait for the next one, they come by frequently and do keep some kind of schedule. There are different kinds of cabs in Lebanon and the ride is a lot more comfortable than being in the bus, you can either get the standard old Mercedes (many of which look deprecate) that will get you to where you need to go for about $2 CAD per person, this one is best taken with in a group and is called a 'service' taxi. Or you could call for a private chauffeur for anything between $10-15 CAD (it shouldn't cost you more than 30$ to go anywhere in Lebanon), these cars are nicer and have air conditioning.
Conclusions
With the exception of a few hiccups Lebanon is a great place for adventure seekers to travel to this summer, especially for their music festivals, which feature many western acts. Just this past summer they had headliners like Imagine Dragons and Ellie Goulding. Their festivals are often held at historical sites, which beautifully blends the past and present together.
Caution: One of the major downsides to travelling to Lebanon is the fickle Internet connection, the power, and the drivers. There's no reason to worry about the electricity when you're staying at a hotel, and many homes have their own personal generators; however generators don't power everything and sometimes you might be stuck taking the stairs..
- Be wary of the closed day, some tourist attractions are closed on "non-business" days, in Lebanon, which falls on Friday and Sunday. In summer many attraction will still be open on these days but for shorter hours. Always make sure to ask or check ahead before you end up driving all the way to the Jeita Grotto or Beiteddine and then have to turn back.
Tip: For the curious, you can get served Shisha or Argille everywhere in Lebanon and there are delivery services for it too.
- Before heading to Lebanon look up guided tours, like this one for Baalback and Anjar. Your safety is assured and a trip to a winery is also included.