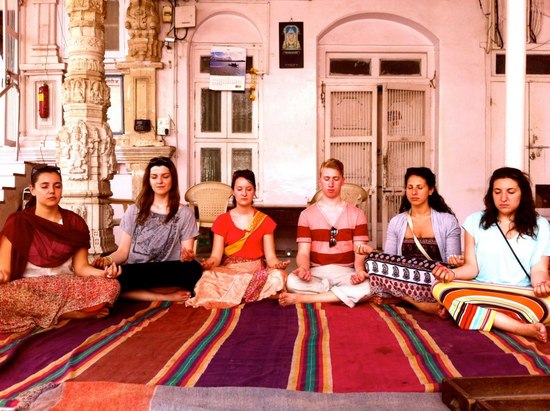 Proteins bars--check. Bottled water--check. Toilet paper, Nutella, money belt, pepper spray, antibiotics, Malaria pills--check.
Eighteen hours later, in May of 2013, my five close friends and I stood outside the Mumbai airport well after dark, beads of sweat dripping from our brows in the 35-degree weather. Our luggage full of "essentials" was glued to our sides as we searched for a van cab that could accommodate all of us.
But in Mumbai, no such cab existed. We were reluctant to split up, even if it was just for a 10-minute drive to the hotel. For months, we had heard horror stories in the media about India - from robberies, to gang rapes, to murders. "Why India?" our families couldn't help but ask concernedly. "It's dangerous. They're dangerous," they'd say. But we were adamant. For almost a year, we educated ourselves on the culture, the customs, even the languages. It was a fascination we couldn't properly explain.
In any case--our romantic notions aside--once we had suffered the dreaded Indian Visa application process, we felt we had reached a point of no return.
Before we knew it, our baggage was strapped to the hood of two taxis the size of Fiats, and we were off to God-knows-where. It's true what they say about driving in India--if you're susceptible to fainting, nausea, or strokes, avoid it at all costs. Forget about lanes, stop signs, and signalling. It's everyone for him or herself, and from what I gathered, only one rule: you fit, you go.
And yet, somehow, I felt safe. With each passing day, I grew accustomed to the incessant honking, the bumper-to-bumper traffic, the swerving, the cutting, and the cows--which, FYI, are the only obstacles worth pressing the brakes for; cows are highly respected in Hindu religion for their gentle nature and are thought to inspire in people the virtues of kindness and connectedness with the earth. In all the traffic madness, my only solace was knowing that whether I understood the road rules or not, the locals seemed to have a firm grasp on them. It took me several days to realize that honking didn't mean, "Get out of the way!" but was actually a therapeutic technique used for drivers to vent and release stress hormones. So, ironically, the more you honked, the safer a driver you were.
Even for pedestrians, the streets of Mumbai were all kinds of chaos. As we sauntered down the narrow walkways, sidestepping hurried passersby, wandering children, and stray dogs, we were bumped, elbowed, and ogled.
"Everyone is staring," said my friend, Riccardo, as a gang of giggling girls walked past us, pointing and whispering. I didn't understand why. Our shoulders and knees were covered and our outfits reflected Indian fashion trends--or so I thought, until I paid closer attention to the locals' outfits and noticed that most 20-somethings like ourselves were dressed, well, modern. My girlfriends and I, sporting our vibrant sari skirts wrapped around our waist (EBay), may have gone a tad too far trying to fit in.
They weren't the only ones gawking. As we made our way to the Gateway of India, a concrete archway built in 1911 to commemorate the landing of King George V and Queen Mary, the swarm of Indian tourists surrounding the monument turned their gaze toward us instead. We were approached by dozens of children, teens, and even adults requesting to take our photo. Some didn't even bother asking - they snapped away, as though we were celebrities spotted in public. It wasn't long before a crowd had formed around us, pointing and sniggering. My neck, drenched with sweat, stiffened and my knuckles, swollen from the heat, clenched tightly as anger rapidly built inside of me. I had read about Indians' fascination with white skin, but I had not imagined to this extent. Should I be frightened? I thought. Are they a threat? All at once, the attention became overwhelming. I was feeling anxious and exposed, like a monkey at a zoo. In a frenzied state, we pushed past the crowd, flagged down a taxi, and offered an extra 100 rupees to squeeze in all six of us and step on it.
"They mean well," said Pranav, our "Grand Mumbai" tour guide the following day. "They will not harm you. On the contrary, they are in awe of you."
I thought back to the group of girls snickering at our outfits, and I realized that their smirks may have said, "What on earth are they wearing?" but their eyes merely wondered, "Why have they come all this way?" There was nothing menacing or aggressive about the people of Mumbai. They were humble and curious, and as fascinated by us as we were by them.
We reached this moment of clarity after our first stop of the Grand Mumbai Tour: The Hanging Gardens. Known to the locals as Pherozeshah Mehta Gardens, the park was built in 1881 on the Malabar Hills overlooking the Arabian Sea. Together, we walked along the paved pathways, pausing now and again to capture shots of the exotic flowering plants, towering trees, and famous animal-shaped hedges. Around us, couples strolled leisurely in silence; parents pointed out the giraffe-shaped bushes to their eager children; and a group of more than a dozen people, young and old, ambled together like students on a field trip.
As I stopped to admire a floral arch, I noticed from my peripheral view the large group stopping and gazing, as well. "I think you have some fans," our tour guide muttered to us, nodding toward the group of young men and woman and what appeared to be their families.
We stared back at them and smiled in earnest. They beamed in response, nudging each other and whispering urgently, as though contemplating their next move. "Should we ask them if they would like a photo?" asked Sophie in her usual sweet demeanour. Sophie was the tallest and fairest of our group; her piercing blue eyes and snow-white skin never failed to mesmerize the locals.
After blaming poor Sophie for making us the centre of attention--again--we all agreed on the photo and watched as Pranav approached the group. They nodded excitedly and then, to our surprise, the females joined us while the men retrieved their cameras and began snapping away in unison like a swarm of paparazzi. We couldn't help but marvel at the sight: teens and young adults, not much older than us, and their parents and grandparents, ecstatic to be in the presence of complete strangers.
"We're like, The Spice Girls," said Jessica, who still lives in 1999. Riccardo shot her a reproving glance.
But we weren't. We were no more special than they were. And so I retrieved my own camera and began taking photos of them. My friends followed suit. All at once, the lot of us broke into a fit of uncontrollable laughter.
We headed back to our air-conditioned van on a high--the gardens had been a marvellous sight and our experience with the locals would be a great travel anecdote.
"This next stop won't exactly have the same...vibe," Pranav said wittingly as we stepped out onto a nondescript street corner. "Welcome to the Mumbai Dhobi Ghat Laundry District."
The what?
We stood on the sidewalk and took in our surroundings. Nothing--no monuments, no peculiar buildings, no market, no bustling crowds. I had half a mind to turn on my heel and climb back into the van.
But it seemed our blank facial expressions were enough to satisfy our tour guide's wicked sense of humour. He beckoned us to follow him across the street (he led, of course, firmly gesturing at oncoming traffic to halt for the helpless foreigners). We trailed after him like ducklings following their mother until he stopped at a small nook and leaned over the surrounding low cement wall, as though he were on a balcony overlooking something extraordinary.
My jaw dropped at the sight; hundreds of bed sheets and garments of all sizes and colours hung over clothing lines that criss-crossed over an enormous area filled with what looked like stone stalls. We were staring at Dhobi Ghat--the largest open air Laundromat in the world.
The washers, locally known as Dhobis, worked at the 700 wash pens fixed inside the original stalls that date back to British rule and spent their days washing clothes from Mumbai's hotels and hospitals. We watched in silence as the men beneath us hand-washed each article of clothing, hung it out to dry, and then repeated.
As I observed, I thought of some of our experiences prior to that moment--how amusing our experience at the Hanging Gardens had been and how elated we felt just the day before, when we had come across a quaint basement-like boutique adorned with oriental rugs, souvenirs, jewellery, handbags, and pashmina scarves (100% silk). After nearly an hour of browsing and friendly chatter, the shop-owner had disappeared in his back store and returned with a gleaming silver tray of steaming hot tea. "The best masala chai tea in all of India!" To this day, I'm convinced that it was.
"That was so normal," my friend, Jennifer, had said as we rounded the corner from the shop, where a family of four sat on the edge of the sidewalk in front of a small shelter they had built out of sheets and rags. They had merely watched us walk past, shopping bags in hand. Blissful. Content. Satisfied.
But India was far from normal. As we left the Laundry District, I tried desperately to make sense of it all; how such wealth could be adjacent to such poverty; how the sweet smell of spices could be as potent as the stench of rubbish; how such intelligent people lived under such a corrupt system; why to them, karma was always the answer to misfortune; where the peace was in all the chaos.
It was during the last stop of the Grand Mumbai Tour where the latter question was answered. Overlooking the Arabian Sea at nearly 1000 feet above sea level stood the ancient Shiva Temple of Lord Babulnath. Sitting on a small hillock near Chowpatty beach in an area called Girgaum, it is one of oldest temples in the city. Pranav led us inside the intricate sandstone structure, where we were asked to remove our shoes before experiencing the faithful climb up the 165 steps to obtain blessings from the supreme God Shiva. "Lord Shiva is one of the Trinity deities of Hinduism, known as both 'the Destroyer' and 'the Transformer'," explained Pranav. Barefoot, we followed our guide up each broad step, the hot stone burning the soles of our feet. As we ascended toward the temple, we took in the high ceilings, ornate mouldings, and elaborate images of Hindu mythology carved in the walls and pillars.
In each room, families gathered together to worship by chanting, praying, delivering flowers, and pouring water over the base of their deity's statue. Mesmerized, we longed for the same spiritual experience. Pranav beckoned us into an open space, where several blankets covered the stone floor, and invited us to sit with our legs crossed and close our eyes.
"Deep breaths. Clear your mind," he said. Somehow, this had the opposite effect on me. I thought of everything I had witnessed outside the temple walls. My mind was cluttered with images of children begging, of stray dogs roaming, of taxis honking -
"I can't," I uttered, my voice ringing across the still room.
Pranav nodded in understanding. "Okay, we'll try something else. Repeat, 'Om'."
It was oddly soothing. His tone was low and steady. Between each breath, we followed his mantra. The vibration felt powerful, as though a cosmic energy enveloped my body. With every, 'Om,' I felt closer to something greater. My voice was barely above a whisper when I finally reached it - that blissful inner silence.
And there, nestled in the heart of all the chaos, was the slightest glimmer of peace.