By Laurie Dujardin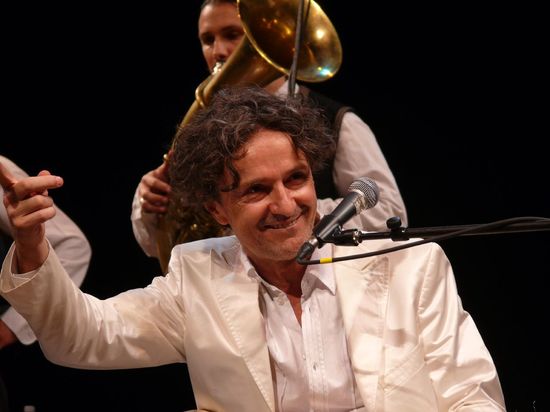 Goran Bregovic may be the greatest musical genius of our time. His music has crossed more genres, and all boundaries are erased in its all-encompassing sweep. It is fitting that he comes from Sarajevo (b.1950), sometimes referred to as the belly button of the world. He calls himself Yugoslavian since he is born of a Croatian father and Serbian mother. Listening to his interviews, you find a very low key, unassuming and surprisingly self-effacing man. He is full of boyish charm even at his age, and is extremely attractive, to women in particular. He has the romantic looks of many of the great composers through time, including his famously lush and longish locks. His countenance emanates warmth and childlike innocence and there is joy in his ever present, natural smile.
Goran took violin lessons as a child and when he reached high school, he got his first guitar and joined the high school band. However, discipline was a big problem for him and he kept getting kicked out of school, and so began playing in cafes at 16. He joined a band at 18 which went on to become the most famous rock band in the Balkans (1974-89) Bijelo Dugme (Yellow Button). They were largely influenced by Led Zeppelin and Black Sabbath. During this time the youth looked upon traditional Balkan music as fit for only old people. Don't forget this was the communist era, so one of the few ways of getting away with rebellion was through the music. Goran left the band and Yugoslavia to move to Paris before the Bosnian war (April 92-Dec. 95). It was there he began to compose the score for a film that a friend of his, Emir Kusturica, was making. The film was Time of the Gypsies (1988), which made he and Kusturica international stars and they won awards around the world. They produced two more successful films before Bregovic went on to compose film scores full time for many other cineastes. By now he has probably written the music for around fifty films. He has even composed pop operas, tone poems and liturgical pieces...in other words, his musical talents know no boundaries. In 1998, Goran formed the traditional Balkan Gypsy group, The Wedding and Funeral Orchestra, with which he has toured the world several times over as well as produced numerous albums.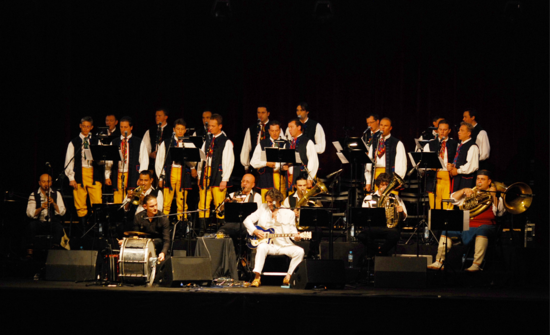 It is a stunning sight to see his group on stage as there can be up to fifty performers including a five piece Gypsy brass band of old horns, a large string section, at times a huge male choir as well as a trio of traditional Bulgarian female singers. The brass band and the singers are dressed in colorful traditional costumes. A big bass drum (Goc) is placed in front of the whole group along with the seated drummer and beside him sits Goran Bregovic, perenially dressed in a white linen suit and shirt as part of his trademark look along with his crazy hair and sweet smile. He is always extremely at ease, kind of stretched out in his chair and plucking his guitar. The visual experience alone of attending a concert or watching a concert video is not soon forgotten, it is so arresting.
Goran Bregovic is a man who, quite simply, creates magic with music as no other. He describes the Gypsy music as Balkan Drinking and Dancing music, the object of which is to see the band earn lots of tips, make sure the bar sells as many drinks as possible, and that the girls all end up dancing on the tables! It's the source of one of his favorite quotes: "People who don't go crazy here can't be normal". He says that all emotions are super-heated in the Balkans and such an extreme release of them is necessary.
It seems every culture in the world has been absorbed into this music of madly complex rhythms and left to ferment for about 100 years into a powerful brew. The audience is driven into a state of ecstasy that is almost religious. It is a catharsis, certainly. Whether raucously, madly joyful or of deepest pathos, it reaches to the very centre of your soul; you are inhabited by the spirit of an ancient world in which you truly and happily are lost. You'll be swept away by a wild roller coaster ride of emotions. His music is a celebration of life, love, lust, loss, death, and then the cycle begins again.
As far as his legacy, he has set up a Roma Education Foundation and the rest will live on in his music, which will continue to heal and unite people the world over.
Brava Goran Le Grand!