By Laurie Dujardin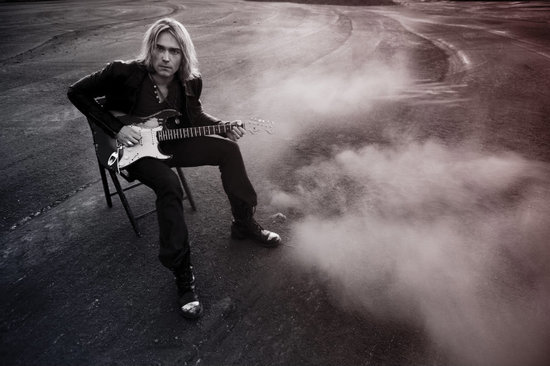 I was sitting at home early on a Tuesday morning, working diligently on a writing assignment with the TV on quietly in the background. Global Morning News was on and Richard Dagenais was saying "you're in for a treat, smoking hot Canadian guitarist Philip Sayce is coming out with a new album called Influence". I looked up and saw a nice looking guy, with an earnest and soft-spoken way about him, saying his album pays tribute to his musical heroes as well as some original numbers. He highlighted all the people who had helped him. Then Richard said Philip had spent a lot of time touring with Jeff Healey, Melissa Etheridge, ZZ Top, Deep Purple...okay, NOW he really had my attention.
When Richard asked what it takes to impress him in other musicians, Philip said "it has everything to do with what's coming from inside (puts his hand over his heart), whether they've played for one day or a hundred years, as long as it's an expression of what that person is feeling. It's not about the style of music, it's not about anything but an emotional expression." Here I caught my breath, as it's the same thing I have been saying for years, only I usually just say "as long as it's got soul".
Richard said "You're playing the Petit Campus tonight; tell people what they're gonna see". Philip answered "They're gonna see a whole lot of heart, a whole lot of feeling. We put everything we have into every song. We do some old songs, some new songs; we like to pay respect to people, like maybe Neil Young, but we do it in our own way so it's not about copying or covering it".
Next, Richard said, "Tell us about the song you're about to play, which you wrote it for and played it at Eric Clapton's Crossroads Concert." I was now at full attention. "Yeah", said Philip, "I had that incredible opportunity just over a year ago, at Madison Square Gardens, and I played by myself, and so it's a wonderful opportunity to play it again now ". Then he proceeded to play, like he was born playing, Steamroller. A couple of minutes in and I knew I was listening to one of the all-time greats, and it was as if this unlikely-looking and super-humble, quiet guy was channeling all the legendary axe men. I was completely in awe. I've included the clip here so you can see for yourself.
Philip Sayce on Global Morning News

Still dubious, there was a part of me thinking, well maybe that's his best piece and that's it. I quickly did a little online research and looked at some of his videos, and was super impressed. It seems he's not that well known here because he's spent most of his time working in LA and in Europe where there is a huge blues scene. This guy is 39 years old and has been working since he was 15! At 18, he was picked up and mentored and toured with Jeff Healey. After that, it was Melissa Etheridge then ZZ Top, then Deep Purple, so he was always a member of someone else's band until fairly recently. His solo videos, shot mostly at small clubs and Festivals, are absolutely stunning. He's released 4 previous albums, but on small European labels. Critics raved about all of them and apparently he continues to get better and better.
Deciding I'd made a major musical discovery, I almost ran down the street to the Petit Campus box office, where I bounded up the stairs. Who do I run into (almost literally) but Yes, Philip Sayce up close. I have to say that he is so good looking that he doesn't fit the image of the usually weathered, hard-living bluesmen. He looks rather like a sweet-faced schoolboy. Disoriented, I quickly said "Hey! (big smile) I was just watching your videos and I'm on my way to the box office"! His friendly smile encouraged me to continue on as to how I'd seen Jeff Healey, his mentor, in Toronto clubs in 1979 or so. He said "No, you're kidding; we were just talking about him! What a beautiful human being he was and what he brought to the world around him". He extended his hand "I'm Philip". I feel you can tell a lot about a person from their handshake and his was really firm and warm. We exchanged a few more remarks and then I had to high-tail it for the box office that was about to close.
I returned to the club later just in time for the start of his show. I was stunned to find only around 120 people were there, but then I reminded myself there was no publicity other than the early morning TV appearance, on a Tuesday, to boot. The other part of me was thrilled that we would have him all to ourselves and I easily found a standing spot in front of the stage. Philip chatted with the crowd in a most friendly, laid back way about how there was also a hockey game going on, and he had us laughing in no time as he exchanged remarks with those of us at the edge of the stage. Looking around, most of the crowd was in the 30-to-50-something age range and heavily favored males. He introduced his sidemen, Joel Gottschalk on bass (with him for years) and top LA session drummer Jimmy Paxson.
From the moment they launched into the first song, Driving South, myself as well as everyone else almost literally had our socks blown off. This was a whole different level from anything I've ever heard before, the absolute height of musicianship and unbelievably tight at that. And the power, expression and intensity were off the charts. I can only compare it with the first Cream (with Eric Clapton) album, Wheels of Fire, and that was a studio album, for God's sake.
There aren't enough superlatives to describe what took place that night in that tiny club. This guy has played giant stages and nationally televised big events (The Grammies) with the greats all over the world and here he was truly giving it his all, both physically and emotionally (as promised) for every minute of the nearly two-and-a-half-hour show (no break)!
He took us along on a roller coaster ride, from heart-wrenching pain to the heights of joyful elation. Not to over-dramatize, but he plays and sings as someone possessed. It seemed as though he was channeling all the bluesmen before him, the old black ones as well as Clapton, Hendrix, Stevie Ray Vaughan. Each piece played was deeply familiar, while at the same time you felt you were really hearing it for the first time.
He often stands on the lip of the stage, leaning out over the audience, sometimes making eye contact while lost in the music, making you feel that he is imparting a message, telling you something. On one piece, Slipaway, he walks out into the audience, still playing slowly, and as he passes slowly, only inches from you, eyes closed, it seems something of a mystical experience as you can literally see the energy vibrating through him. This was the most intense thing I have ever experienced at a concert and I could see the people around him in almost a trance-like state as they slowly followed him. Magical.
Back to Earth after the show, I and some others waited in line for a chat and autograph or photo. I made sure to get all three along with a big warm hug. It`s worth remarking that he was no longer the guy we`d experienced on stage, but was again the kind, low key guy who feels like a friend. If you try to give him a compliment, he deflects it onto someone else. This is a guy of remarkable character and values in the tough music business. In an interview he said he is not motivated by money and is not interested in the business side of things. He just wants to create an emotional experience for people. Elsewhere, he has said that he has the responsibility, is on a mission to bring the message of the previous bluesmen to people. Now that takes me back to a video interview with Stevie Ray Vaughan (after getting sober) where he said something similar, and that the message is for people to love each other, treat each other with love. Stevie even put that message in a song called Life Without You, which is hard to listen to without tearing up. On a final note, there is another interview where Philip said he was compelled to take up the guitar as his life`s work when he learned of Stevie`s untimely death in a helicopter crash. Now there are some things that really make you wonder...
+