By: Leena Falciglia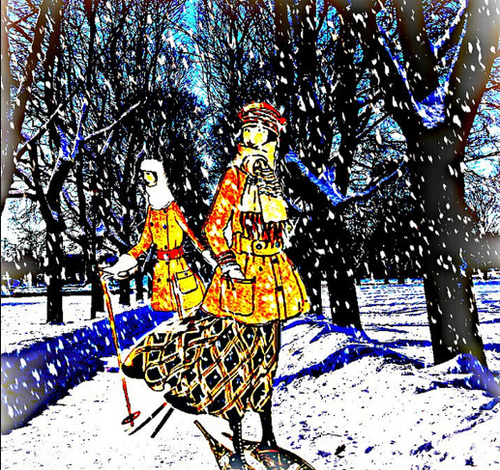 Have you ever walked into a Montreal souvenir shop? It is a sea of red and brown, no not brown as in the 'new black', I mean brown as in 'Jack the Bear' brown. And if the maple leaf is not on everything, it isn't on anything; from the flag to the pin of the flag, to the moose, to the goose wearing the red Mounties uniform, to the beaver wearing the uniform. The only item not to have a maple leaf is the life-size statue of the Indian chief at the entrance or exit of the shop depending on if you are coming or going. Snowshoes line the walls, making this our official foot apparel. How else would we get around our city streets?
I am constantly reminded every time I go to the airport in Montreal, or am at a souvenir shop downtown, how 'Canadian' we really are. I have nieces from California who believe we live in a remote part of the world where the deer and the antelope play, in our streets! We do have snow and very cold winters, but that is only one of our four seasons. We also have rain, and wear rain boots, should we start selling those as souvenirs as well? The baggage claim at the Pierre-Elliot Trudeau airport is filled with snowshoes, I mean, really what do they think they're going to do with them once they get home?
Here in Montreal snowshoes are among the favorite souvenir items and our souvenir shops do nothing to discourage our tourists. They are convinced that all Canadians must own at least one pair, making snowshoes a 'must have' souvenir. However, being of the female persuasion who reads fashion magazines, I can state with confidence that snowshoes is not a becoming shoe, and does not complete the look of the little black dress. We are actually considered by some as being one of the fashion capitals of the world, along with Paris and Milan, and trust me when I say 'snowshoes do not an accessory make'. What gives our cousins to the south and east and west for that matter, the impression that we are 'backwoodsy'? We need to stop the madness...stop marketing Canadians as Canadians. These shops need to either shape up or ship out.
6000 man-made moose and Mounties danced in the Olympic host nation's playful poke at what it means to be Canadian...not funny! After 7 years of work for 17 days of Games, famous actors spoke of pride in people who 'know how to make love in a canoe' and apologize for winning gold medals. International Olympic Committee President Jacques Rogge paid Canada the ultimate compliment of staging 'excellent and very friendly Games' before declaring them closed. Great, not only do we wear snowshoes, we are really nice people who wear snowshoes.
We cannot fault just the souvenir shops; this image is taught to us by our very own Concordia University by depicting Canadians as snowshoe loving folks. There is no getting around it, as long as souvenir shops and Canadian Universities keep this image alive, we may as well own up and start our very own fashion statement...Sigh!
Image:
Back in the Day