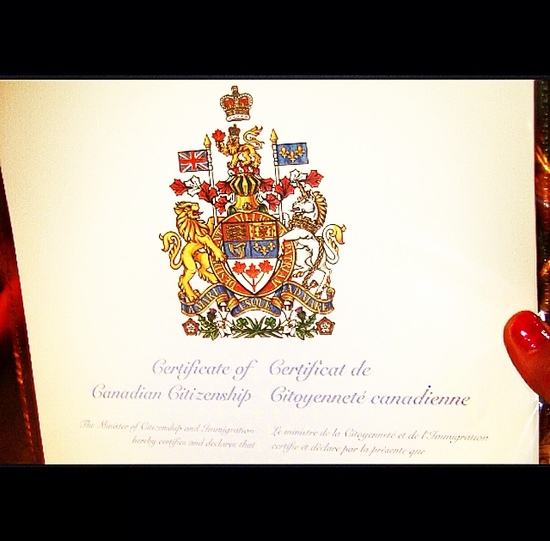 At 8.30 on a crisp fall morning, in the lobby of the Marriott hotel in downtown Montreal, a continually-lenghtening line snakes down toward the "grand ballroom" in the basement. It's the waiting line for one of today's citizenship ceremonies, of which there are three or four happening daily in the city. Natalia B. is ready for this milestone she's reached after four and a half years in Canada. In a demure top and skirt, discreetly made up, her hair in a ponytail, she clutches at the immigration documents she's brought with her. "I'm not feeling anything special," she tells me, "maybe I will later."
I first met Natalia three years ago: for a short while she was my teacher in a Russian class I took at a language center downtown. Soon I found out she had been trained to teach English, not Russian, and had in fact worked as an English teacher for ten years in Kyrgysztan and Russia. We bonded over our immigrant backgrounds, discovering we'd arrived in Montreal the same year, in 2010. At the time Natalia was juggling studying full-time at Concordia University (where she got a BA in French Studies and, more recently, a TESL certificate) with teaching Russian not only at the language center, but also in a neighbourhood Russian school.
Today, on her big day, Natalia looks a little tired and distracted. "I just have a lot of work things on my mind," she apologizes, shaking herself up. However much she loves freelance teaching, it can be a very taxing job. After finishing her TESL program this summer, she has finally started teaching English here in a few different places, among which a small school with mostly Russian students and the local Y des Femmes. She's happy she just got work at a new school: "Only one group of business English, but once they receive good feedback from students I think they will give me more. I'll take all they have."
Our line shuffles by some tables where clerks check people's documents and have them sign forms, then pushes into the ballroom. I hear languages spoken which I recognize, and some I don't, I see Asian couples, Hispanic clusters, headscarves, a lot of children. it's not much different from an everyday scene on the metro at rush hour. I remark that it doesn't look like Canada needs to fear depopulation, and Natalia brings up a new law, passed only this summer, which restricts the rights of new Canadians and makes it easier for the government to potentially strip them of citizenship. She uses the term "second class citizen" in her usual straightforward manner, grimacing slightly: "They can take it back anytime if you don't behave."
The great room is dimly-lit, full of numbered seats. People take photos on the empty stage flanked by flags. Next to us, a child born here, a citizen, cries from the arms of his not-citizen-yet mother, and we wonder for a moment at the importance place of birth has in shaping one's life and at how much harder it is to immigrate as an adult, when you already have a formed identity and vision of the world. For Natalia, coming to Canada was the fulfillment of her dream of studying English abroad in order to become a better teacher. After going to university, then working in the Kyrgyz capital, Bishkek, she moved to Moscow in 2007 in search of wider horizons. But few people speak English even in Moscow, she explains, so she still felt isolated from the culture she was supposed to be transmitting along with the language. She aimed to go study in France, as learning an extra language was a strong incentive, but finally it was Quebec, years later, that opened its borders to her. It's been a long journey, not longer than most other immigrants' though. Was it worth it? - "I'm still here. I think this is the answer."
The oath-taking ceremony starts at 10 a.m. and will last about 45 minutes. 325 immigrants, from 71 different countries, who entered this room as permanent residents, will exit as Canadian citizens. I let Natalia take her seat and move to the guest area at the back of the room. The presiding judge for the ceremony is a middle-aged woman with a warm, welcoming voice. Her opening remarks are mostly in French, but she reinforces the key points in strongly-accented English. "This is your day," she tells her audience. "You 'ave worked 'ard to be 'ere. You are winners - vous êtes des vainqueurs!"
She acknowledges the sacrifices the immigrants have made in leaving their countries, families and jobs, as long as the gruelling wait between stages of the immigration process. She thanks those of them doing volunteer work here; when she asks for a show of hands, the number of volunteers in the room really is impressive. Volunteerships are often the only way immigrants have of padding their CVs by acquiring Canadian experience. Natalia's hand is up too, as she's been volunteering as an English teacher with various local NGOs for more than half a year now.
The citizenship judge also has a special note for women, welcoming them to Canada as a place of equality and giving herself as an example for the premise that they too can achieve all their dreams. Then comes the standard reminder that most Canadians' ancestors arrived as immigrants themselves as far as 400 years ago, and that everyone should put in effort toward building the nation together. After the oath-taking there is a moment when the new citizens, still standing, are instructed to congratulate each other. I can't distinguish Natalia in the orderly crowd, but I imagine the restrained, mildly quizzical way she must be shaking hands with the strangers around.
And here she comes, with swift serious steps, holding her fresh citizenship certificate. Excited yet? "Not really," she says, but half-smilingly. She holds the paper back in the light, then pulls out her cellphone: "I think one picture is alright to take now." She did like the speech, but her favourite part by far was the judge being a woman. This makes her think of the Libyan students in one of her classes, headscarfed and speaking no English, but eager to learn and start practicing their professions here. Her smile grows larger as she describes how, when teaching, she scans their faces for signs of understanding, approval or laughter, in the absence of verbal clues. Like any true educator I`ve met, she gets animated talking about the different classes she teaches at the moment, with their particularities - for example a group of Russian students to whom she sometimes explains the finer points of English grammar in her maternal tongue.
I ask whether she feels that her status and the specific of her work have kept her living in an immigrant bubble. Natalia frowns, in search of an accurate answer. No, maybe a little, but not necessarily. While most of her friends here are Russian, she's also interacted with many born Quebecers, both Anglophones and Francophones, in school and work contexts. Loneliness is harsh at times, but the moments of interaction and discovery feel poignant. Outside of work she does yoga and meditation and tries to take advantage of the cultural life Montreal has to offer. She laughs at the memory of a holiday in Halifax, when she realized she missed seeing bilingual street signs everywhere around. "English AND French," she says, "it feels like home now."
We follow the crowd spilling out in the street, in the light of early fall. This solemn oath-taking moment has been anticipated for years, awaited for months, marked in calendars - but, by the time it's rolled around, it's already taken in, consumed. The new citizens already have new pressing concerns and hurry to get on with their day.
What does the future hold? Natalia blinks a little, adjusting to the sunlight. Citizenship does open up new possibilities for her, one of which is teaching abroad. She's thought of going for one year or two to South Korea, where there are jobs available and the pay for English teachers is better. "Why not," she shrugs, not even defensively. "There's a lot of Canadians who do the same. Teaching is my job, I do it where I can."