Art in the Park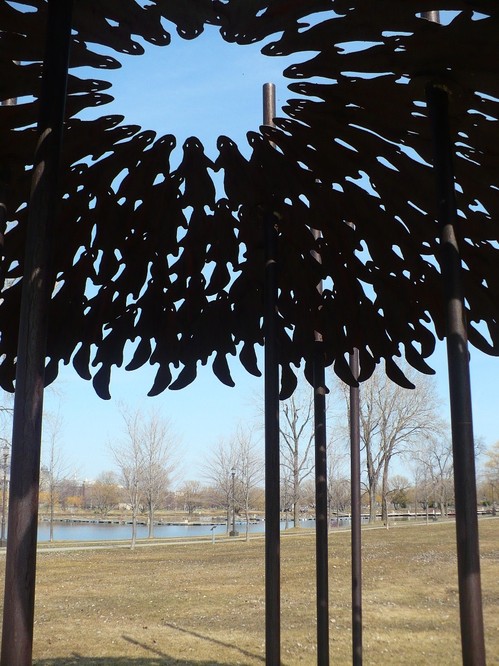 Art in the Park
by Christine Fournier
Museums rarely permit visitors to touch works of art, but this one only says not to climb them. Personally, I love going to museums to look at paintings, photographs and sculptures and will admit the urge to touch pieces can barely be resisted in some cases. Few museums allow the public to touch pieces, though when they do many take advantage. I believe that touch can only enhance the experience of looking at beautiful pieces of art.
The Musée de Plein Air de Lachine is an outdoor museum that is part of the Lachine Museum. A section of this open-air museum can be found in Park René-Lévesque. The park is located on a long peninsula which extends into Lac St.Louis. There are 22 scale art pieces made of metal, wood or stone which run along a 4-kilometer path. The path is divided by a small grass strip so that pedestrians and cyclists can enjoy the park without getting in each others' way.
Each piece has a sign stating the name of the artist and a short bilingual description of the piece and its inspiration. The park offers unique pieces, such as The Passing Song by Catherine Widgery. A passing song is the sound made by the wind when a human soul leaves the body in the Cherokee tradition. Widgery constructed a canopy of ghosts (or souls) that amplifies the sound of the wind when standing under it. Bill Vazan's Story Rock looks like a giant target carved in a large stone until you get closer and see swirling motifs and petroglyph-inspired carvings.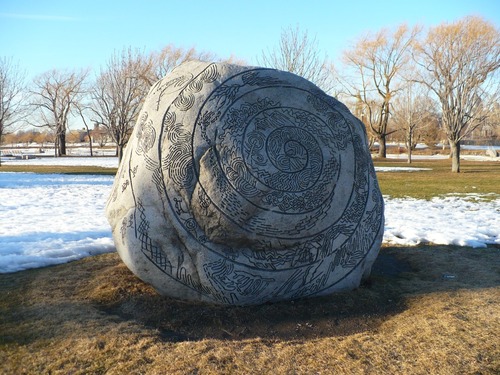 René-Lévesque Park also has a small arboretum with trees native to Quebec and Canada. Small signs posted in front of the trees allow visitors to discover the names of around thirty species, though until the leaves bloom it is hard to tell them apart.
The park and museum can be reached easily using public transportation. The 110 bus leaves from the Angrignon metro station every 30 minutes. It is a short, five-minute walk from the bus stop to the park. By car, the museum can be reached by taking highway 20 towards the Mercier Bridge, take exit 2 and follow the signs to Park René-Lévesque. The park is at the corner of St.Patrick Street and Chemin du Canal. Parking, though not free, is inexpensive at $3 a day.
There is no entrance fee to get into the park, which is open year round, though the paths are not well-maintained during the winter. It is a great place to picnic in the summer and an ice cream shop and rental shop as well as small restaurants can be found near the entrance of the park.
Photos by Christine Fournier