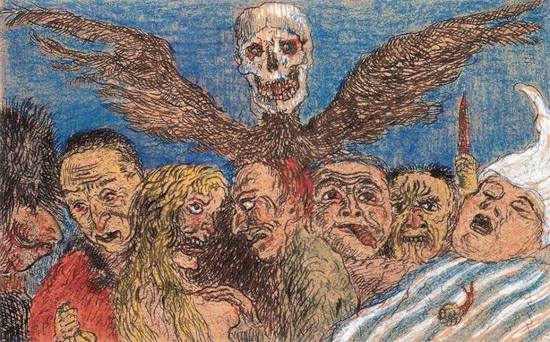 The phone connection was crackled and quiet--but Brahma Blue's voice still boomed through the speaker. Blue is an up-and-coming musician who lives on Vancouver Island. Last week, we sat down to discuss the tribulations of music and life . . .
Many musicians can tell you why a song works, but it takes a special kind of person to create a song that works. Each artist approaches the process of creation with nuance. Blue explains, that he writes lyrics "at the same time the melodies going out . . . I play something on the guitar, find some cool chords, let that wax for a bit." He humbly describes the source of his music as, "melodies in [his] mind." Blue's drafting process begins with "seven, eight months," for performing and adding to a song before he takes it to the studio. Blue uses this time to let the song solidify. This process is necessary because as Blue explains, "Every time I pick up the guitar it's going to be a different story the way I play."
Blue has a big sound for a solo artist. I wondered how he translates the orchestra of sound from his recordings into his live performance. However, he views the process the other way around: "I write every song on that, [referring to his nylon-stringed Yamaha] so the live performance is already there . . . In the studio, that's where you allow accidents [to] start emerging, colliding, super-colliding . . . and any avenue could work out." At a performance, the audience can expect to hear a more "organic" rendition of Blue's music: "I usually just go in with one guitar. I don't even like using a microphone, if I can just be on stage, playing, jumping around, chanting." Blue usually performs in coffee houses, because it puts "nothing between [him] and the audience," neither a stage, nor a cover charge.
Money plays an important role in any market. The music industry has gone through a major shift in the last decade with the mass-production of quality recording devices, and the largely free online distribution of music. Blue explains that, "nowadays everybody's an independent musician, because the record labels don't make money anymore . . . That's what we're all about here at Independent Generation Incorporated [the studio where Blue works and records]." I.G. Studios reflect this change in the industry. Rather than being a generic pop machine, I.G. guides artists in actualizing their work and vision. "The percentage of people in Canada that play music, or are involved in music, it's extraordinary." And Blue suggests that in an over-saturated marketed, "the emulators" become that much more obvious--and originality is noticed. Blue would like to see the music industry, "become a more open forum: more free venues, more communities opening up their doors to have musicians every night, all the time." And the decentralization of the industry suggests this could become the reality.
Blue is registered with SOCAN, and is in the process of applying for a recording grant that could bring him fifteen hundred dollars. I wondered what it's like for a new artist to become involved with these types of associations. As he describes, "It's a club . . . A lot of it's becoming privatized, so there's less transparency." Blue and the rest of I.G. Studio are being counselled in the process of legitimizing their business, so they can have better access to these resources. Blue is confidant that their hard work and persistence will speak for itself, some way or another. "No one wants to hear an Yngwie Mulmsteen cover band,"--I can tell he's talking from behind a smile--"but that's just me."
Blue explains that the source of his inspiration is the "traumatic incidences that have befallen [him]." When Blue first moved to Vancouver Island, he was involved in a hit-and-run accident. He explains, that the driver "schmucked [him] out on [his] bike. [She] ran through a red light, and didn't even get a ticket." The driver turned out to be a Buddhist Reiki master. After promising to settle out of court, she was never heard from again. Blue was left with nothing but a concussion and some life lessons from this experience. As he explains, "that was the entire reason for [his album] Oranges."
This summer, Blue is helping on a tour to Brazil with some of the other I.G. Studio artists. Blue will be a "utility man, videographer, helping with sound. It's really just, wake up that day, and what hat do I need to wear." Blue also plans to organize a few of his own shows in Brazil. "This Brazil tour will be a shot in the arm, injection of some HGH, or some steroids." Check out more about Blue at www.undiemusic.com.