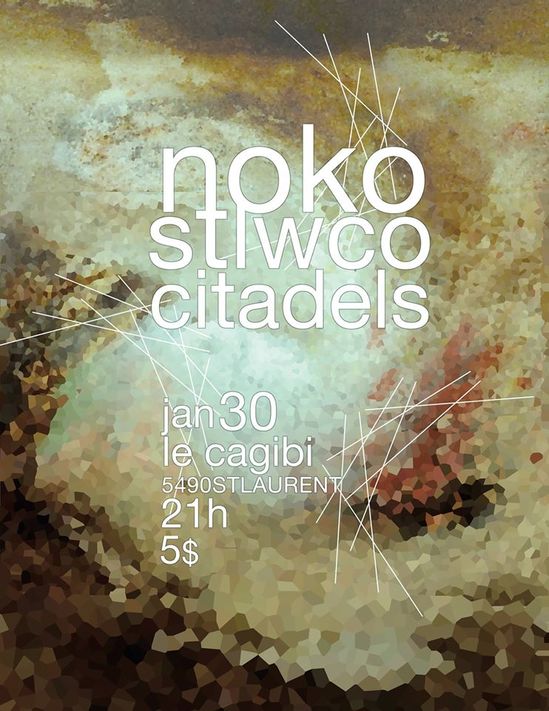 The Poster for the upcoming Noko / STLWCO / Citadels show at Le Cagibi on January 30th. (Photo: Facebook)
Montreal is home to a very lively music scene, with local bands of every genre playing almost every night at different venues. The process of booking a show in Montreal can vary greatly depending on the type of show, type of band, or the type of venue you're looking for. Sometimes it's as easy as telling your friend that your three-piece rock band will open for his experimental post-jazz duo in his girlfriend's loft space, and sometimes it's a hellishly long process of time management and neverending emails, but following these steps will have you playing your own shows before you know it!

PHASE ONE: THINK
Decide what you want.
This is a crucial starting point. What kind of performance is yours? Are you a garage crust-punk band? A neoclassical solo cellist? A DJ who only plays Cyndi Lauper remixes? Every venue, be it a bar, club, performance hall, or basement apartment, has a different atmosphere and attracts a different crowd. Make sure to choose the right fit for your act.

Pick the right venue. (Photo: Flickr / Anirudh Koul / thefuturistics)



Budget yourself. (Photo: Flickr / henrybloomfield)



Decide how much you're willing to spend.
As with most things, money can be a huge limiting factor. Some bars or clubs will let you play for free. Some will charge a fee to rent the space, or pay the sound technician (if you're lucky). Almost all concert halls will charge. Almost zero basement apartments charge. Generally, the nicer the venue is, the more they will charge to play.

Decide how much you're willing to charge.
Are you willing to play for free? Are you looking to make money? Do you stand to lose money on transportation and booking fees? These are all important questions to consider. Implementing a cover charge or entry fee can scare away people who don't want to pay for a band they've never heard. A "pay what you can" cover charge allows people to donate at any time during the show based on what they think of the band, and won't scare away anyone.

Some bands prefer "liquid assets". (Photo: Flickr / Kat N.L.M.)


PHASE TWO: PREPARE
Have an EPK.
An Electronic Press Kit is incredibly important for musicians to have. Typically an EPK consists of proof that you rock; recordings are of the utmost importance, but pictures, video, and a short bio can go a long way. An EPK lets the venue know what kind of show to expect. Most venues won't expect you to have an EPK, but when applying for festivals an EPK is mandatory. At the very least you should have three recordings to prove that you do, in fact, rock hard enough to play at this bar.

Format your EPK.
The second half of the EPK is the format. Sending an email with twelve attachments is not necessarily professional. Most bands will take advantage of websites like Myspace or Bandcamp to host their audio and pictures for free. Youtube or Vimeo will take care of the video portion. With a little modification, a Facebook page can do all three. These are typically the best option if you're not willing to spend a little money, but a website of your own has a much more professional vibe and allows you complete control over how you present yourself.
An alternative, professional EPK. (Photo: streetlightmanifesto.com)


PHASE THREE: CONTACT
An online form for booking contacts. (Photo: brutopia.net)



Send out emails.
Some venues will have booking emails listed under the contact portion of their website. This is generally the best way to contact venues for two reasons. First, it allows you to send links or attach your EPK. Second, it is a good way to get around not speaking French. Most venues want to have as many bands as possible, so will hire bilingual booking agents, but if it's strictly French, Google Translate is not cheating.

Make phone calls.
Smaller venues like dive bars tend not to have booking agents. Instead they will have a phone number on their website for all purposes. Some times calling this number will get you an email address, or another phone number. Sometimes you'll have to direct them to your website via telephone. Sometimes you'll have to call back later, four times. Making phone calls is not necessarily the most effective method, but it works.

Be friendly on the phone. (Photo: Flickr / Chris Goldberg)


House calls can be scary. (Photo: Flickr / Jorge Gonzales)



Make house calls.
Unfortunately, Dr. Rock has to make house calls. Many venues will have websites under construction, no booking information on their website, or simply no website. To book these kinds of venues, it is best to go in person and inquire. Make sure you go during their slower hours -- a Wednesday night visit at 7:00pm and not a Saturday night visit at 2:00am will make the bar like you a lot more. Most often they will provide you with an email or phone number for the booking agent, but if you leave a link to your website and an email address that they can contact you at, you might just have a show.
PHASE FOUR: PREPARE SOME MORE
Fill the Bill.
Once you've arranged a show with a bar and negotiated the cost of renting the space, you have to contact other bands to play with you, unless you plan on playing for four hours straight. Determine how much time you have. Some venues will cut you off at midnight. Some won't let you start until the Habs game is over. Determine how many bands you want - Four bands in two hours is a little tight. Two bands for four hours will have you doing bad standup to buy time. If you don't know any other bands, you can use sites like Facebook and Bandcamp to contact other local bands about playing. Maybe the sound technician is in a band (hint: they always are).

Make sure to have a seizure-enducing poster. (Photo: Flickr / Quan Ha)


Try to minimize on equipment. (Photo: Jake Humber)


Arrange for equipment.
You have three bands playing on your bill now. Not everyone needs to bring a drum kit. Drummers can be touchy about their kits, however, so always bring your own cymbals and ask if it's okay to use their kit. How many microphones does the bar have? Do they have a PA system or speakers around the bar? Do they have monitors so you can hear yourself while you're playing? Maybe you can use the other band's guitar amp because yours is the size of a tent-trailer. Arrange for these things in advance.
PHASE FIVE: DO IT
Sound check.
Check your sound. Just do it. Showing up to the bar two hours before the show to set up and play a few practice tunes can really help smooth over the process. Maybe the bar's electrical circuits suck and you can't use your effect pedals. Maybe the stage is too small for three microphone stands and you have to share with the bassist. Maybe some of your patch cords stopped working. Always bring extras of everything -- patch cords, mic cords, guitar strings, and picks. And keep inventory of everything. Losing things at a bar is never fun.

Sound check is incredibly important. (Photo: Flickr / Albert Freeman)


Having fun rarely makes for good pictures. (Photo: Facebook / Jake Humber)


Play a killer show.
This is the most fun part. Play a killer show. Make the crowd go wild. Remember to dance around. Interact with your band members. Work on your stage presence. Halfway through your setlist, thank the other bands for playing and thank the bar for hosting. Tell people to buy beer. Do everything you can to make sure your audience is having fun, and the bar will want to have you back to play again.

Arrange for takedown.
This is the least fun part, but you will thank yourself for it. Remember when I said to take inventory? Make sure you have everything when you leave. Arrange for a designated driver to help move your equipment back to your house or jamspace. Cab drivers can be really touchy about moving equipment with their cab. If they let you, tip them generously. Sometimes the bar will let you leave your equipment overnight in a storage room. Most importantly: often bars will give you free beer for playing. Drink it before you leave, and tell everyone where the afterparty is.

Take care of your equipment BEFORE you get drunk. (Photo: Flickr / Gareth Harfoot)



Photos taken from Flickr in accordance with creative commons licensing, creativecommons.org.