"The truth is, Kyrat doesn't have a future," the truck driver said to Ajay as their supply vehicle pulled into the rebel militia's safe outpost. His words surprised me, because it was an idea that I had been thinking about as I played Far Cry 4.
The game was released in November 2014, developed by Ubisoft Montreal. It's a first-person shooter, open-world action/adventure game set in the fictional Himalayan country of Kyrat, which is in the middle of a civil war between a rebel group and the usurper king Pagan Min. Years into this war, the game's protagonist, Ajay Ghale, returns to the place he was born to scatter his mother's ashes at a place called Lakshmana, only to discover that both sides of the conflict have been waiting for him.
I was a stranger to the Far Cry series before taking and interest in its latest installment, but Far Cry 4 called my attention because it looked like it was doing things differently from the usual first-person shooter narrative. Sure, it is still set within a war, but the American military aspect has been replaced; now it is a story about a man returning to a land that could have been his home, and that is struggling to find a future.
And I admit, the poster is hard to resist. The villain, Pagan Min, is front and center, with a James Bond bad-guy grin that lets you know you're going to enjoy taking him down.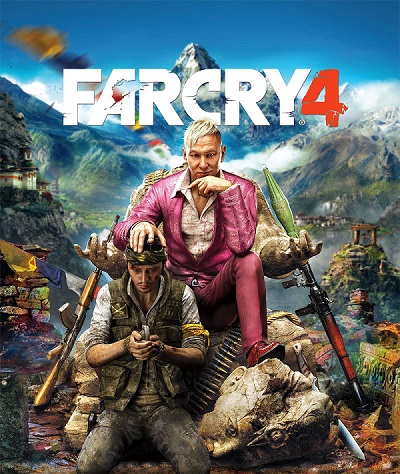 ©Ubisoft