"The truth is, Kyrat doesn't have a future," the truck driver said to Ajay as their supply vehicle pulled into the rebel militia's safe outpost. His words surprised me, because it was an idea that I had been thinking about as I played Far Cry 4.
The game was released in November 2014, developed by Ubisoft Montreal. It's a first-person shooter, open-world action/adventure game set in the fictional Himalayan country of Kyrat, which is in the middle of a civil war between a rebel group and the usurper king Pagan Min. Years into this war, the game's protagonist, Ajay Ghale, returns to the place he was born to scatter his mother's ashes at a place called Lakshmana, only to discover that both sides of the conflict have been waiting for him.
I was a stranger to the Far Cry series before taking and interest in its latest installment, but Far Cry 4 called my attention because it looked like it was doing things differently from the usual first-person shooter narrative. Sure, it is still set within a war, but the American military aspect has been replaced; now it is a story about a man returning to a land that could have been his home, and that is struggling to find a future.
And I admit, the poster is hard to resist. The villain, Pagan Min, is front and center, with a James Bond bad-guy grin that lets you know you're going to enjoy taking him down.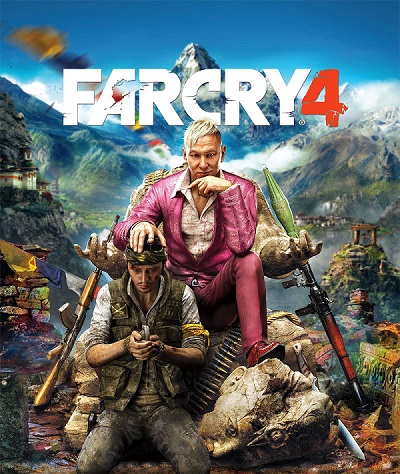 ©Ubisoft
So, did I?
It may seem weird to review a game like this based on story alone--first-person shooters are usually seen a mindless (sometimes a little too unapologetic) battle romps whose most important aspect is gameplay. They're meant to be fun to play.
As I investigated the series, it became clear that while primarily centered on exploration and action, Far Cry games do put effort into telling a compelling story.
Far Cry 3 followed the story of Jason Brody, an American student vacationing in Bangkok with some friends. They get kidnapped by pirates and held for ransom, with Jason the only one who manages to escape and gain the ability to help them.
Jason was written to be an every man, someone who never had reason to expect to come face to face with the crude realities of human trafficking and violence. Writer Jeffrey Yohalem stated in interviews that they wanted to take that every man and see what giving him a gun and throwing him to the wolves would do to his humanity.
There was a clear intent of character arc, and the result was a story that poked at the general genre conventions of remorseless and consequence-less violence.
Far Cry 4's development followed similar intent, and in an uncommon move narrative Director Mark Thompson talked openly about how the criticism for Far Cry 3 influenced their decisions for this game--even noting that their own impression of their work inspired them to take a closer look at the relationship between narrative and gameplay and try to marry them.
Thompson remarked that the series' main point is discovery, but that Far Cry 3's story didn't fit that idea very well. There were too many supposedly time-sensitive situations (you have to go save your friend in x amount of time) that clashed with the intended freedom of exploring.
Although their solution to this issue was to return to a war setting, their idea of making the protagonist a 'native son' of Kyrat added a much needed upgrade.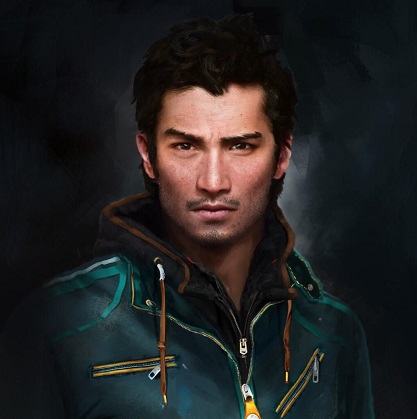 ©Ubisoft
Ajay Ghale is a quiet man. He is 26 years old, and his mother fled Kyrat with him when he was only four, so he does not remember his homeland. Making him a native is actually a response to another criticism for Far Cry 3, which was accused of using the white savior trope--the American soldier is the only one who is capable of helping the foreigners, even though they've been involved in the conflict for longer and know the place better.
Ajay's background works because it binds him to the setting. He is still a fish out of water, but he cares enough about his mother and her past to respect her last wish. Both Pagan Min and the rebel leaders--Amita and Sabal, have a reason to take an interest in him, and in turn, they give him the chance to learn his mother's real past.
From this setup, the story that unfolds is one of discovery. Ajay is discovering Kyrat, its people, its past, and its possible futures.
But while the setup is solid, Ajay himself is really, really bland. Video game protagonists are a balancing act, because they need to have enough space in them for the player to actually take them on as avatars, but this can not work. It is a shame because the implied characteristics, and bits of dialogue that weren't cut ("Who else pulls the trigger around here?" was excellently acted, and fit so well with the game's themes) suggested a character with a lot of potential. As it is, there's an unnerving radio silence around Ajay as events that should elicit a comment or two pass him by constantly.
One of the bigger aspects of the story is choosing between Amita and Sabal, the leaders of the rebellion. Sabal believes that religion and tradition are the future of Kyrat, while Amita disagrees, though her idea of a future is creating a drug estate.
The ways in which these two characters relate to Ajay are interesting. Sabal places a lot of faith in Ajay, though it can be interpreted as manipulative, while Ajay has to build Amita's trust if you choose her.
But there's an unrelenting cynism around the characters that makes your actions feel meaningless. You can weigh all the options and make the choice based on whichever you think is the lesser evil, but their outcomes feel tacked on for shock value, rather than any narrative or character rationale, and they rob the story of any sort of closure.
It just doesn't feel like there are any consequences to what you do, whether positive or negative. Nothing in the game's elements indicate that something's changed from when you started to when you finish, even though small tweaks to the number or type of enemies you encounter, or the missions you can do, or the character's dialogue, would have been enough to signal some type of change.
It bears noting that Ajay's blankness was a deliberate choice on part of the developers. Ajay had a lot of dialogue that was cut so that the player could 'deliver' the line instead. It's a choice that seems out of place in a game that has an established character with an established past. When a characters asks Ajay why he is going through all the trouble and all the bloody conflicts and Ajay says nothing; I was meant to fill in for him, but my true answer is simply "Well, I bought this game, I have to play it."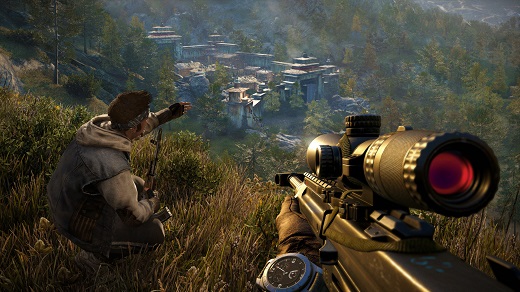 ©Ubisoft
Far Cry 4 is fun. The gameplay is smooth, and the weapons and tools menu-wheel is easy to navigate even during tense fights. Discovering new places, completing missions, and succeeding at events earn you money and skill points, which you can use to improve your tactical and physical skills, and buy new weapons. The map design gives you a lot of freedom, and the areas in which you have to fight are dynamic and give you a lot of room for choice.
There is a lot to do besides the main storyline-- even missions that expand on the lore of Kyrat itself, delving into the story of a legendary warrior on a quest to fight a demon.
World-building is done mostly through collectibles that reveal the story little by litte. Kyrat is a serviceable setting; it was a good choice to base it on real locations but still create a whole fictional mythology so as not to step on any toes, though some aspects of the religion and culture dangerously balance near uncomfortable stereotypes.
Kyrat is beautiful, but the stasis the story forces it into stop it from feeling whole. The writing and the gameplay center around conflict to such an extent that moments of quiet are extremely fleeting. Driving down the dirt road, it was quiet enough for me to start wondering whether countries could really be saved at all-- because the conflict side of the story was compelling enough to make me think about it. I then accidentally ran over an eagle, which had just attacked two pedestrians.
I enjoyed the game, and despite everything, I like the story and characters. It's just something that unravels once you put much thought into it, and it made me wonder if these types of games could allow themselves to break out of the mold.