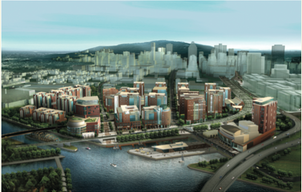 I have lived all over the island and south shore, but currently I live in Griffintown/Little Burgundy. St. Cunegonde de la Petite Bourgogne is the parish name. Montreal neighbourhoods have names from the past parish lines, federal and provincial political districts and local lore. Griffintown was built for Irish immigrants who worked on the Lachine Canal. It was destroyed by Mayor Jean Drapeau in a slum-clearing project in preparation for Expo 67. It covers the area of lower downtown from the Lachine Canal to St. Antoine, roughly from Mountain Street to Atwater. The canal is now a wonderful place to walk, bike or have a picnic. In thepast it was a place of heavy industry and poverty. The city has done of wonderful job of remaking a disused area. We can walk to the suburb of Lachine or to the Old Port. Atwater Market is just off the canal and is a great place to pick up food. Little Burgundy has a tough reputation. It is a hard place to grow up. It has the highest proportion of single-parent families in the city. There is quite a lot of youth gang activity but there is little or no crime against local residents. In Montreal, random violence is rare but if you are involved in criminal activity, you have a higher likelihood of being hurt. Kids are being killed in this 'hood but it is still rare. The great thing is that Griffintown/Little Burgundy is that it is a five minute walk from Concordia, down Guy Street. It used to be called Lowertown because it is at the bottom of Mount Royal. We are close to everything: metros, buses, downtown, canal and parks. The talk of housing development in Griffintown is frightening. We came here to find a peaceful place to live without the gentrification which has plagued other parts of the downtown area. If you are looking for something to do with your free time between classes, I invite you to come down the hill and explore the 'hood. You'll be pleasantly surprised. Sometimes the reputation that a neighbourhood has, is undeserved.
Image source: Flickr,
Aerial Rendering Griffintown
, 2007.