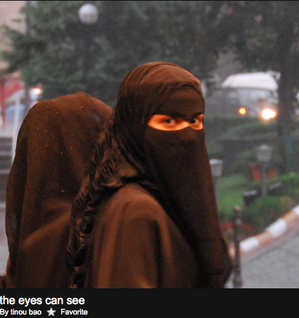 The French
parliament has claimed the reasons behind the recent ban on wearing Burqas is to
"
ensure the dignity of the person and equality between sexes [...] this practice, even if it is voluntary, cannot be tolerated in any public place," (1).
Last night a few of my girlfriends and I rented the second Sex and the City movie - terrible by the way, don't bother with it. In this movie, if you haven't seen it, Carrie and the girls take a trip to Abu Dhabi. Although the women there don't wear the burqa, which covers the entire body and head including the eyes, they don a similar garment called the niqab, which covers everything but their eyes. Carrie watches as a woman eats french fries by lifting up her veil for each bite. Throughout the movie, there are many pointed jokes and comments about the conservative culture which I found somewhat shocking. I also found the men to be portrayed as horribly oppressive and unable- or unwilling- to grasp the concept of women's rights. In the end, I interpreted the movie to be about the empowerment of women, regardless of culture, but still a sad commentary on women's lives in the Middle East.
My question is, what do you think of these types of total-body covering? Do you think of it as oppressive? Or do you respect it? What do you think of France's ban? Do you think it is a step towards gender equality or a statement of racism against the Middle East?