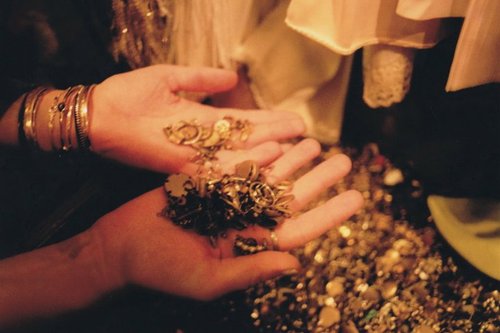 In our modern society, vintage shopping is no longer something reserved for the elderly or those tight on cash. Second-hand items are now prized possessions, with thrifters going to many lengths to secure that perfect vintage piece. On top of saving you money and allowing you to find truly one-of-a-kind pieces, your thrifty ways are helping the environment and reducing your carbon footprint.

Vintage shopping is a great way to find a cool designer blouse for an eighth of the original price, or to find an interesting patterned sofa for your apartment without going broke. There are so many goldmines in Montreal, you just need to look for them.
Many of the best vintage clothing stores in Montreal can be located in the Plateau and Mile End bureaus, though you're not restricted to that area. First, the vintage vs. thrift distinction: true vintage stores differentiate from thrift stores in the way that all of their clothing is hand-picked and personally curated, making the digging process non-existent. You're left with treasures chosen by vintage experts.
Thrift stores include consignment stores, as well as bulk thrift stores like Village des Valeurs and Salvation Army, of which there are several locations in and around the Montreal area. Thrift stores require much more time and effort, but you can often find the best pieces there (and they are much cheaper!).
Environmental Impact: Going Green
One of the largest advantages of shopping vintage is that you're essentially recycling. By purchasing old, gently used clothing instead of brand new items, it limits the environmental impact of production. Several Montreal stores take this one step further and literally recycle, creating new items out of old recycled goods. One person's trash is another person's treasure! :
La Gaillarde (4019 Notre Dame W.)
Non-profit vintage store that also offers up free sewing lessons as well as monthly fashion shows. Hosts a variety of Eco designers as well as vintage treasures.
Rien a Cacher (4141 St. Denis)

A great selection of locally made and designed sustainable brands. They also support and carry a number of national and international fair-trade and ecological brands.
Preloved (4066 Blvd St. Laurent)
Chain store, they sell vintage and re-worked vintage clothing. A little bit pricey, but worth it, in terms of sustainability!
CLOTHING

General 54 (54 Rue St Viateur W.)
A vintage gem located in the heart of the Mile End, General 54 boasts a friendly staff and easy to browse racks. They also carry jewelry from local designers.
Citizen Vintage (5330 Blvd St. Laurent)
The new kid on the Montreal vintage scene, Citizen Vintage carries men and women's clothing, carefully hand-picked and easy to dig through.
Friperie St. Laurent (3976 Blvd St. Laurent)
A little bit hit-or-miss due to its centralized location, this Montreal stand-out can provide some real treasures if you're ready to dig.
Annex Vintage (56 Rue St Viateur W.)
'90s and classic vintage curated to fit the latest trends, men's and women's clothing as well as accessories.
FURNITURE/ KNICK KNACKS
Eva B (2013 Blvd St. Laurent)
A Montreal mainstay since before vintage was fully "hip" Eva B is kind of terrifying from the outside. Graffitied walls and a lack of signage can
Kitsch 'N' Swell (3968 Blvd St. Laurent)
Located in the heart of the main, at St. Laurent and Duluth, Kitsch 'N' Swell is full of '60s era furniture, clothing, books and other assorted knick knacks. They also have a sister store, Rokokonut, located next door.
FLEA MARKETS
Montreal and the surrounding areas are also home to many flea markets, meccas for second-hand furniture and knick-knacks. Flea markets can often be overwhelming due to sheer size, as well as the amount of stuff you have to dig through to find the one piece that you want - but all that work pays off.
Marche aux Puces (7707 Shelley at St. Michel)
Ste-Genevieve Flea Market (15674 Gouin W.)
Le Faubourg des Antiquites (15739 de la Caserne)
And more!
This is the starter guide to vintage in Montreal, but once you start exploring, you will find that you discover some gems of your own!