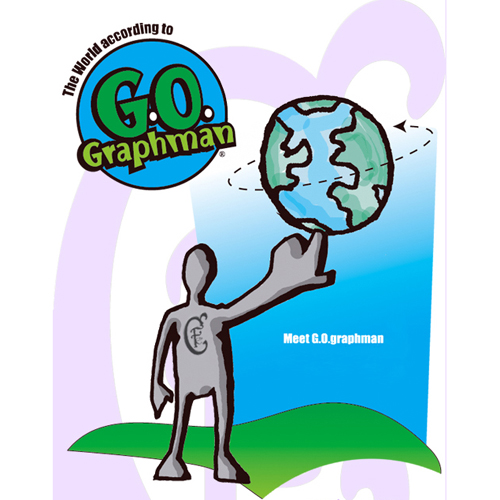 In the world of Planetary Politics, where's the race?
Hailing from the planet
Erehwon
, G.O.Graphman attempts to understand our planetary politics while trying to help us avoid what
Erehwonians
call "planetary lamination."
Environmental concern
is the primary reason for this earthly visit, so take the quiz-like
Environmental Awareness Booster
found below, and spread this link to as many people as possible. The
Environmental Awareness Booster
is not a test, but an engaging way to inform the public about some pretty shocking facts and statistics about the
Eco-system
of this global sphere called
Earth
.

Clicking the Environmental Awareness Booster found below opens an application which will maximize the quiz in your browser. No personal information is being collected at all. The app closes when you complete the quiz-like booster, and brings you right back to this page.
Check back in daily, as there is always fresh content like interviews, videos, articles, and even comics. At the bottom of this page, you'll even find a World Clock that keeps you updated on second-to-second statistics about the world like country to country, death, illness, environment, energy, crimes, food...ah just go check it out, you'll love it! Resource Links provided below the Environmental Awareness Booster will also guide you to other online goldmines of great information.
Important Note: This Environmental Awareness Booster takes at least
15 minutes to complete.

Click Here to open the Environmental Awareness Booster
Hyperlink Resources for Environmental Awareness Booster:
Coop La Maison Verte
Environment Canada
World Clock Statistic Meter
Nation Master
Humanist Canada
Eco-Bites
WebEcoist
Red Flag Deals / Shocking Facts
Grist
RealClimate

Although all of the informational videos you need to complete the Environmental Awareness Booster are embedded in the presentation, here are other videos on this page that will supplement awareness about the state your planet is in.
Alberta Tar Sands Project:

Dioxins and Nutrition:

Landfills and Plastic Bottles:

There are also many great articles on the Montrealites.ca website that deal with environmental issues that G.O.Graphman presents. There's even a handy search bar on the Homepage.
Don't forget to check out this amazing World Clock!