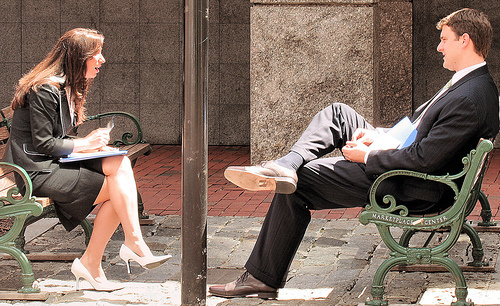 While studying for a midterm exam at Concordia's Vanier library last December, I could not help overhearing a conversation between a man and his wife. They were discussing issues familiar to me, issues that many newcomers to Montréal face upon arrival.
The man had told his wife about another unsuccessful job interview he had had. "The interviewer asked me the same question," the husband complained to his wife in Hebrew, a language I also speak. I felt comfortable enough to approach the couple and introduce myself. "I know it is a bit rude to listen to other people's conversations," I acknowledged apologetically, "But your story sounds a lot like mine, and I am sure other Montréalers face the same hardships. What do you say we do something about it?"
Ron agreed to share his story with Montréalités. He believes that learning from the experiences of other immigrants is a solution. Predictably, he demanded we meet at Vanier library so he could save precious time.
Joseph: Tell me about the immigration process and what it entailed, particularly regarding French.
Ron: Well, the consular staff in the Canadian embassy in Israel advised us that we should study French well before we even apply for an immigrant's visa.
Joseph: What did you know about language requirements in Montréal's job market before your arrival to Canada?
Ron: Well, I knew just about what every immigrant with an internet connection knew about Canada--that French is the predominant language in the province of Quebec, but that you can get along with English pretty well.
Joseph: You say that you assumed you can get along with English pretty well. Does this mean that you did not learn French prior to immigrating even though the embassy advised you to do so?
Ron: Not at all. I actually studied French for two years in evening school for which I paid top dollars. But the competencies in French which I acquired did not serve me when I arrived to Montreal.
Joseph: What do you mean by that? Two years surely suffices to build a good base of French.
Ron: You're right. And it did [provide me with a base in French.] But I was not able to use the French I had learned back home in Israel. When I studied French, I took on the French accent. When I spoke French with various service providers in Montreal, almost all the time I got questions and comments like: "Do you speak French?" or "I don't understand you." All that when I was speaking French. So I tried taking on the Quebecois accent, but with no success. I simply could not imitate it. I was stuck with an accent that many did not understand, and I did not understand the local accent.
Joseph: When I met you at Vanier library a few weeks ago, you spoke to your wife about an unsuccessful job interview you had had. So what had gone wrong in that job interview?
Ron: The interviewer had asked me whether I spoke French when I actually did.
Joseph: What do you mean?
Ron: She said she did not understand my French, and she also noticed I don't understand her French Canadian accent. To overcome the awkwardness she condescendingly asked me whether I spoke French.
Joseph: I see. And did you consider taking a French course in Montreal, one that is given by a French Canadian instructor?
Ron: I really want to do so, but that possibility was simply unrealistic. My wife attends university full time; I hold a full time job and go to school part time; and both of us somehow juggle these obligations with picking up our daughter from daycare. The only spare time we have is the weekend, but my wife and I promised each other to reserve weekends for family.
Joseph: It sounds like a life of many other families in Montreal. You study, work and raise a child.
Ron: It is a good life, and I cannot complain as long as I provide for my family. But without the ability to communicate in the local French efficiently, I will not be able to find a better job, even if I hold a Master's degree.
Joseph: What type of resources, in your opinion, can help you improve your French?
Ron: I recently discovered that Concordia University's Student Learning Centre offers free French conversation sessions to students who want to improve or just practice their French. You just show up and talk. It is very convenient for me as I am in school three times a week. But that's it for resources--not to many options.
Joseph: Well Ron, I hope you find your way to improve your French and to a better job. I wish you all the best and thank you for taking your time to meet me.
Vanier Library
7141 Sherbrooke West
Montreal, Quebec
H4B 1R6
(514) 848-2424 ext. 7766