Cuisine North Afrika: Chakcouka, Lamb Couscous and M'hancha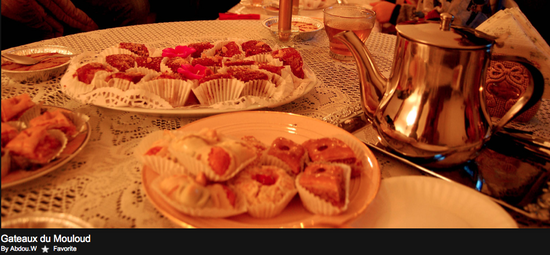 The Montreal Arab population, accounting for approximately 110,000, represents just over 5% of the Island of Montréal's population. There are two districts in Montreal that are home to this growing population.
Montreal's "Little Maghreb" is a neighbourhood in the Villeray-Saint Michel-Parc Extension district, and it is home to roughly 63,000 immigrants from countries including Morocco, Algeria, Sudan, Western Sahara, Lebanon and Tunisia. Cuisine from these countries is varied, but shares many similarities relative to North African cooking. Popular foods from the region include: Chakchouka, Lamb Couscous and M'hanncha that feature a mixture of spices including cardamom, cumin, fennel, nigella, galangal and turmeric (see recipes below). A popular bakery/pastry shop is Boulangerie Zaatar on rue de Castelnau. The baked goods are not fancy, but fly in the face of the standard, weary, and syrupy Middle Eastern pastries. Theirs are how Middle Eastern baking tasted a long time ago.
The majority of the Arab population, in excess of 45,000, is Lebanese and most live in Ville St. Laurent, lovingly referred to as "Little Lebanon". Just south of Sauve/Cote Vertu is a favoured Lebanese restaurant, Ezo, at l'Acadie Blvd., corner Louvain. Chef Elisabeth turns out ravely reviewed favourites from marinated beef and fatouche to garlic l'abneh and kebbe naye. For those preparing meals at home, see recipes below.
In the St. Michel District, shoppers seek their daily needs from the Intermarché chain on boul. St. Michel. Frequently, they choose Sami Fruits on 19th Ave. near Jarry and Pie IX for their fruits and vegetables.
In Ville St. Laurent, Adonis, in Place Vertu as well as on Sauvé near l'Acadie Blvd., is their grocery shop of choice as well as the unassuming Abu Elias, a combination butcher shop, grocery store and grill on Cote Vertu near Montpellier. Across the street from Abu Elias is Balila, an up-and-coming Lebanese hot spot that specializes in Lebanese breakfasts. Both grocery chains and smaller independent offer a butcher section where meats are butchered in the strict Halal manner, demanding that meat has been slaughtered and prepared in accordance with Islamic law.
North Afrikan Recipes on Montréalités
The following pages on Montréalités include many delicious recipes.