East European Cuisine: Cabbage Rolls, Goulash & Bavarian Tortes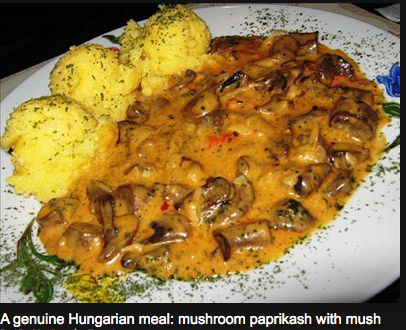 Image source: flickr
Montreal's newest Eastern European population has recently shifted to the working class neighbourhood of Côte-des-Neiges. Geographically located at the centre of the island of Montréal, Côte-des-Neiges is bordered by Decelles Avenue to the northeast and the Notre Dame des Neiges Cemetery to the southeast, Westmount to the southwest and the juncture of Chemin de la Côte-des-Neiges and Chemin Queen Mary.
The neighbourhood has a large student and immigrant population. It is the most ethnically diverse (with over 100 different ethnic communities) as well as being the most densely populated neighbourhood in Canada.
The Eastern European population of Canada amounts to only 8.5% of the population and represents less than 3% of Montréal's population.
In response to customer needs in the area, a large Eastern European grocery store - delicatessen serves customers of Russian and East European ancestry. With fresh product from naturally smoked sausages, homemade sauerkraut, sprats and stuffed grape leaves and canned items such as chestnut purée, pumpkin seed oil and white cherry preserves customers of Bucharest Delicatessen on Decarie Boulevard are well supplied to create authentic family favourite meals.
Montréal, with its reputation for having some of the best restaurants to be found in one city, does not disappoint. Epicureans from all corners of the world are represented in Montréal and those with a taste for authentic Eastern European cuisine have a number of brilliant choices.
Austrian Montrealers, feeling nostalgic for home, flock off island to Vieux Kitzbühel on Île Perrot. On lavish grounds with beautiful gardens and majestic trees overlooking Lac St. Louis, diners, waited on by servers in ethnic attire are invited to partake of the chef's wide selection of delicacies from his version of Venison Terrine or Tyrolian Style Veal to Viennese Apple Strudel. Often Tyrolian and Viennese music is played to further set the atmosphere and accompany the exquisite food and wine.
For those with a taste for Hungarian cuisine, Café Rococo steps in to fill the bill. Located in downtown Montréal, at 1650 Lincoln (just west of Guy), this unassuming restaurant tucked into Concordia's downtown campus neighbourhood serves up a rustic sausage and pepper stew (Lecso Debrecenivel) that rivals any found in Budapest. Not to be outdone, the Chicken Paprika tantalizes with tender chicken accompanied with an exquisite creamy paprika sauce. Any visit to Café Rococo would not be complete without a visit to the dessert menu offering traditional sweet Palacsinty or Poppy Roulades. If you have filled yourself to capacity you can always pack one of these little treats up and bring it home for later.
The undisputed champion for traditional Polish delicacies is Stash Café stashed nicely on rue St. Paul in Old Montreal. This treasure, rustically decorated in gypsy reminiscent style, serves up favourites such as piping hot rich, red borscht, bigos, cabbage rolls bursting with flavour and the absolutely required pierogis at amazingly affordable prices. Not to be missed!
With nine locations around Montréal, Pâtisserie Wawel provides its growing clientele with the finest European baked goods. Owner Peter Sowa brings his confectionery know-how to lucky Montrealers who have come to know this Polish entrepreneur's quality products.
Tyrolian Sautéed Veal Ragout with Crunchy Potatoes
Image source: Flickr
3lb (450 g) cooked Veal Shoulder (can substitute w/beef shoulder or roast)
2 onions, chopped fine
2 tbsp (30ml) Clarified Butter, or canola oil (or combination)
To taste medium ground Black Pepper and Salt
2 tsp (10ml) fresh Sweet Marjoram (1 tsp dried)
Beef Stock to cover meat
1 - 1½ lb (500-700g) potatoes, peeled, sliced into ¼" (.62cm) discs
2 tbsp (30ml) Clarified Butter (for potatoes)
Chopped parsley (for garnishing)
Cut meat into slices then cut slices into thin strips.
In a deep frying pan heat the clarified butter and fry onions until golden. Raise heat slightly, add meat strips and sauté with onions until lightly browned. Add seasonings and just enough stock to cover meat. Simmer until meat is very tender, approximately 1 - 1¼ hrs .
Half an hour before the meat is done heat the clarified butter in a separate pan. Fry potatoes until cooked, golden and crunchy on outside.
When the potatoes are cooked add the potatoes, toss gently, garnish with parsley and serve immediately.
Cabbage Rolls
Image source: Flickr
1 large Curly Cabbage (Savoy), or Swiss Chard leaves
1 lb (450g) Medium Ground Meat (mix of beef, veal, pork)
1 small Onion, minced fine)
1 clove Garlic, finely minced
4 slices Bread (small cubes)
1 large Egg (beaten)
Milk
Salt, pepper to taste
28 oz (790g) Stewed Tomatoes, diced
28 oz (790g) Sauerkraut, drained
to taste Hungarian (sweet) Paprika
Boil or steam cabbage until leaves are tender.
Soak bread with just enough milk for the bread to absorb.
Mix well; meat, bread, onion, garlic, egg and salt and pepper.
Preheat oven to 325ºF (165ºC). Prepare large rectangular baking pan.
Place 1/12 of meat mixture on a cabbage or Swiss Chard leaf, stem thinned.
Roll and secure with toothpick (remove before serving).
Mix 2/3 of stewed tomatoes and sauerkraut together. Lay in bottom of baking pan.
Place cabbage rolls on mixture. Spoon the remaining tomatoes over cabbage rolls.
Simmer in oven, covered with foil, for 1 hour.
Serve on boiled potatoes or Gnocchi
Chicken Paprika
Image source: Flickr
3½ lb (1½ kg) Chicken pieces, skin-free, bone-in
pinch Sea Salt
½ tsp (2.5ml) freshly ground Black Pepper
2 tbsp (30ml) Canola Oil
1 tbsp (15ml) Butter
4 cup (1.0L) Onions, finely diced
pinch Sugar
¾ cup (185ml) Red Pepper, diced
¾ cup (185ml) Green Pepper, diced
2 tbsp (30ml) Tomato Paste
2 tbsp (30ml) Sweet Paprika
1 tsp (5ml) Crushed Red Pepper
pinch Cayenne Pepper (optional)
2 tsp (10ml) fresh Sweet Marjoram (1 tsp dried)
1 cup (250ml) Chicken Stock, salt-free
½ cup (125ml) Sour Cream, fat-free
1 tbsp 15ml) All-purpose Flour
2 tbsp (30ml) fresh Parsley or Chives, finely minced
Rinse and pat the chicken pieces dry and season with pinch salt and pepper.
Heat oil and butter in a large, heavy casserole or Dutch oven over medium heat. Add onions and sprinkle with sugar. Cook, stirring frequently, until the onions are very soft and light brown, 10-15 minutes.
Stir in peppers, tomato paste, paprika and crushed red pepper. Add the chicken stirring gently into the onion mixture. Sprinkle with marjoram and add stock. Cover the pot with a tight-fitting lid and simmer over medium-low heat until the chicken is very tender, about 50 minutes.
Just before the chicken is done, whisk sour cream, flour and pinch salt in a small bowl until smooth.
When the chicken is done, remove to a plate. Stir the sour cream mixture into the sauce; bring back to a simmer and cook, stirring, until the sauce coats the spoon.
Reduce heat to low, return the chicken to the sauce and reheat ± 1 minute.
Serve garnished with parsley or chives, if desired.
Serves 6
* When using a combination of thighs, drumsticks and breasts, cut the breasts in half crosswise to make the pieces similar in size of a thigh. When buying whole legs, separate the drumsticks and thighs. When the pieces are similar in size, they cook at the same rate.
Non-Traditional Hungarian Goulash
Image source: Flickr
1/8 lb (60g) Lean Bacon, cut into small pieces
¾ lb (115g) Beef, Chuck or Blade, trimmed, cubed into bite-size pieces
¾ lb (115g) Veal Shoulder, trimmed, cubed into bite-size pieces
¼ cup All-purpose Flour
To taste Salt **** and Pepper
Olive Oil or Bacon drippings
1½ cup (375ml) Onion, sliced thin
3 cloves Garlic, minced
2 Bay Leaves
½ each Green, Red and Yellow Pepper, diced fine
½ cup (125ml) Carrots, diced
1 tbsp (15ml) Hungarian Paprika (sweet)
½ tsp (5ml) Cumin
½ tsp (2.5ml) Ground Black Pepper
1 env Bovril powder
1 cup (250ml) Beef Stock
¼ cup (65ml) Red Wine
¼ cup (65ml) Tomato Puree or Ketchup
Maggi to taste
Chili Powder to taste
In a large, heavy skillet, brown bacon bits then remove with slotted spoon. In the bacon drippings, sauté onions, garlic and bay leaves until onions are translucent. Add peppers and carrots and sauté for 5-10 minutes or until peppers are broken. Remove from skillet with slotted spoon.
Sprinkle flour, salt and pepper over meat, covering it thoroughly.
**** Salt: Try to use Course Grey Salt, unrefined sea salt. Use in small amounts.
Add oil or bacon drippings to skillet and heat until hot. Add meat and fry until all sides of meat are seared and no raw flour is visible. Add red wine to de-glaze pan.
Place all ingredients into a slow cooker. Heat on high until near boiling (this will help remove pasty taste). Lower heat to low and allow to cook for 4-5 hours.
If gravy is too thin, heat until near boil then add 1 tsp (5ml) Corn Starch dissolved in ½ tsp (2.5ml) water. Allow to boil while sauce thickens.
Serve with/on: Spatzle, Egg Noodles, Sauerkraut or boiled potatoes.
Serves 4
Options:
Add 4 quartered medium potatoes when mixing all ingredients come together.
Add a package of fresh mushrooms (quartered) in the last 2 hours and a large tomato (diced) in the last hour
Add 1 tbsp dried Marjoram
Add Sweet hot sauce (to taste)
Bavarian Apple Torte
Image source: Flickr

1/2 cup (125ml) Butter, softened
1 cup (250ml) Sugar, divided
1 cup (250ml) All-purpose Flour
½ lb (250g) Brick-style Cream Cheese, softened
1 large Egg
1/2 tsp (2.5ml) Vanilla
1/2 tsp (2.5ml) Cinnamon, ground
1 lb (450g) Golden Delicious or Granny Smith apples, peeled & sliced
¼ cup (65ml) sliced Almonds
Preheat oven to 425°F (220°C). Prepare a 9-inch springform pan.
In a small bowl, beat butter. When smooth, with mixer on medium speed, sprinkle in 1/3 cup sugar until light and fluffy. Gradually add flour, mixing well. Spread into the bottom of baking pan and 1-inch up the sides.
Using the same bowl, beat cream cheese and 1/3 cup of sugar until well blended. Add egg and vanilla until well mixed. Spread over crust mixture.
In a large bowl, combine remaining 1/3 sugar with cinnamon. Add the apples and toss until well coated. Gently arrange on cream cheese layer. Sprinkle with almonds.
Bake for 10 minutes, then reduce heat to 375°F (190°C). Continue to bake for 25 minutes or until the centre is set. Remove from oven and cool on a wire rack. When cool, carefully loosen torte from pan and platter. Cover and refrigerate for 3 hours prior to serving. Refrigerate unused portions.