Is Coffee Enjoyable at the Second Cup?
By Linda Kim Hoa Diep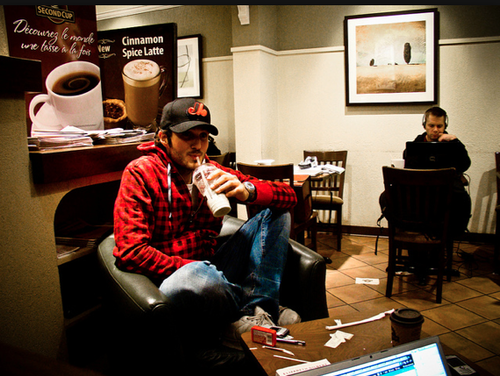 When you walk into a Second Cup to order a coffee, even before you enter it, you can predict everything. First, you expect that the cashier at the counter will not greet you but say "yes?" Secondly, You have to know what you want to order by the time it is your turn in line or else you will feel very bad to make everybody behind you wait, and then the cashier will make you feel twice as bad by rolling his or her eyes. But wait a minute, why do I have to feel bad? I am a customer in a coffeehouse; I am the one getting money out of my pocket; and I should be treated like a princess!
Unfortunately, when I am in line at a coffee counter, I feel nervous and I feel that I feel rushed. The menu, on the back wall with poor lighting makes the already minuscule letters unreadable. So, I study the menu as fast as I can, hoping to try something new this time. Then, it is already my turn; not wanting to make the line wait, I end up ordering the good old latte.
I am convinced that all you coffee lovers, like me, have experienced the same thing in any Tim Hortons, Starbucks, Second Cup, Java-U or Café Dépôt. I am personally tired to see these coffee shops reigning in Montreal downtown's coffee market. Even though the designs of these places differ, they all adhere to a boring uniform decor limited to 2 or 3 colors. There is always a very busy but cold sensation from the employees when we walk in. Coffeehouses should be warm, welcoming, relaxing and enjoyable. I will share my experience at two independent coffee shops that I found in Montreal's Saint-Henri neighborhood and Mile End neighborhood.
When you walk into Toi, Moi & Café on Notre-Dame Street cross de Lévis Street, you can immediately feel an immense difference between this particular coffee shop and chain-store coffee shops. The Decor is unique, with artistic paintings on their walls ambient lighting and the wood furniture providing a feeling of warmth. The waiter or waitress will kindly greet you and ask if it is to go or if you are sitting down. Once seated, a menu is presented and the waiter lets you know that you may ask all questions you want and that you may take your time to decide. Already, you feel welcomed and envisage having a good experience. The selection of coffee and tea aromas is diverse, unlike the recycled menus at the other coffee shops; going from cinnamon to fruits, you can even mix and match. So if you are like me, somebody who likes to try everything, time is what you need and is given to you here. This coffeehouse makes me feel very relaxed and comfortable, it is a place where you can actually slowly enjoy a cup of coffee without being rushed. In fact, I have once spent 5 hours in Toi, Moi & Café studying.
When you walk into Le Dépanneur Café in Mile End on Bernard street., the first thing you may notice is that they have a live band playing music and the way the furniture is organized in an irregular way instead of a grid-form. In addition, all chairs and couches are different from each other, which makes the coffee house front feel like a living room or a very comfortable lounge. After you order you, can sit down at their study space they call the Backstore or in front of the store. Located behind the counter, the Backstore is a quiet study space. The storefront has many couches where you can enjoy a nice chat and the live music. Live bands perform all-day long, a different band, playing most likely jazz and blues type of music, books every hour. The place looks slightly old, giving the feeling it needs renovation. This flaw may also be its quality; it may be the reason why customers feel at ease. The tables are well maintained; once a customer leaves, someone will immediately come clean up the table unlike the franchised coffee shops where customers have to clean up after themselves. Once again, this independent coffeehouse successfully creates a friendly, relaxing and enjoyable ambiance, I will definitely go back for the live music and the study space.
Away from the predictable Second-Cup, every visit to the independent cafés has something new for you to discover and experience. Mostly, I go to the chain-store coffee shops when I do not have the choice since they have successfully invaded most coffee shop locations downtown Montreal. These Starbucks and Starbucks-like coffee shops should learn from the independent coffee shops; train their employees to take the time to care about what the customers need and make the place feel more lively rather than dead busy. I wish the coffee shops in downtown Montreal were more like Toi, Moi & Café and Depanneur Café where we can relax and de-stress from our occupations.

Image source: Flickr